Bhagari Chi  Kheer with Jaggery
Bhagari Chi

  

Kheer with Jaggery is deliciously creamy and yet low fat and healthy version of Kheer or Payasam, serve it to your family this Festive Season.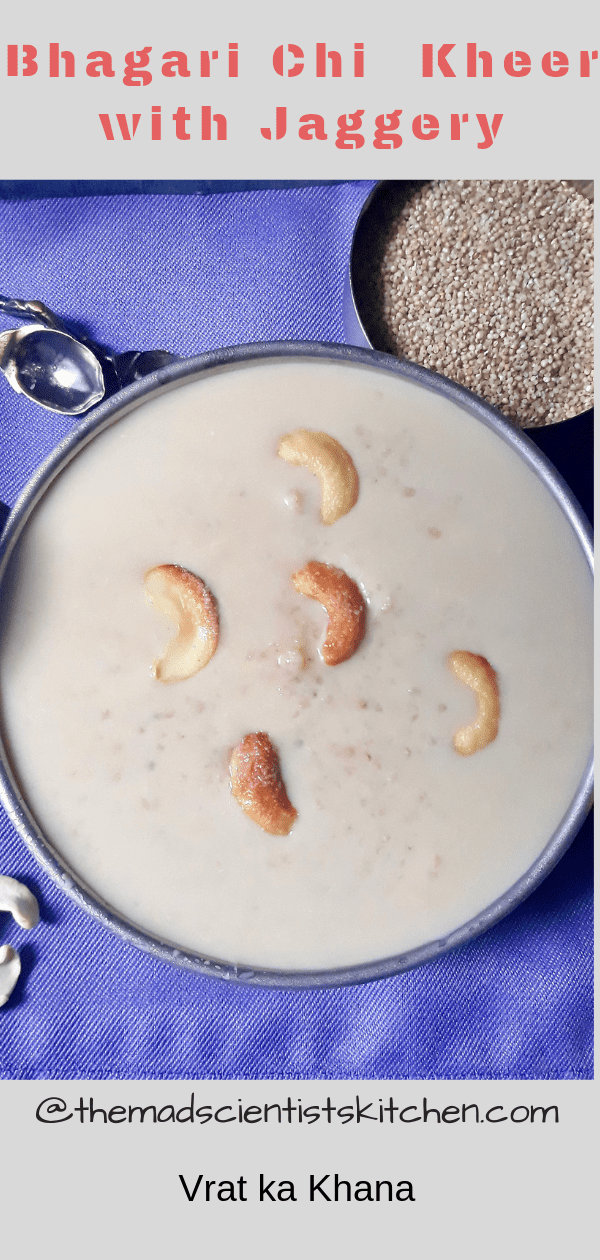 Bhagar as it is called in Marathi, in English it is Barnyard Millet in Kannada it is called Oodalu. In Hindi, it is called Sanwa or Vrat ke chawal.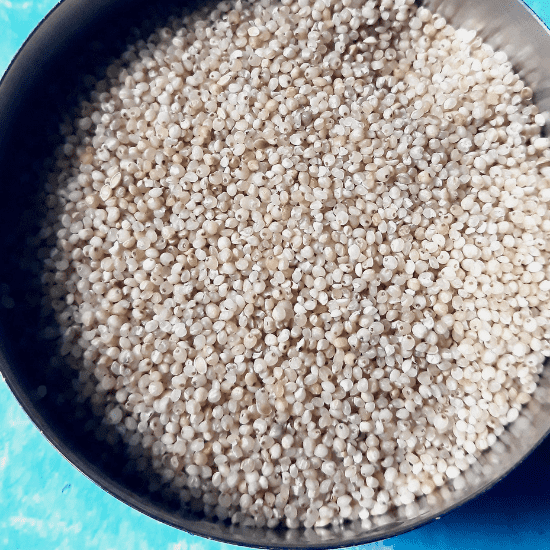 Millets are very healthy and gluten-free grain they are ideal for diabetics, geriatrics and even for you and me. You can read about millets here.
I am from Dharwad, Karnataka and for me, it is a small town but it is the District HeadQuarters and educational centre. Being a hill station the British favoured it a lot and you can still see many old buildings.
In Dharwad, there are many traditions that are followed that are age-old.  On Festive occasions, we still have our meal on a banana leaf or pattal leaves. It is challenging for most people to eat from the leaf but yes the food from the leaves tastes amazing. 
So when we are served we have to wait till all the food was served and then the salutation to God is chanted then we can eat. Of all the delicious food that was served, I remember Payasa.
Payasam or Kheer is an integral part of the South Indian Festive Meal. We begin our meal with Payasa or Kheer as it is also called. Kheer is offered to God as Prasad or bhog and hence that is the first thing you eat and you get about a tablespoon of payasa that is served.
You know I love sweets and hence I always wanted more of this delicious Kheer but never dared to ask for more. 
When Amma went out I always made myself a snack of sabudana kheer and filter coffee. Did you do something like this?
Bhagar or oodalu  I have used to make khichidi umpteen number of times. Then I have made a soup with varya che tandul too out of it in fact my mobiles full of millets recipe images should just get down to write them.
This is the first time I have tried making Bhagari chi Kheer with Jaggery.  I must say that the flavours…O my God… I just cannot describe…it is delicious!
You must try making Bhagari chi Kheer with Jaggery for the Festive Season coming here on starting with Krishna Janmashtami, Ganesh Chaturthi.
I had Bhagari chi Kheer with Jaggery with chapati but will taste amazing with poori. You can always serve it as a dessert in the end totally chilled.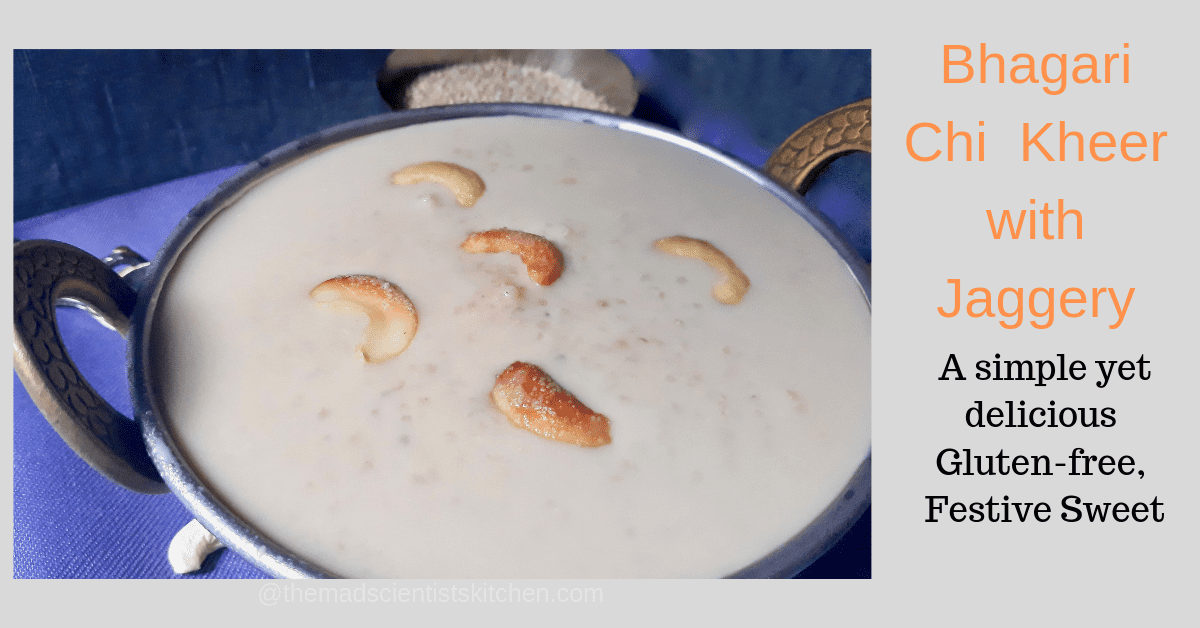 But let us go in the question and answer format these may be the general questions you as a reader may have.
I will like to know if you like this format please comment and let me know.
Where was Kheer developed?
"Kheer originated at the kitchens of imperial Muslim bawarchis of India and is an important sweet delicacy for Muslims of India especially during Eid or any other celebrations. The Muslims food culture later effected other Indians so much so that some dishes like kheer or its varieties are popularly prepared in Hindu festivals, temples, and all special occasions."
What are the different names of this Indian Pudding?
The various names this delicious Indian Pudding has are Kheer, Firni or Phirni, Payasam, Payasa, khīr, kiru, payesh,faesh, payox, or Paays, dūdpāk.
What is the difference between Kheer and Payasam?
There is no difference between Kheer and Payasam, in North India, it is called Kheer and in South India Payasam.
To generalise kheer is made by boiling milk and sugar either rava, rice, sago, vermicelli, carrots, bottle gourd and many more non-citrus items. (Milk splits when using citrus fruits.)
Unlike the North Indian Kheer where milk and sugar are used jaggery is used extensively in South Indian Kheer along with the use of coconut milk. But we do use milk and jaggery too. Only remember to add your milk when the mixture has cooled down completely.
Generally, a kheer is flavoured with cardamom and garnished with raisins,  saffron, cashews,  pistachios,  almonds.
The varieties and regional preferences are amazing from carrots to bottle gourd, poha to jackfruit are used to make this delicious Indian Pudding.
Kheer can be served during the meal as an accompaniment. We enjoy kheer poori as the main dish for festivities. It can also be served last as a dessert.
Kheer is served cold in summer and hot in winter.

Is payasam good for health?
Yes, it is so good that when infants are weaned is the first food fed during the ceremony. Why not? The ingredients that are used are the best natural ingredients and since it is gluten-free it can be enjoyed and assimilated easily.  Also if made with coconut milk it is dairy-free too.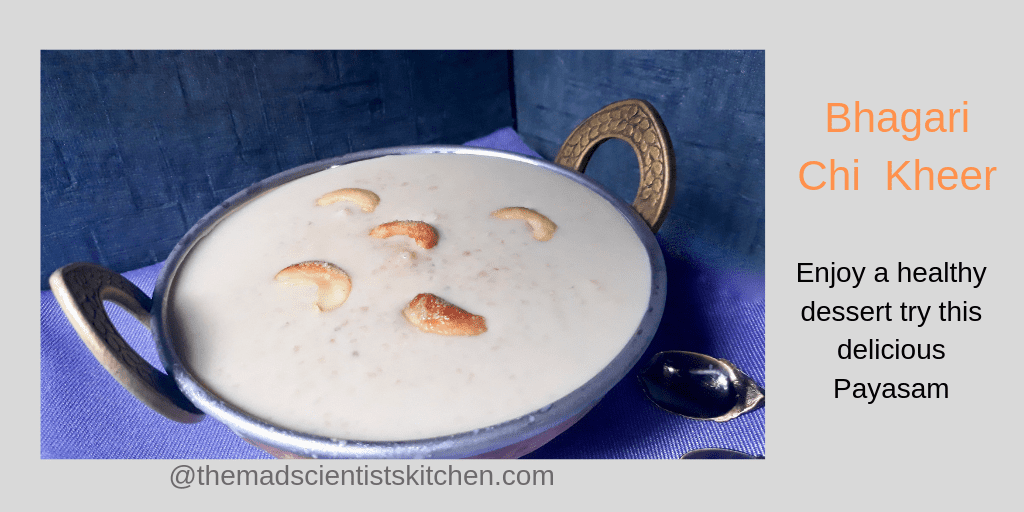 So let us get down to making this milk kheer recipe which is also a traditional payasam recipe that I have adapted from here.
I have reduced the quantity to ¼ cup as I was not sure anyone will eat but since then I want to make it for my father-in-law hopefully he will like it.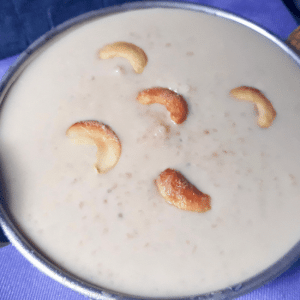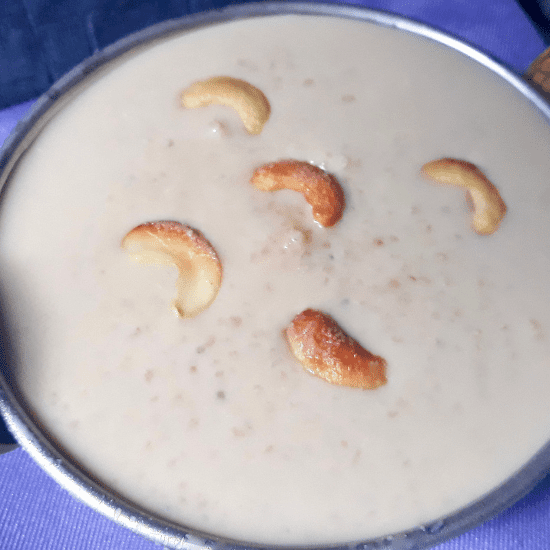 Bhagari Chi Kheer with Jaggery

Fasting! Then make this delicious Bhagari chi Kheer with Jaggery
Print
Pin
Rate
Equipment
Sieve

Pressure cooker

Kadhai/wok

Spoons and Ladles
Ingredients
For the Kheer:
2

cups

bhagar

4

cups

water

3

cups

water

¾

cups

jaggery (adjust to taste)

3

teaspoon

ghee


4

cups

milk

I with used 6% fat
For Garnishing:
A few nuts of your choice
Instructions
Add the milk to a thick bottomed pan and boil till the milk becomes nice thick and creamy. (this will take about 20 to 30 minutes depending upon the milk and the consistency you want.)

Wash and rinse the bhagar millet. Use a fine sieve to wash under running water. Set aside for about 5 minutes.

Transfer the millets the cooker and add 4 cups of water. Pressure cook for 2 whistles.

Meanwhile, heat the 1 cup water and jaggery mixture till the jaggery dissolves.

Let the pressure come down then open the lid and add the jaggery water.

Mix well add more water as needed to get a loose mixture. I needed about 2 and ½ cups.

Let the mixture cool completely then add the milk to the mixture. (Please note that if you add milk when the mixture is hot the milk splits.)

Meanwhile, in a small pan heat the ghee and add the nuts to it. Fry till golden brown and set aside.

In a bowl transfer the kheer top it with the fried nuts.

Serve Bhagari chi Kheer hot or cold as you prefer.
Notes
You can use cane sugar too to make the kheer. In that case,add the milk and sugar to the cooked millets and bring to a boil to the desired consistency.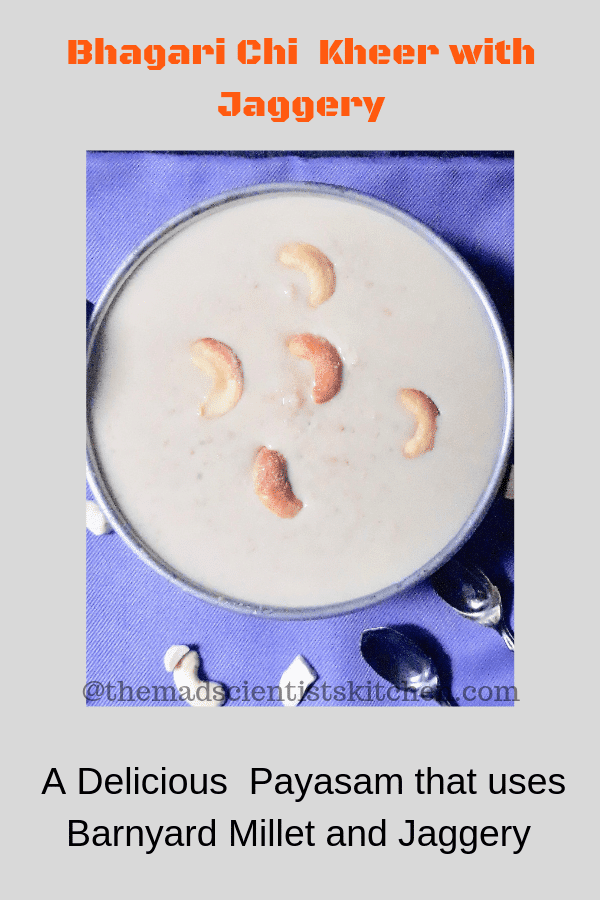 The other Kheer recipes you may like are
Do you like this recipe? Have you tried it? In case you do and whenever you do please tag me on Facebook. My Instagram handle is #themadscientistskitchen. You can also use my Twitter handle, Then you are always welcome at my Pinterest page too. I will love to see you there.
Please also subscribe to my mailing list and join me in my journey of Food! Will enjoy seeing what you make so that I too can learn from you!!!
Reader Interactions