Last Updated on
Ajika or adjika is a spicy dip from a Georgian / Abkhaz cuisine. Ajika is also used to flavour food and I had come across it when I was researching preserves and sauces.  I put it off as getting the main ingredient fresh red chillies is seasonal and I always miss the bus.
The other day as I was going for my walk I saw these red chillies. The local ones that are very pungent and full of seeds. The rest was just persuading the lady that I wanted them just as they are and I don't want them dried. Yes, I am going to cook them and no I have no hidden agenda. I am sure the lady thought I am strange.
So I made this adjika, a red pepper jam and pickle. My Ranjka or thecha with red chillies is still to be made.
Condiments make your meal a pleasure. I love the different flavours that condiments impart to a meal if you do mot believe me try tomato sauce, roasted red capsicum spread, muhammara, pickles like chilli pickle,   mixed pickle to name a few.
But for now, let us concentrate on adjika…
According to the Wikipedia Ajika comes," from the Abkhaz word аџьыка "salt" the more descriptive аџьыкаҟaԥшь (literally, "red salt") and аџьыкаҵәаҵәа are also used to refer specifically to ajika."
There are many versions of adjika according to Wikipedia it's a boiled preparation of hot red peppers, garlic, herbs, and spices such as coriander, dill, blue fenugreek (only found in mountain regions such as the Alps or the Caucasus), salt, and walnut. But I have not found an authentic recipe as yet.
Apparently, there is dry version too! It sounds exotic for I have not heard of some of the ingredients and I am yet be convinced that what I have read so far is true so for now, I will not touch the topic. There are versions that use tomatoes and some adjika resembles Italian red pesto.
Red and green unripe chillies are both used to make ajika.
The main ingredients are red chillies, garlic, herbs, spices salt and walnuts.
I scaled down the ingredients but this is the proportion from here.
To serve traditionally Ajika is served as a condiment with meat and fish dishes but can be used in cooking too.
Come back to see what I made.
Hi! First time here?
You are Most Welcome! I hope you keep coming back for more here. If you are my regular visitor then Thanks, for you encourage me to experiment more!! I would like you to please click on my link below and like my Facebook Page. I will be happy if you can follow me on on Twitter too!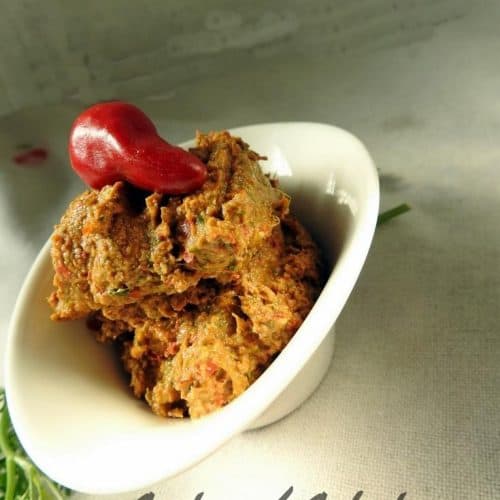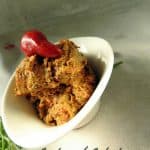 Print Recipe
Ajika or adjika
Ajika or adjika is a spicy dip or to flavour food!
Ingredients
100

Grams

Red chillies

40

Grams

Garlic peeled

30

Grams

Grams Walnuts

10

Grams

Dhania/ Coriander Leaves

10

Grams

Dhania/ coriander seeds

4

Grams

dried Summer Savory

I did not use

5

ml

Oil

15

ml

White wine vinegar

Salt
Instructions
Leave the red chillies and green dhania/ coriander leaves to dry overnight.

Now comes the difficult part deseed the chillies. For this use surgical gloves or oil your hands well. I deseed a few and gave up.

In the chutney pot of your mixer add the red chillies and grind coarsely.

Add the garlic, walnuts coriander seeds and leaves, vinegar, oil and salt.

Crush again. I made a paste as the traditional method of making it involves mixing the mixture again with hands. No thanks it burns.

To serve traditionally Ajika is served as a condiment with meat and fish dishes but can be used in cooking too.