Kairi Panna is a traditional drink made in summer with raw green mangoes.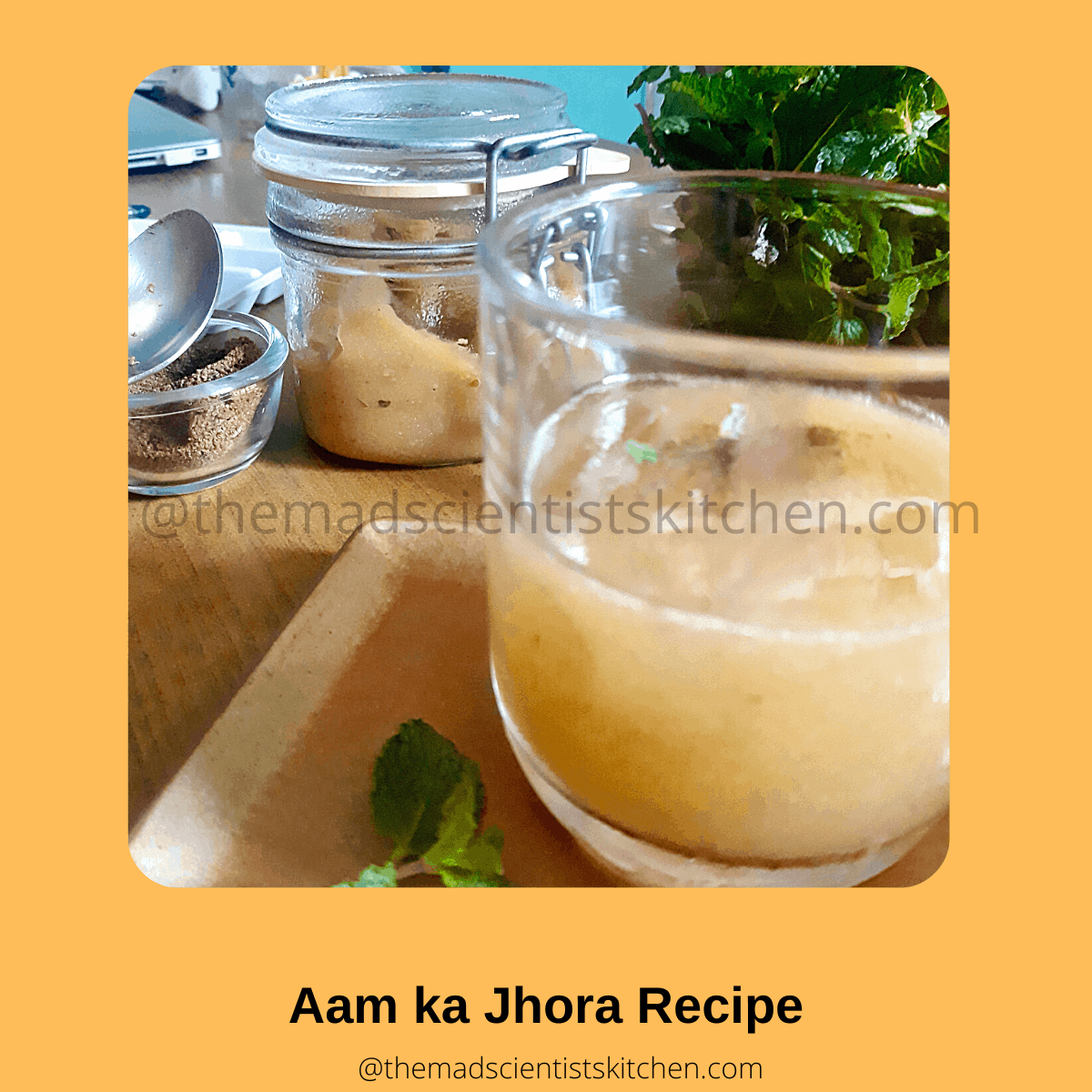 Also called Aam ka Jhora it is a thirst quencher and refreshing drink ideal for sweltering Indian summer. Hello, Welcome to The Mad Scientist's Kitchen, Reinventing the Foodie in you! If you are looking to make delicious traditional drinks then read on. I urge you to subscribe to our newsletter so that you get all our posts. We will not spam you, promise and the subscribe link is below or on the side-bar too.
Contents:
Panha brings back memories of school, since it used to be very hot in summers school used to be half day and exam. We would wait for about 5 minutes and then Amma gave us generally Aam Panha. She had it ready but since it is advisable not to drink immediately she used delay serving us. Even now I love the refreshing glass of Panha to any other drink in Summer.
Raw Mango Cooler is good for health for one it is fresh and homemade.
Aam Panna or Aam Jhora is refreshing and quenches thirst.
Panha is a tasty and delicious beverage that helps stabilise the salt loss that happens due to sweating. In the Indian summer if you do maintain your hydration levels and maintain electrolyte balance you can be in trouble.
Panha is also considered to be good for gastrointestinal disorders.
Raw mangoes are rich in pectin, vitamins A, B1, B2, B6, C, niacin, iron, and folates. Which help in regulating the digestive system, immune system among host of other benefits.
So, there are many traditional drinks that we enjoy on a hot summer day. I will link some of my favourites below for you.
So now that you are convinced let us check the recipe furthur.
Unripe Mangoes: the main ingredient for Aam Panha is mangoes, the unripe ones! They can be light yellowish-green in colour. Do you know that these unripe mangoes are rich in pectin, a natural protein? Raw mangoes are also rich in vitamins A, B1, B2, B6, C, niacin, iron, and folates. Which help in regulating the digestive system, immune system among a host of other benefits.
Sweetener: I prefer jaggery, today I have used the organic powdered jaggery or the cube. I find the cube sweeter so generally end up buying it. Now, you can always use sugar or unrefined sugar. A sweetener if you are okay use honey. Only your drink will no longer be vegan.
Roasted Cumin Powder: toasted cumin seeds have a great flavour and cumin is a digestive.
Salt: you need salt in Aam Panha only then salts lost from your body due to perspiration can be stabilised. I have used regular table salt today generally I prefer rock salt.
Black Peppercorns: a few peppercorns gives a refreshing flavour.
Cardamom: I love the smell that cardamom lends to the Aam Jhora.
Optional Ingredients: Mint the colour of the Mango cooler becomes a beautiful green. Use it. Then you can add chaat masala and asafoetida to your Panha. Generally, chaat masala and asafoetida are used when you are making a salty Panha.
The only substitution for the green unripe mango is a slightly ripe mango.
The jaggery I have used can be replaced with sugar or unrefined sugar. You can add honey too but then it will not be a Vegan drink.
In place of sweeteners for diabetics use a little sweetener and add more salt, chaat masala and asafoetida.
In place of green cardamom use, fresh mint leaves the colour of the Raw Mango Cooler will be beautifully green and yum.
Choose your mango, and cook it. Once the mangoes are well cooked and soft and cool remove the flesh. The seed or the drupe too I add to water and remove the pulp.
The most common method is cooking the green mango and peeling it. I find this squishy so what I do is I  peel the mango and then cook it.  Again the Kairiche Panha, the end result has no preferences it needs a well-cooked mango.

These mangoes are cooked I know of only cooking it in the pressure cooker, 4 whistles or 15 minutes. Let the pressure drop naturally.
But there are recipes where they are grilled too. You can check this recipe here for the grilling method.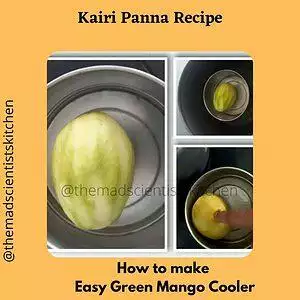 So choose any which way to cook your green mango.
Once the mango is out of the cooker let it cool. If you are in a hurry place the container in a bowl of chilled water.
As the mango is cooking and cooling I assume you do not have roasted cumin powder so lets us make it. You need to add the cumin seeds to a skillet or wok. I prefer the wok so on low flame stir the cumin seeds till you get an aroma. The cumin is nicely brownish and crunchy too when you bite into it.
Cool and grind it in a dry grinder, coffee grinder or in a mortar pestle. You need a coarse powder store in an airtight bottle. You can use cumin powder for your buttermilk, add to your raita, dals, plain curds too.
Chop your jaggery if it is cube into finer bits.
Mix the pulp, cardamom, salt and jaggery powder and crush it in the mixer.
Add cumin powder, pepper, cardamom and run the mixer yet again.
This is your Panha concentrate. A thick pulp as raw mangoes has a high pectin content.
Transfer to a bottle your Kairi Panha concentrate, store in the fridge.
When you are ready to serve mix 2-3 tablespoon of the concentrate in water say 500 ml water.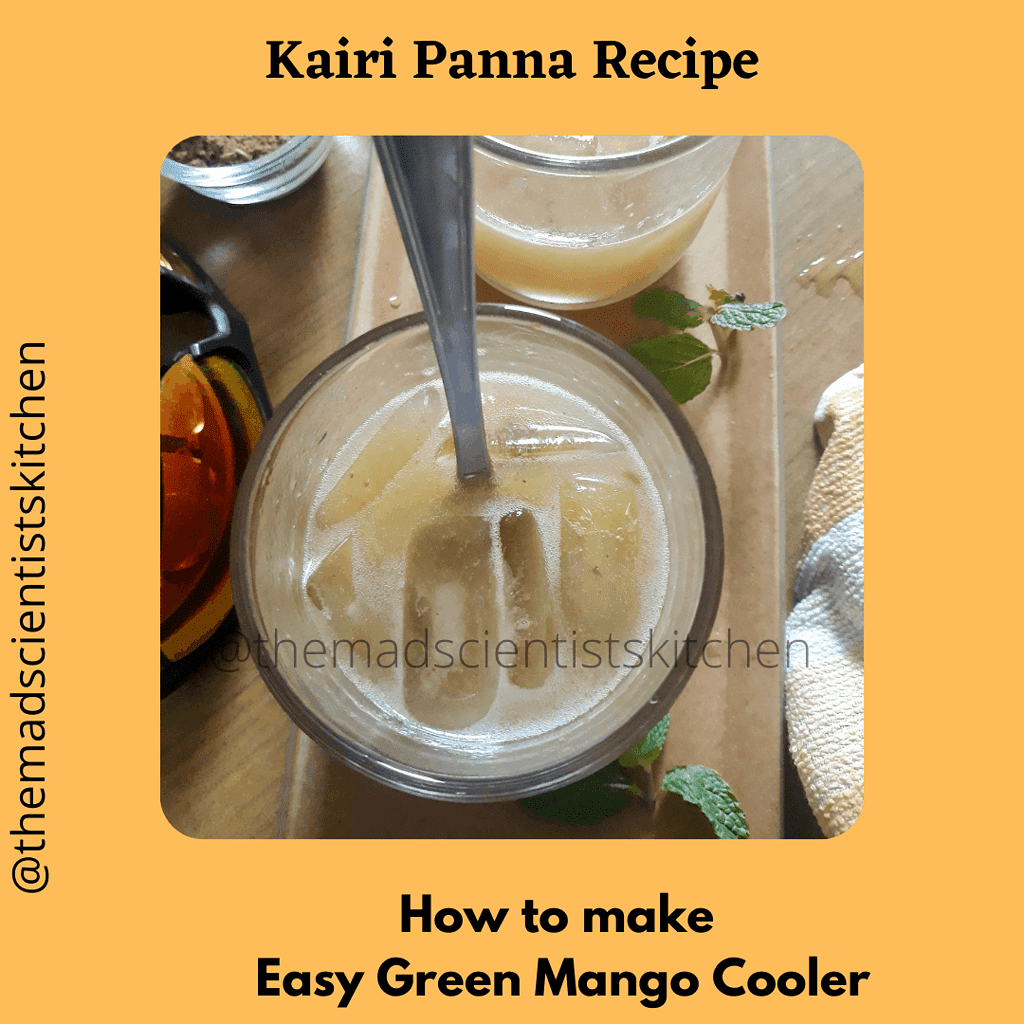 The taste of this easy green mango cooler is all due to fresh sour green mangoes. In case your mangoes are sour you will need more sweeteners.
In case you are using slightly ripe ones, it is fine to use them. You will need lesser sweeteners plus the colour is beautiful.
The amount of concentre you will need depends on your concentrate and taste.
Store your Kairi Panha in the fridge for better shelf-life. Also, use a dry spoon when spooning out the concentrate.
You have a choice to make your drink sweet or salty. We prefer sweet, salt and slightly sour.
I Serve aam Panha chilled with ice but you can use regular water too!
Add fresh mint or green cardamom to the mango cooler. The flavours are amazingly delicious and different.
Can a diabetic drink Kairi Panha?
Yes, a diabetic can drink Panha but keep it more on the salty side. I add ½ a tablespoon of the concentrate and add more water in my husbands glass. This way the sourness comes down. Also, as always moderation is the key to good health.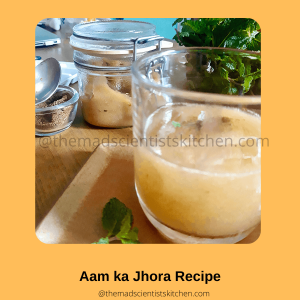 Equipment
Pressure cooker

chutney jar of mixer/blender
Ingredients
1

raw mango

½

teaspoon

salt

½

cup

jaggery

adjust as per taste

3-4

peppercorns

½

teaspoon

cumin powder

500

ml

water
Instructions
Peel and pressure cook the mango. You can add ½ cup ofwater in the vessel with the mango 4 whistles or 15 minutes is all it needs.

Once the pressure comes down naturally remove the mango and let it cool. If you are in a hurry place it in a large bowl of cold water.

Remove the flesh of the mango you can use a spoon, a knife I prefer to use my hands. The seed you can add to water and swish it around to get the maximum of the fruit out. Add the water to the mixer.

Mix the pulp, cardamom, salt and jaggery powder and crush it in the mixer. I have used table salt but you can use rock salt too.

Add cumin powder, pepper run the mixer yet again.

The panha mixture will be a thick pulp this is because raw mangoes have a high pectin content.

Transfer to a bottle, this is your kairi panha concentrate.

When you are ready to serve mix 2-3 tablespoon of the concentrate in 500 ml chilled water. Top with ice cubes!
Notes
The amount concentrate you will need will depend on the strength of your concentrate and your taste.
A sour mango will need more sweetener.
Nutrition Facts
Aam Panha Recipe
Amount per Serving
% Daily Value*
* Percent Daily Values are based on a 2000 calorie diet.
Nutritional Disclaimer: I am not a certified nutritionist and make no claims to the contrary. Please check with your nutritionist for your dietary needs and restrictions. Ultimately you are responsible for your decisions.
Chilled Beverages: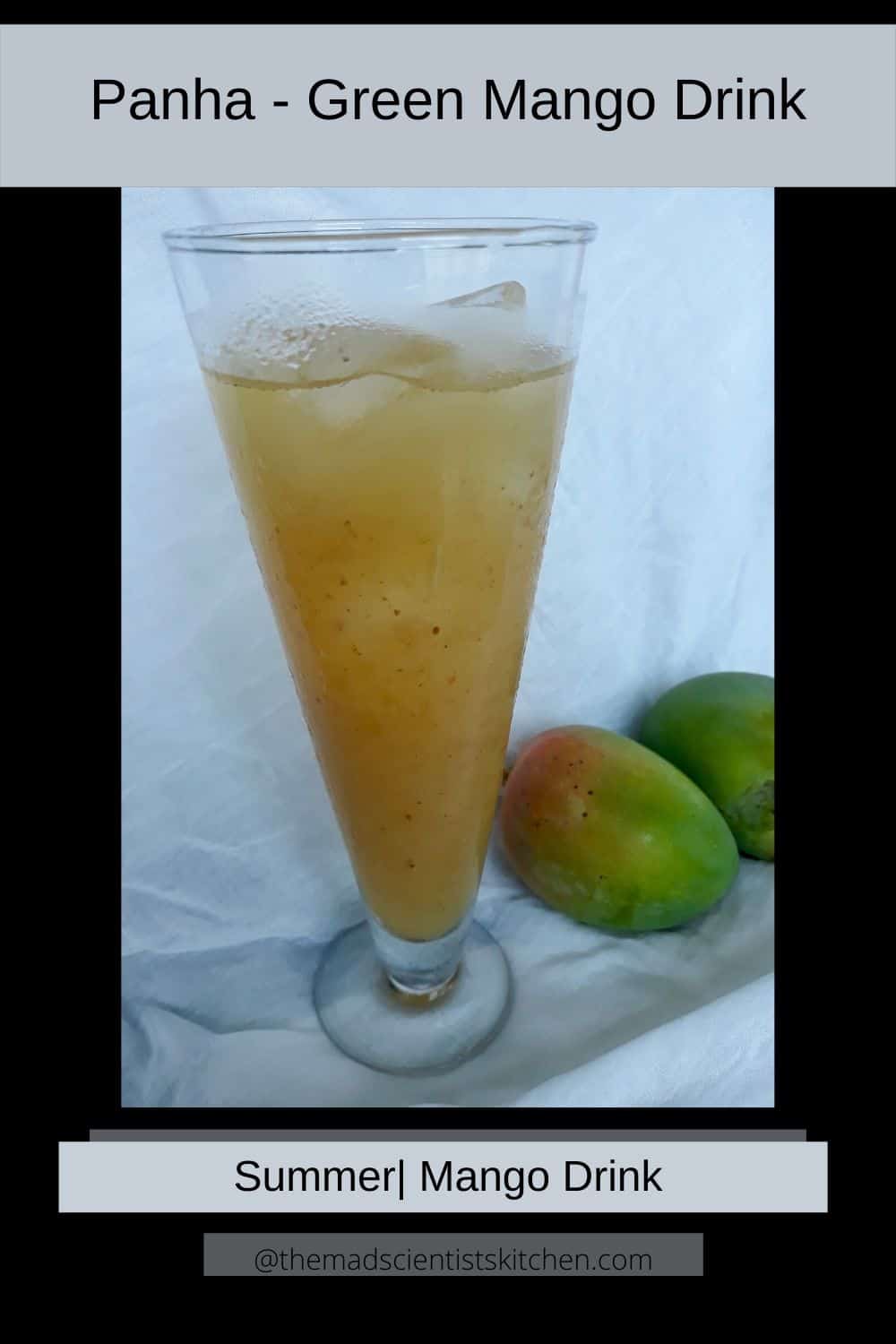 If you try this recipe then please either
add a comment below,
tag me as #themadscientistskitchen on Instagram,
or tag me on Twitter as @APotdar,
For more delicious, healthy and easy recipes like this subscribe now to the newsletter. I promise I will not spam you!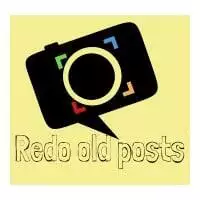 This is an old post that I am updating with newer pictures and a write-up as a part of the group Foodies_RedoingOld Post.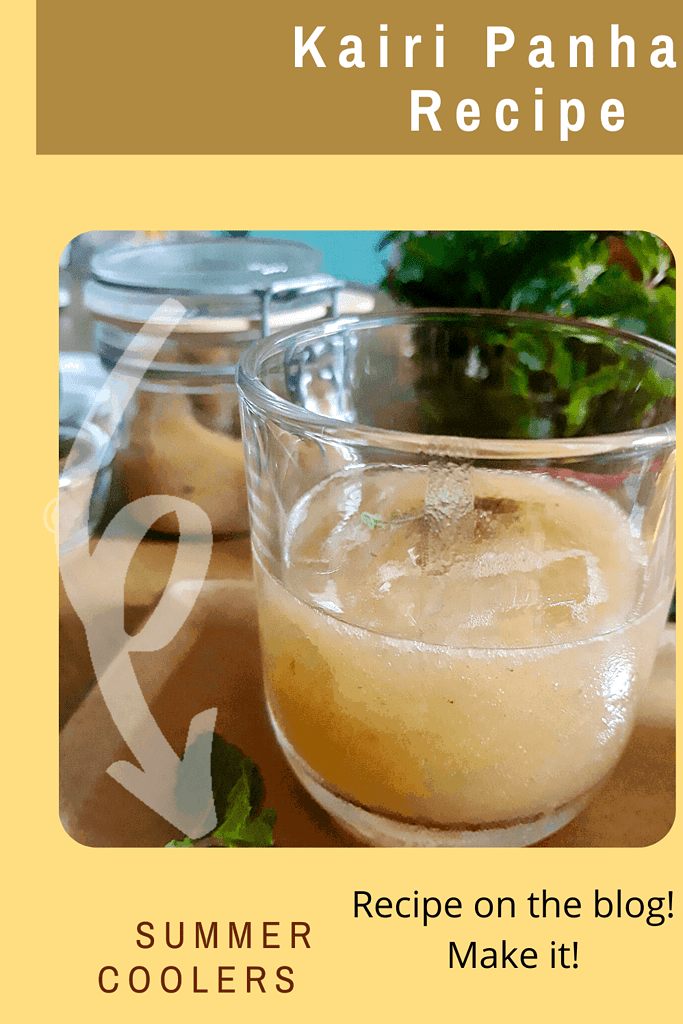 More Akshay Tritiya Festive Recipes
Reader Interactions