Bael Ka Sharbat,Wood Apple Punch
Bael Ka Sharbat is a traditional non-alcoholic summer drink you can serve your family.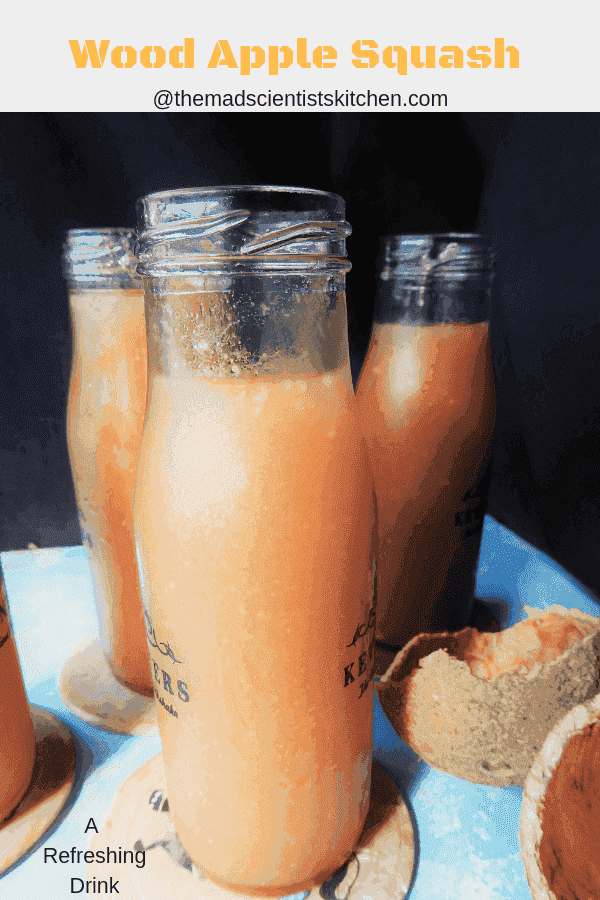 Bael is known by different names Wood Apple, Stone Apple, Bengal quince, Golden Apple, Japanese Bitter Orange. The aroma of the ripe fruit once the hardcover was broken is so heady, the fruit tastes sweet and tangy.
In Hinduism, the tree is considered as sacred and it is mentioned in the Rig Veda as the residence of Goddess Laxmi, the Goddess of Wealth. We all know that Bael fruit and leaves are used in the worship of Lord Shiv.
In my recent trips up and down to Dharwad, my hometown was too often as my father was not too well. In the last trip, we went to "More" a supermarket close to our home and stocked up all the fruits and vegetables my father will need. I came across this beautiful fruit which we called bael!
As a child, it was my favourite snack and we used to eat the bael "chori-chori" in school almost all year round whether ripe or raw a little salt and we were ready to go. Amma made some kind of chutney with it.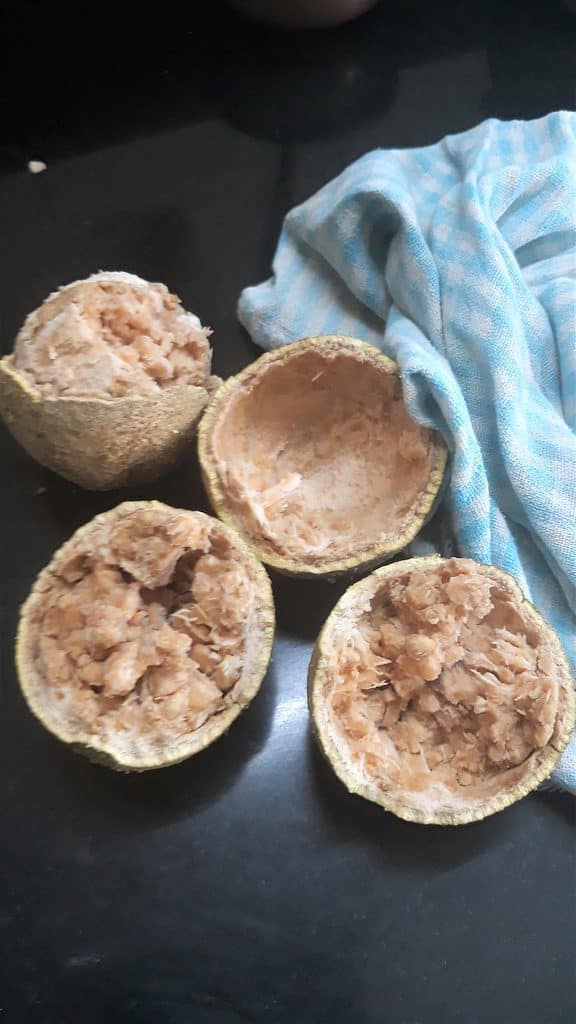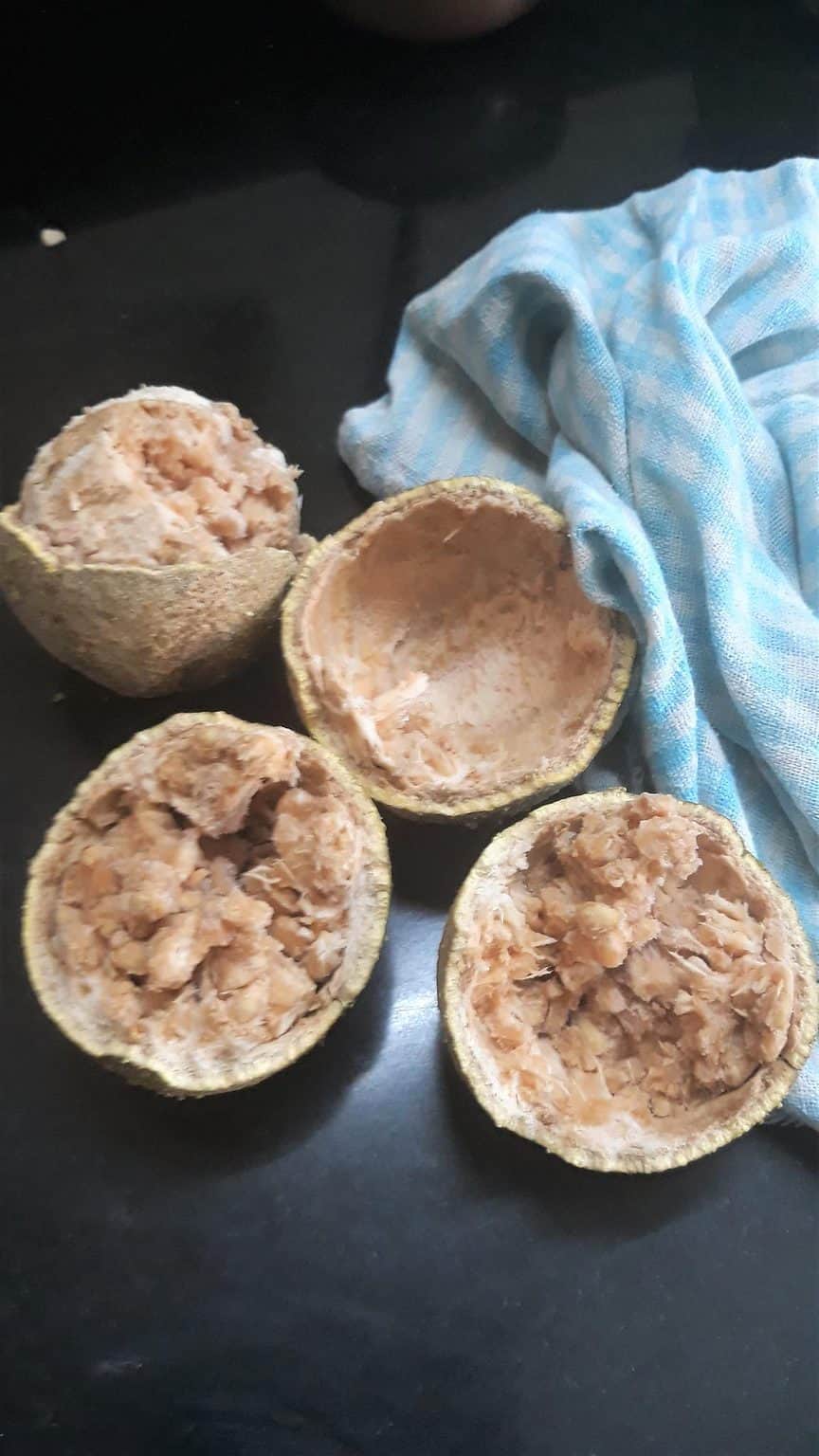 It is only now that I am looking at Google and understand that we can
The fruits can be eaten either fresh from trees or after being dried and produced into candy, toffee, pulp powder or nectar. The leaves and small shoots are eaten as salad greens.
Now I am trying to reduce my junk food dependence and hence made this Bael Ka Sharbat or Wood Apple Squash. One glass of this sharbat and my Elevenses is done. If a bit hungry drink one more glass low on calories and filling what else do you need?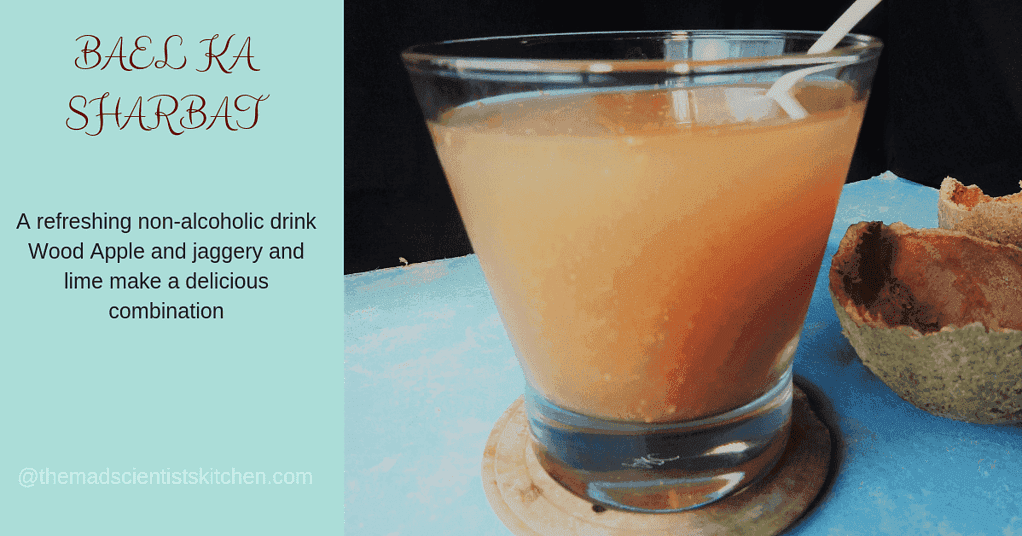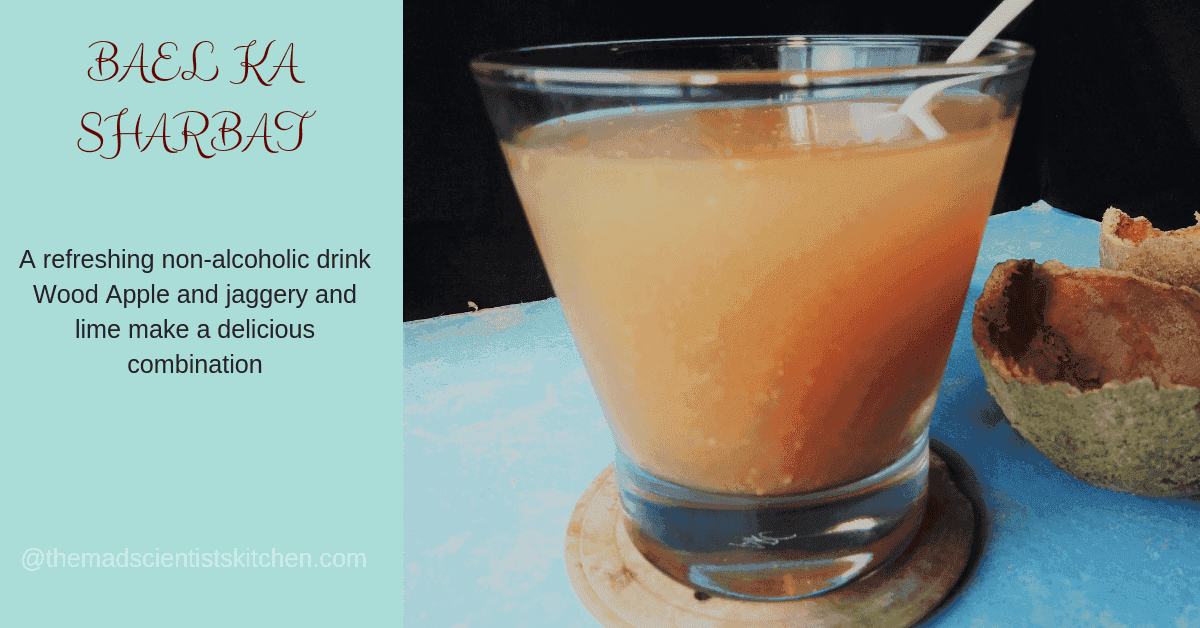 There are few non-alcoholic drinks Indian Style that I have tried in the past and they are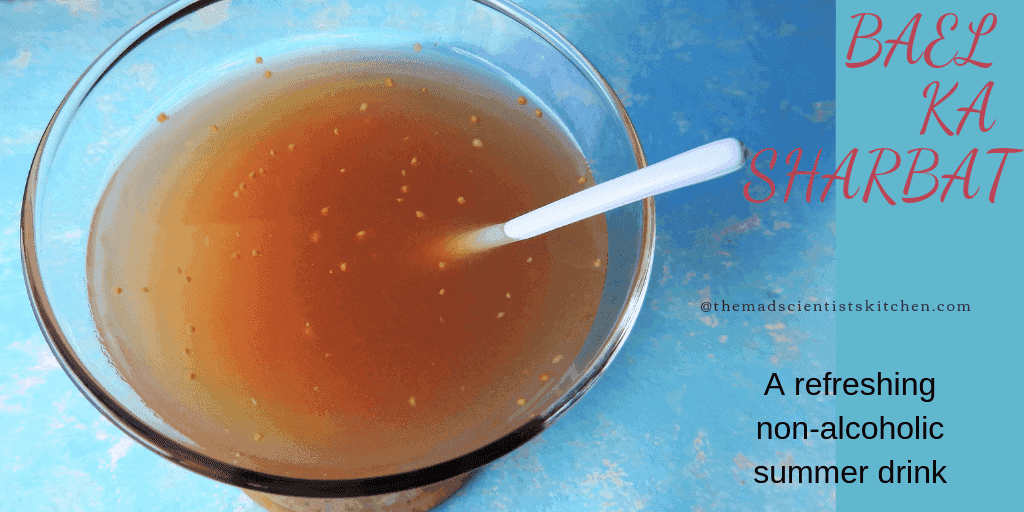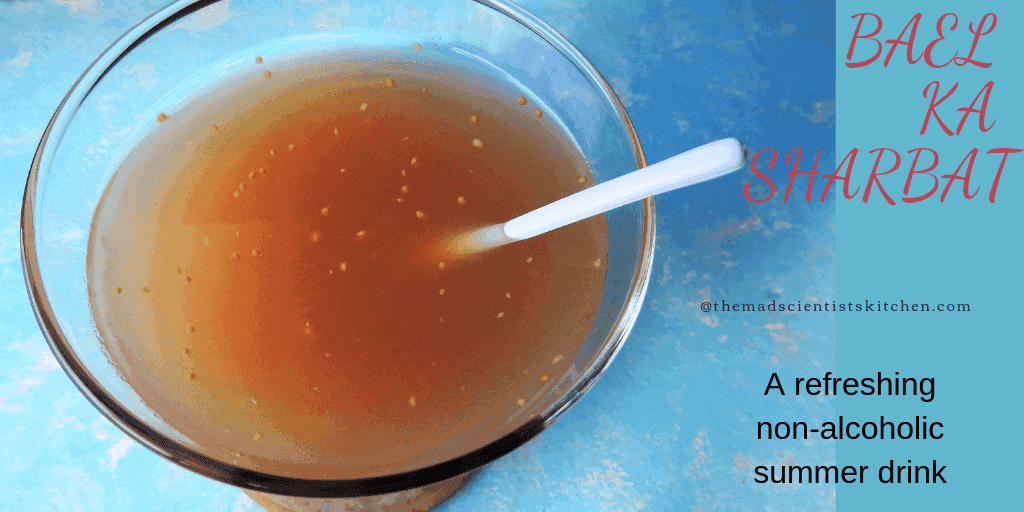 Check out the Blogging Marathon page for the other Blogging Marathoners doing this BM#96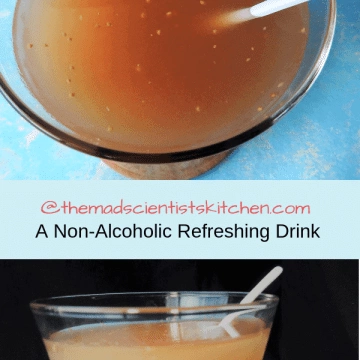 Ingredients
1

bael fruit/ wood apple

2

tablespoon

Jaggery

1

teaspoon

Jeera/ cumin powder

kala namak/ black salt

to taste

1

lemon juiced

Water

chilled as needed

ice cubes

I did not use
Instructions
The fruit has a hard covering. Hit it on the floor and open it.

Scoop out the pulp with a spoon and collect it in a big bowl.

Mash the pulp in the water with your hands.

Let it sit for about 30 minutes.

Strain the mixture with a sieve and separate the seeds and fibre.

Soak the pulp again and then strain it again.

Add jaggery, lemon juice and the rest of the ingredients.

Adjust water and the rest of the ingredients mix everything properly.

Serve chilled.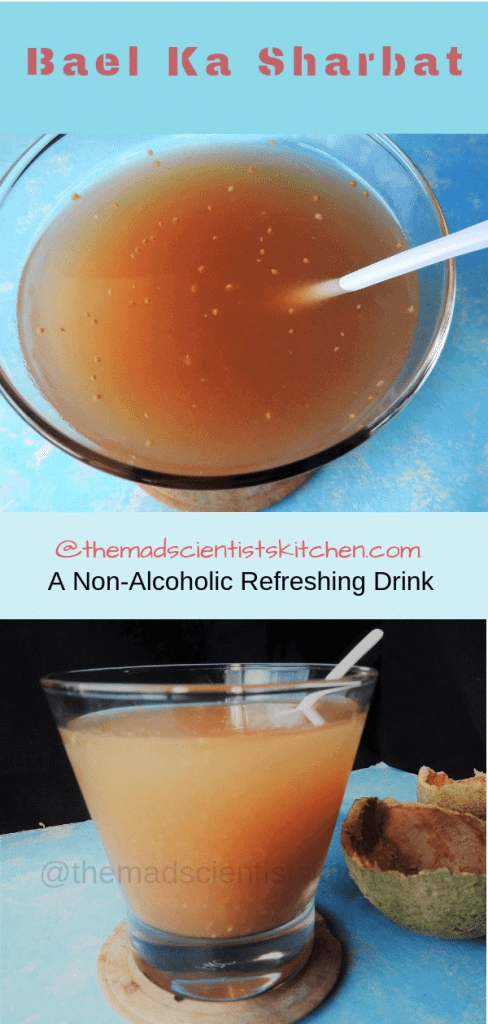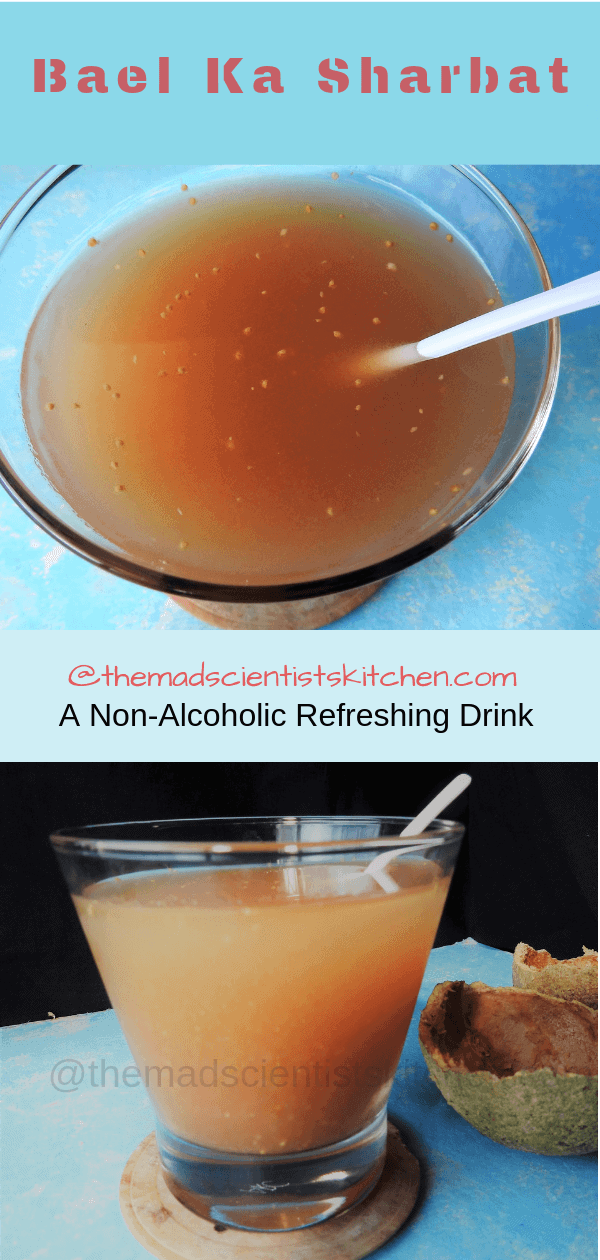 Reader Interactions