Pithore ki Sabji is a very common vegetable in Rajasthani Cuisine.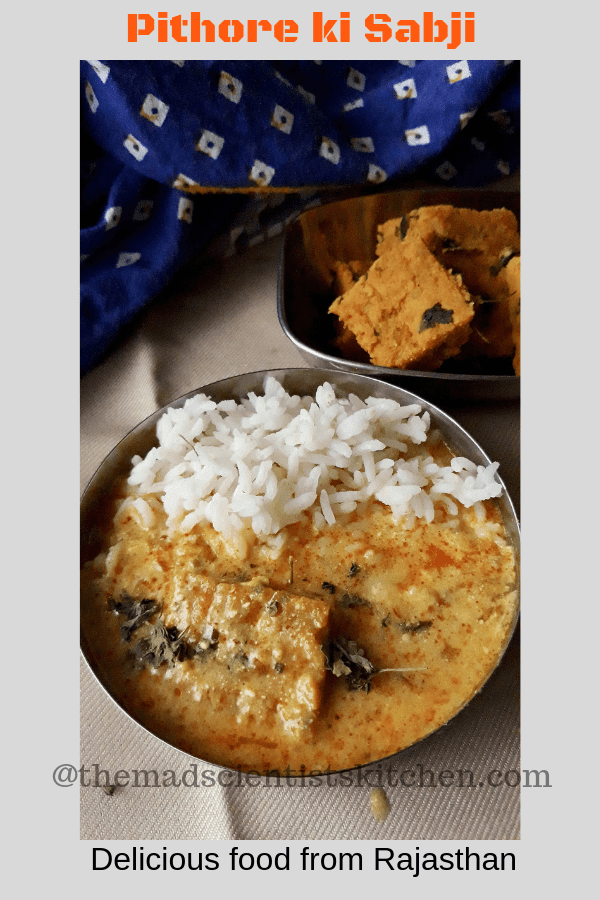 Food worldwide has always been influenced by the availability of ingredients and  Rajasthan, an Indian state is no different.
Rajasthan is an arid desert region there is a definite lack of fresh vegetables. Add to it the fact that the Rajputs, as the people from Rajasthan are called, have always felt the brunt of foreign invasion they have been a warlike community. The food that can last for days is preferred. The Rajputs have also preferred meats that they hunted.
The Marwaris, a  business community from the Marwar region of Rajasthan and are vegetarians. Their cuisine is different.
In Rajasthan Milk and Ghee are used in abundance and this makes the food rich. The Rajashtanis also use a lot of pulses, millets in their cooking.
Besan or chickpea flour is a very important ingredient in Rajasthan and they use it in different innovative ways. 
One such vegetable is Pithore ki Sabji is also called Besan ki Sabzi, Patodi ki Sabji.
Pittod ki Sabji and is different from Gatte ki sabji as gattes are boiled in water and Pitthod besan is cooked, cubed and then added to the gravy.
By the way, have you noticed that many of our food are common in nature?
What is consumed as pitor in Rajasthan is in Maharashtra Patwadi. Yet patwadi is different as the use of dry coconut is used. I am sure if I look around I will find similar examples.
This month for Shhh Secretly Cooking I have been paired with Veena the theme this month is Rajasthani cuisine.
The two secret ingredients that I gave Veena Moong and Kasuri methi. Veena is focusing on her diet as she plans to do the Lakes of Kashmir so I thought whole grain is something she will prefer. Update Veena has made a delicious Dal Dhokli with her ingredients. Do check it out here.
Veena gave me are besan and curds. The commonest ingredients in Rajasthani cooking.
Let us get down to making the Pithore Ki Sabzi you can order the Fortune Besan. You can use it in many different ways. Here is the link for your reference. Let me, however, tell you as an Amazon Affiliate I will get a small commission in case you buy through me. This will help me to try newer and better recipes.
When I tried this Pithore ki Sabzi I had not many takers. Next time I will go easy on the saunf for I got the feeling that in general, it is not a very acceptable taste in my family.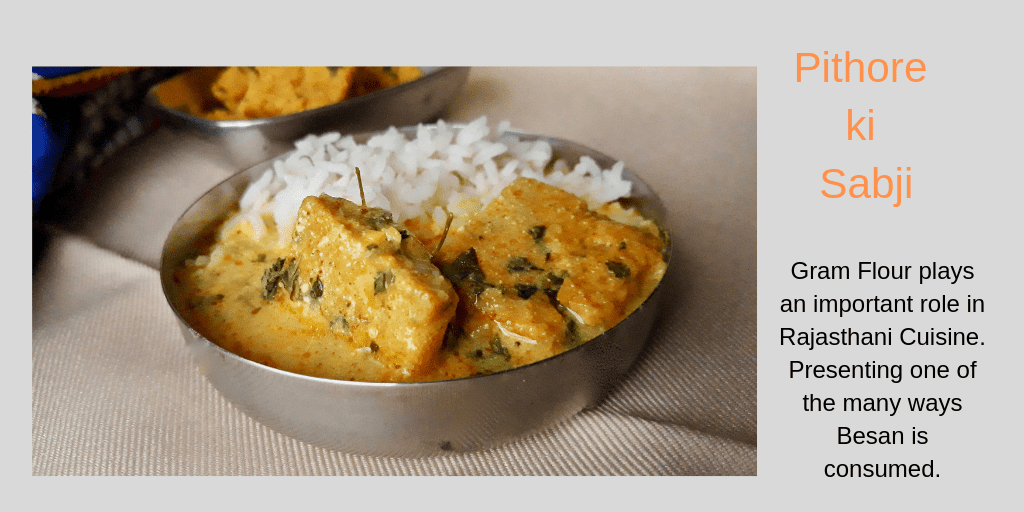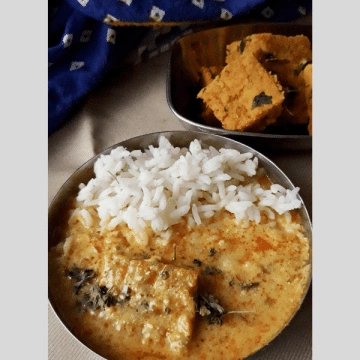 Ingredients
For the pithore :
2

cups

besan |chickpea flour

2

tablespoon

kauri methi crushed

½

cups

curd

½

teaspoon

jeera | cumin seeds

½

teaspoon

saunf |fennel

¼

teaspoon

hing

1

tablespoon

oil

½

teaspoon

red chilli powder

water as need

salt to taste
For the Gravy:
4

tablespoon

oil

4

red chilies

1

cup

onion finely chopped

1

teaspoon

ginger paste

1

teaspoon

garlic paste

1- ½

cup

curd

1

tablespoon

maida

2

teaspoon

coriander powder

½

teaspoon

turmeric powder

2

teaspoon

red chilli powder

½

teaspoon

garam masala powder

I did not use

salt to taste

1

tablespoon

lemon juice

fresh coriander for garnishing
Instructions
For the pithore:
Grease a big plate/tray with oil and set aside.

In a bowl add the curds, oil and mix well.

When somewhat homogeneous add all the other ingredients except water. Mix well.

Mix in the water to make a lump-free batter.

Add the batter to a kadhai/wok ad cook the batter on medium to low flame stirring continuously.

Once the batter leaves the side and starts lumping together transfer to the greased thali and press to make a flat cake.

Set aside to cool. Once cool cut into small cubes. Set aside.

Now, you have a step where you can deep-fry these cubes till golden brown. I have chosen not to fry them.
For the gravy:
In the kadhai/wok heat oil.

Add the red chillies and stir.

Add the onions and stir fry till golden brown.

Add the garlic and ginger pastes and fry till the raw smell goes away.

Meanwhile, in a bowl mix together the coriander powder, turmeric powder, red chilli powder, curds, maida. In case

Mix curd, maida, coriander powder, turmeric powder, red chilli powder and garam masala powder(if using). Add about 1 cup of water. Mix well.

Now that the onion and the ginger garlic are done add the curd mixture stirring constantly. The stirring is important else your curd may curdle. Alternatively, get the pan off the flame let it cool a little and then add the curd. Mix well them return to the flame.

Let the mixture come to boil. Cook further the oil should separate from the curry.

Add the besan pithore and cook for a minute.

Get off the flame and add lemon juice and mix.

Garnish with fresh coriander.

Serve hot with chapati or rice.
Notes
You can avoid the onion completely.
In the oil add the garlic ginger paste .
Then follow the rest of the steps.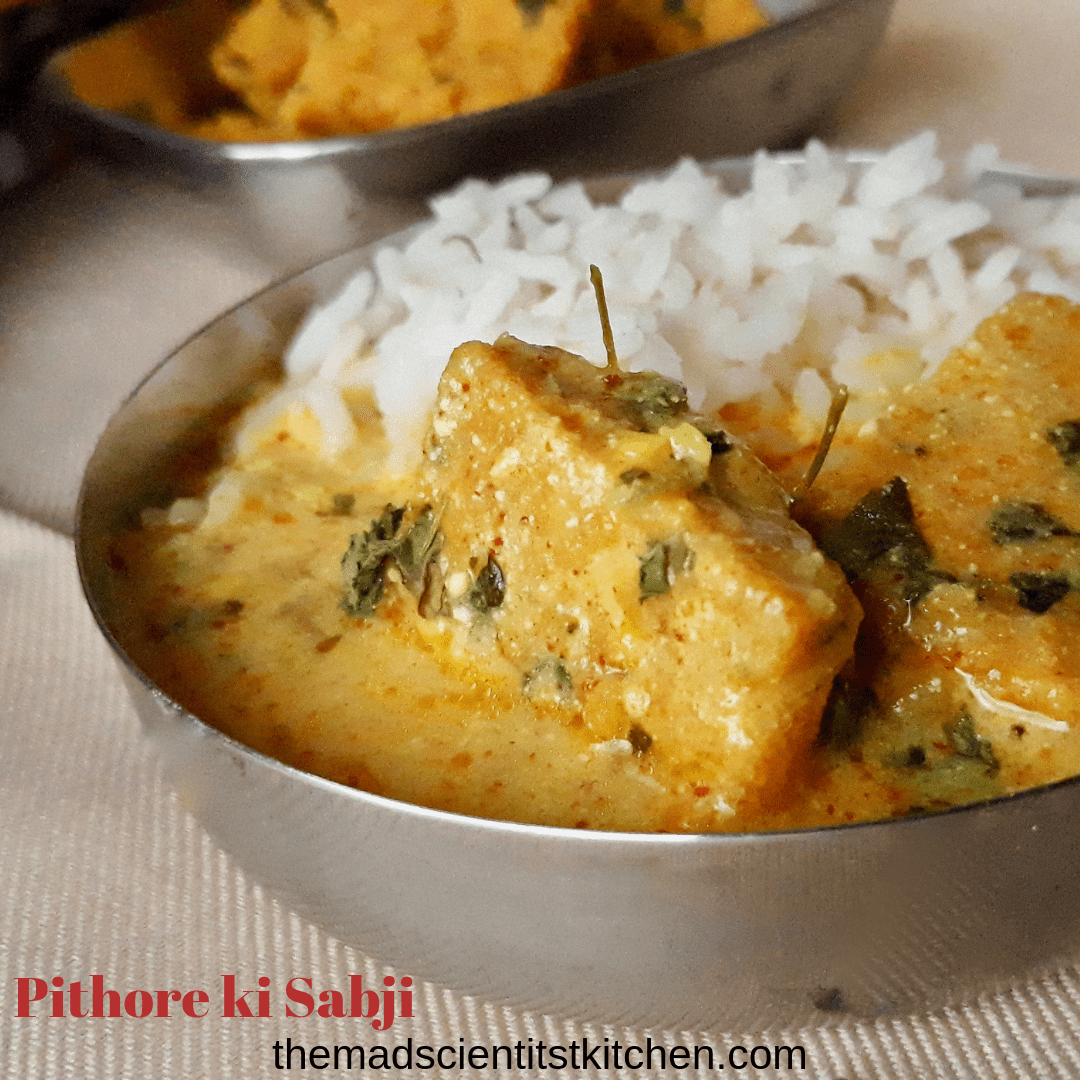 You may also like these delicious recipes from Rajasthan
Do you like this recipe? Have you tried it? In case you do and whenever you do please tag me on Facebook. My Instagram handle is #themadscientistskitchen. You can also use my Twitter handle, Then you are always welcome at my Pinterest page too. I will love to see you there.
Please also subscribe to my mailing list and join me in my journey of Food! Will enjoy seeing what you make so that I too can learn from you!!!
Reader Interactions