Ammade Che Karam a Goan Delicacy
Ammade che KaramHow can I say I live in Goa and forget about Ammado or Ammade?
How can I say ammado and forget about "Ammade che karam"! The delicious sweet and sour delicacy? I had mentioned the sour fruit called Ammado and also written about.  You can read more about it here and here.
Karam or chutney as it is called is a major requirement for Diwali or Deepavali festivities in Goa.
But before that let me tell you something about the Narkasur effigy made here and burnt in the morning the next day.
Diwali for us meant making dry stuff like chakalis, shankarpali, chivda, ladoos etc. but here in Goa there are different varieties made from poha, yes the regular beaten rice they are called fov here.  Have you had rasatele fov, batat fov, thikse fov, dahi fov, god fov to name a few, and then there is chanya cho ras and chutney.
Chutney is Amado chutney.
To make chutney the basic ingredient is of course ammado. There is no replacement for it. So I suggest if you come to Goa or even Karwar etc try this local dish out. It's delicious.
This is my Blogging Marathon entry for  the month long Marathon under the theme" Traditional"!
Ingredients:
 5-6 ammado
 1 teaspoon mustard seeds
 2-3 Red chillies( the local ones are pungent )
 1 small bit rock of hing/asafoetida  or a teaspoon of powdered hing/asafoetida
 1 cup(approx) coconut, freshly grated
 ½   teaspoon haldi/turmeric
Jaggary
 Oil
Salt
Method:
Peel the ammados and with pestle hammer them so that they split a bit. (It's very difficult they are like eels).
Heat kadhai/wok and dry roast the mustard seeds till they splutter.
Immediately transfer them to the chutney pot of your mixer add the red chillies, hing/asafoetida, coconut and turmeric an grind coarse.
Heat oil in the same kadhai/wok.
Add the ammados, jaggary, salt and the ground coconut. Mix well.
Cover and cook.
Serve with rice, chapatti or if you want just eat it plain like I do.;)
Notes:
The local chillies are pungent and have no colour. The same amount of badgi will give you reddish chutney.
This chutney I have made without hammering the ammados they are good but you cannot reach the sour centre.
Blogging Marathon page for the other Blogging Marathoners doing BM#27
Hi! First time here? Well then you are Most Welcome! I hope you keep coming back for more here. If you are my regular visitor then Thanks, for you encourage me to experiment more!! I would like you to please click on my link below and like my Face Book page. I will be happy if you can follow me on Twitter too!
 Archana
Some other Goan Vegetarian Curry recipes we enjoy:
Pin for Later: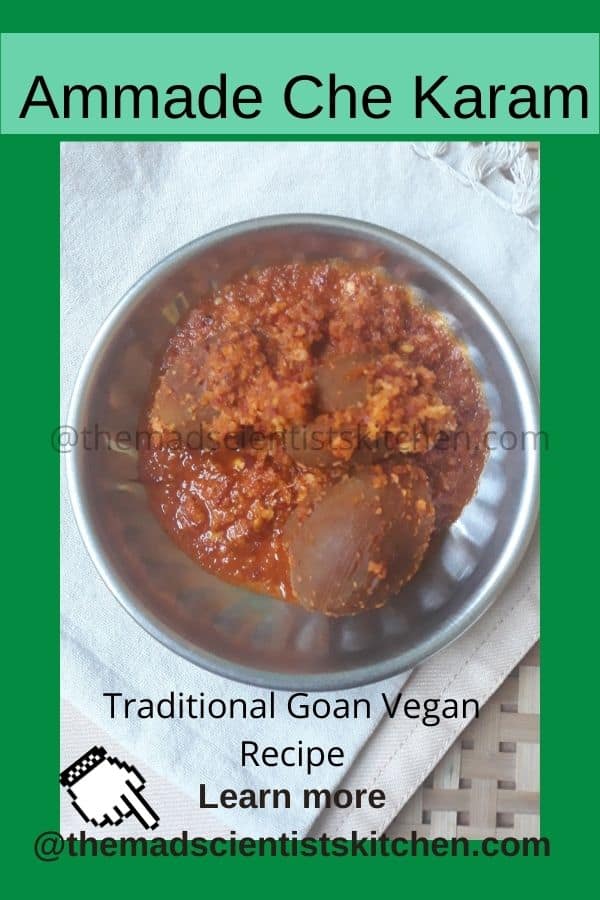 More Condiments Recipes
Reader Interactions