Last Updated on
Bolo Dos Namorados translates to Valentine Cake!
 A delicious Goan cake that I found goes well with "Sanche Cha" evening tea that most Goans have. I feel it has its roots in the Portuguese Cuisine!
I discovered that Bolo Dos Namorados translation when I Googled the word and landed up on different cakes generally pink and white.
Makes me wonder all the time how they have sweets with tea. Traditionally we used to have something savoury for tea like sev, chivda( no recipe??, good God!!)
Amara and I are paired up for the BM ingredient share. Amara just happened to praise my baking and so I wanted to show off… But, I mean how do I bake with cashew nuts. The internet did not spew anything that could hold my interest. I turned to the beautiful Central Library, Panaji; in case you visit Goa then please make it a point to visit the Central Library. It is a treasure trove of books!
I found this very slim book called Tasty Morsels by Maria De Lourdes Bravo Da Costa Rodrigues and this delicious bake. While the book is full of long-forgotten Goan Treasures in Catholic food, but the bakes are amazing. They I feel are not for newbie's as there are no temperature controls or even pan sizes mentioned. I feel it was written for the era when the oven was a gas ring oven or when the baking was done on the charcoal. I have tried adding temperature controls and pan size here. In addition, the recipe calls for almond powder or cashew nut powder I have used cashew nuts. The ingredients marked optional are my additions.
Do try this cake and let me know what you think of it.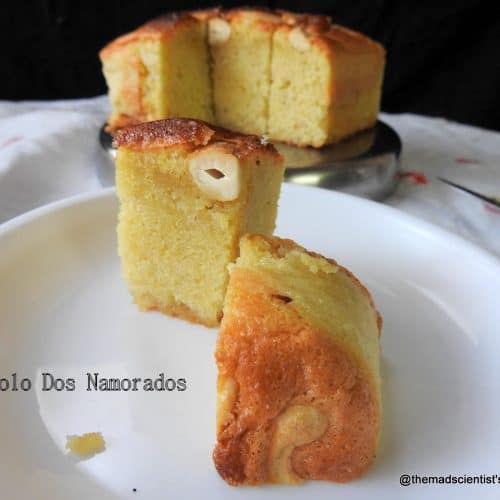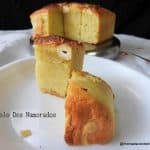 Print Recipe
Bolo Dos Namorados a bake with Cashew Nuts
Long forgotten Goan Treasures in Catholic food, this is a great bake for Sanche Cha!
Ingredients
112.5

grams

of sugar

112.5

grams

Cashew Nuts

25

grams

flour

3

eggs

¼

teaspoon

Baking powder

optional

1

teaspoon

lemon essence

optional

Rind of one lemon

optional
Instructions
Grease a baking dish; I used a 6 by 6-square tin.

Preheat the oven to 150⁰C.

In the dry grinder, grind the cashew nuts and sugar. Powder the cashew nuts to a fine paste.

Mix with eggs, essence, flour and baking powder.

Transfer the mix to the baking dish.

Bake till the toothpick inserted comes out clean.

Cool on a wire rack for 10 minutes then de-mould.

Cut and serve when cold.
Notes:
I found it too sweet. Next time will try with 85-95 grams of sugar.

The original cake is for 450 grams of cashew nuts. I have reduced it to a quarter.

The original recipe calls for 7 whole and 5 yolks since I used 3 and did not know what to do with the 1 egg white so I added it to the batter.
This is part of February Week 2, Cooking from Cookbook Challenge Group.
Check out the Blogging Marathon page for the other Blogging Marathoners doing this BM#73 Hi! First time here? You are Most Welcome! I hope you keep coming back for more here. If you are my regular visitor then Thanks, for you encourage me to experiment more!! I would like you to please click on my link below and like my Facebook Page. I will be happy if you can follow me on on Twitter too!