Akshaya Tritiya is a holy day for Hindus and is considered one of the 3 1/2 auspicious days. It falls in on the 3rd day of the bright half of the Month of Vaishakha.
The work "Akshay" means inexhaustible, imperishable or never diminishing and this day is supposed to bring good luck and hence new ventures, businesses, construction are started. It is an auspicious time for marriages, buying gold (can we Indians be far away from our love)?
But it's not just about new ventures charity is also very important and charity that is done on this day gets you the better benefits. Another thing is Shri Laxmi is worshipped with her Consort Lord Vishnu, Laxmi is the goddess of wealth!
Anyway, my concern is food! What do I make as a sweet?
This is what I have I tried in the past
Doodhi Halwa or Bottle Gourd Halwa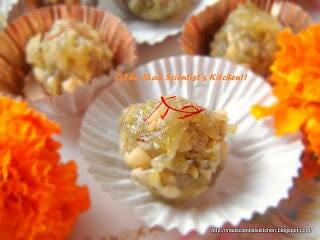 Doodhi Halwa
Goan Kanga che Kheer|Sweet Potato Pudding a Traditional Goan Dish
Besan Ladoo/Besan Unde/ बेसन के लड्डू
Easy Rava/Sooji/Semolina Laddoo Alias Rava Unde
or go against social norms and make
Brazilian Chocolate Brigadeiros
somehow I think it will be the chocolate for me.
What about you? What will you make?