Zero Waste or Zero Wastage Kitchen I keep hearing and reading about it.
What does it mean? Why has this become such a huge thing in the current times?
Can we implement it?
Zero Waste is something where we focus on waste prevention. The goal is to put less stuff in a landfill, use less plastic, paper.
Zero Waste is based on these principles, " production, consumption, reuse, and recovery of all products, packaging, and materials, without burning them, and without discharges to land, water, or air that threaten the environment or human health."

(courtesy: Wikipedia)
While it is important to manage waste by recycling and reusing, it is not enough.
We, as a Society have to choose and avoid packaging, wasteful and polluting manufacturing processes only then will pollution decrease. This will, in turn, reduce costs due to the reduced need for raw materials.
The bottom line is if we do this we will all breathe cleaner air, drink purer water and eat healthy too. In effect save money.
Your mother and mine did manage a Zero Waste Kitchen however they did not know the phrase. My mother for one had never heard of disposable items but did re-use and recycle. Garbaging was the last possible resort. 
Though I was brought up in this mindset in an attempt to ape what I saw as a luxurious lifestyle and trying to keep up with the Jones I have managed to exactly the opposite of what I had learnt. The result I helped create landfills.  
This post is my small attempt to rectify my mistake. What I am sharing here besides the recipe (again to reduce wastage) is something rather a small thing we can do for the earth and our kids.  A small step that I hope to make a habit so that I do make a small environmental impact.
After all,
"Habit is habit and not to be flung out of the window by any man, but coaxed downstairs a step at a time."-Mark Twain
How to start a zero-waste kitchen? 
Here are some steps I have taken. Are they effective for you? Do share and comment on what you do too. 
Anyway let us see how we can reduce our Carbon Footprint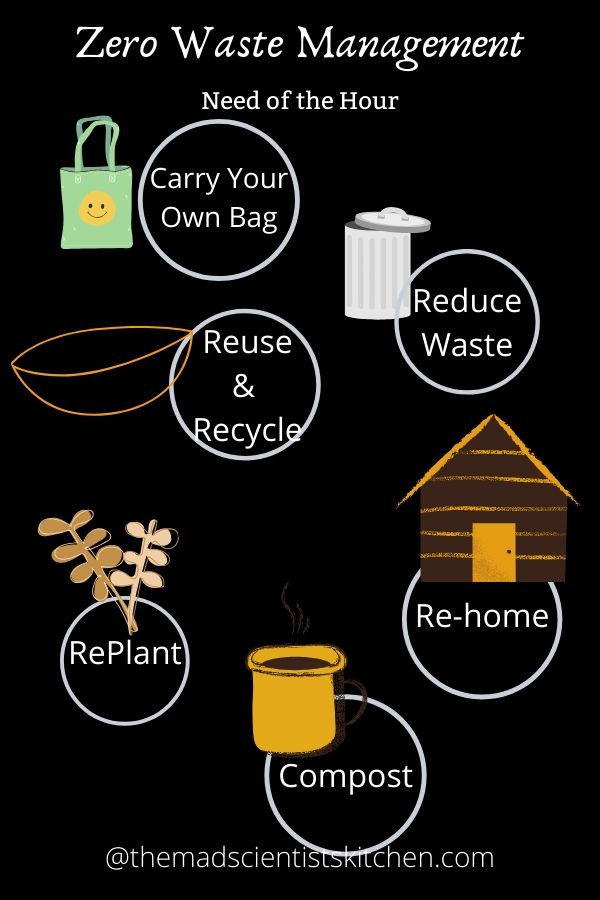 #1 Buy in Bulk:
As far as possible avoid single-use items.
In my case, this is the first thing and only thing I will have to set aside.
For till last year buying in bulk made sense for me and my family. Now my family members are reduced to 3 what is the point in buying 10 kgs of rice? Our consumption is 1 soup spoonful per day!
We still do not have stores where you can carry empty containers and fill up and pay. However, do buy non-perishable items like soaps in bulk this reduces packaging and your plastic waste.
#2 Carry Reusable Bags:
Do you like me buy your veggies at the market once a week? You will then agree when we do not mind if the greengrocer to put the veggies in individual plastic bags. After all who has the time to sort it through?
But do you need to get plastic bags?
After all plastic is not biodegradable. These bags end up in thrash and/or are eaten by animals causing deaths.
Can you not carry separate bags made from cloth? I am using pillowcases, cotton bags made from old dupattas, bedsheets. The Greengrocer at first laughed at me but became so accustomed to my way. These last few months when my flat was being renovated he kept asking me why I ditched this method. Could be because there are stiff fines too?
The best part is that the cloth bags are washable and reusable.  Carry 1 or 2 in your vehicle so that they are handy.
The second option is using paper bags. Use waste newspaper make bags at home. Glue them or staple them they are great projects for those of you who have smaller kids to keep them busy and you do make them aware too!
#3 Avoid Plastic Containers for storage:
Guilty as charged I have been ditching my metal containers to buy plastic Tupperware ones. The more I read about plastic leeching called endocrine disruptors the less I like myself.
In case you don't know, intense changes in temperature cause leeching of these endocrine disruptors in the food and drink. So use glass containers to store your leftovers. Use metal containers, especially the ones with see-through tops. How I wish I knew about these before I shifted to plastic. Needing see-through containers was the main reason I shifted to plastic.
That does not mean ditch all your plastic in one go. When you need to replace these containers go for the metal or glass ones.
#4 Avoid single-use water bottles, straws, brushes:
Do you know that single-use plastic bottle cause most of our plastic pollution? Surely we can carry a bottle of water with us in a good metal or glass bottle. There are places where you can refill these bottles too.
Straws and toothbrushes to add to the plastic waste. There are good quality replacements available. Sponges and scrubbers, in the past, my mother's maid used the fibres from coconut and ash to wash vessels. Now we have bamboo brushes for both washing utensils and brushing your teeth. I will also love to use Neem Sticks or Mango sticks to chew on and brush my teeth.
#5 Reuse your plastic that is not single-use:
Just because I am raving against plastic use does not mean you should not use it. We need them a lot, especially, if you are using the sealable ones to pack lunches. Reuse them again and again.
Wash them with warm soapy water and dry them well before reusing. Similarly, if you need to give your kids lunch then do pack it in the Tupperware containers. I am yet to come across a child or adult who does not mind a soggy lunch, especially in School or Office. As your child grows up you can phase them out.
Since you are reusing the plastic you save money and reduce your garbage.
#6 Ditch the Paper Towels, tissues:
Use old kitchen towels, old t-shirts any other rags to clean up spills. These rags can be washed and reused as many times as you wish. We can reduce water pollution and tree cutting if we use rags.
#7 Use your Food Scraps:
How many of us throw out the dried up garlic cloves, potato eyes, mint? All these and much more food like carrots, onions, leeks, spinach roots can be planted in the garden or in a shallow container and regrown.  Try it the pleasure of fresh produce that you grow is out of the world.
Here are some wonderful recipes that my friends have shared.
There are many more I have not documented. But plan to slowly. In case you do have some tips please do share them with me in the comments. I will love to implement them.
#8 Compost your Waste:
After using your scraps use the leftovers that cannot be used to Compost.
Yes, this was what we did ages ago especially in rural India. In case you cannot second use your scraps then compost them. There are many compost bins available especially for small spaces. Avoid adding citrus and oily stuff to the bin.
The possibilities are endless once you start you will find more ways to reduce your waste and recycle.
The idea is to start!