Tomato and Onion Salad|Chilean Salad Recipe
Tomato and Onion Salad this is a Chilean Salad Recipe.
Believe me when I say no one home believed me. It is just like tomato kanda salad that we make on a regular basis.
Believe me, when I say I am at my wits ends as we are going out of the station and I don't know why I thought I can cook every dish I see and schedule it. There are so many minute details I have to tie up.
Anyway, Salads in my place are inhaled. They just disappear. The girls and their father are thrilled when I say we are having salads for dinner. it's me, I feel I have somehow failed when I serve just a salad.
The salad I have tried in the past are Watermelon and Feta Salad with Micro Greens,  Matbucha a Salad, Pasta Salad and Stir-fried Mushrooms with Bread Sauce(??), Cabbage Salad Indian Style, Simple but Yummy Quinoa Salad, Low-Fat Broccoli Salad, Pasta Salad, Ambe Dal, a Salad~Padwa Special, Maharashtrain Salad of Cucumber and Peanuts/Khamang Kakdi, Roasted Beetroot Salad with Balsamic Reduction, Festive Sautikai Kosambari with Lemon,  Sautikai Kosambri/Kakdi chi Koshimber in Curds,Sutikai Kosambri or Kakdi chi Koshimbir, Carrot Salad/ Gajari Kosambari.
You can also check up the Soups and salads event round up where my friends have contributed their masterpieces.
This is my last recipe in Explore Latin American Cuisine.
Check out the Blogging Marathon page for the other Blogging Marathoners doing this BM#77
Hi! First time here?
You are Most Welcome! I hope you keep coming back for more here. If you are my regular visitor then Thanks, for you encourage me to experiment more!! I would like you to please click on my link below and like my Facebook Page. I will be happy if you can follow me on on Twitter too!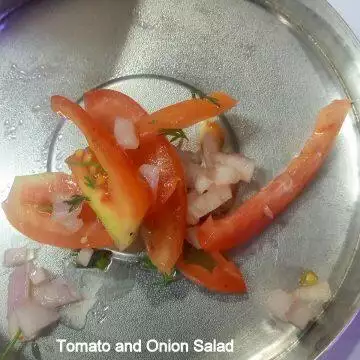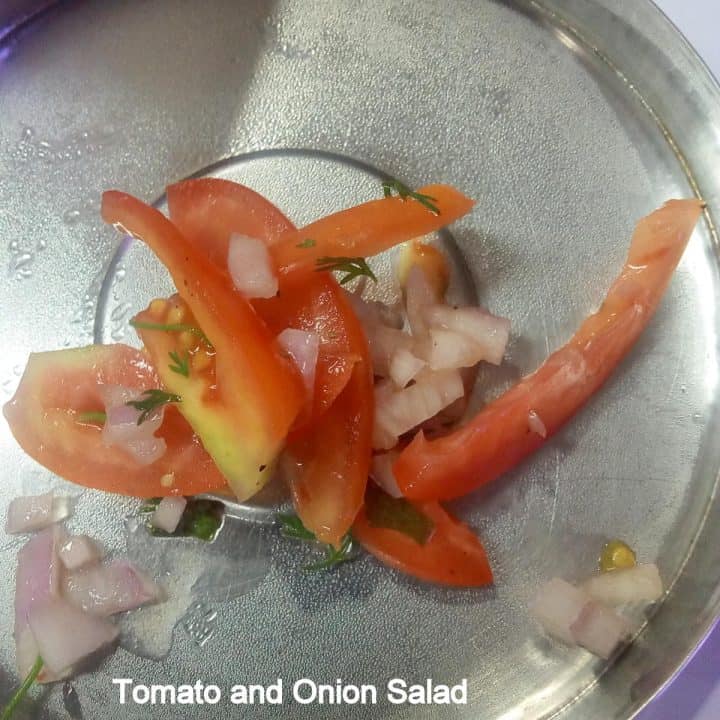 Ingredients
1

cup

red onion chopped fine

3

 tomatoes sliced

3

tablespoons

olive oil

Salt

black pepper

freshly ground

Coriander leaves

chopped

1

teaspoon

Lemon juice
Instructions
Mix tomatoes, onion, salt and pepper together in a bowl.

Mix oil and lemon juice and pour over salad.

Sprinkle with coriander leaves on top.
Reader Interactions