Sukto, A Bengali Mixed Vegetable
Sukto,  a complex stew is a test of a Bengali cook's abilities in the kitchen. 
This mixed vegetable stew is a blend of many different tastes and textures that is made for festivities and occasions and is a no-onion no-garlic dish.
A starter or a Palate Cleanser served in tiny portions and is considered to be medicinally valuable.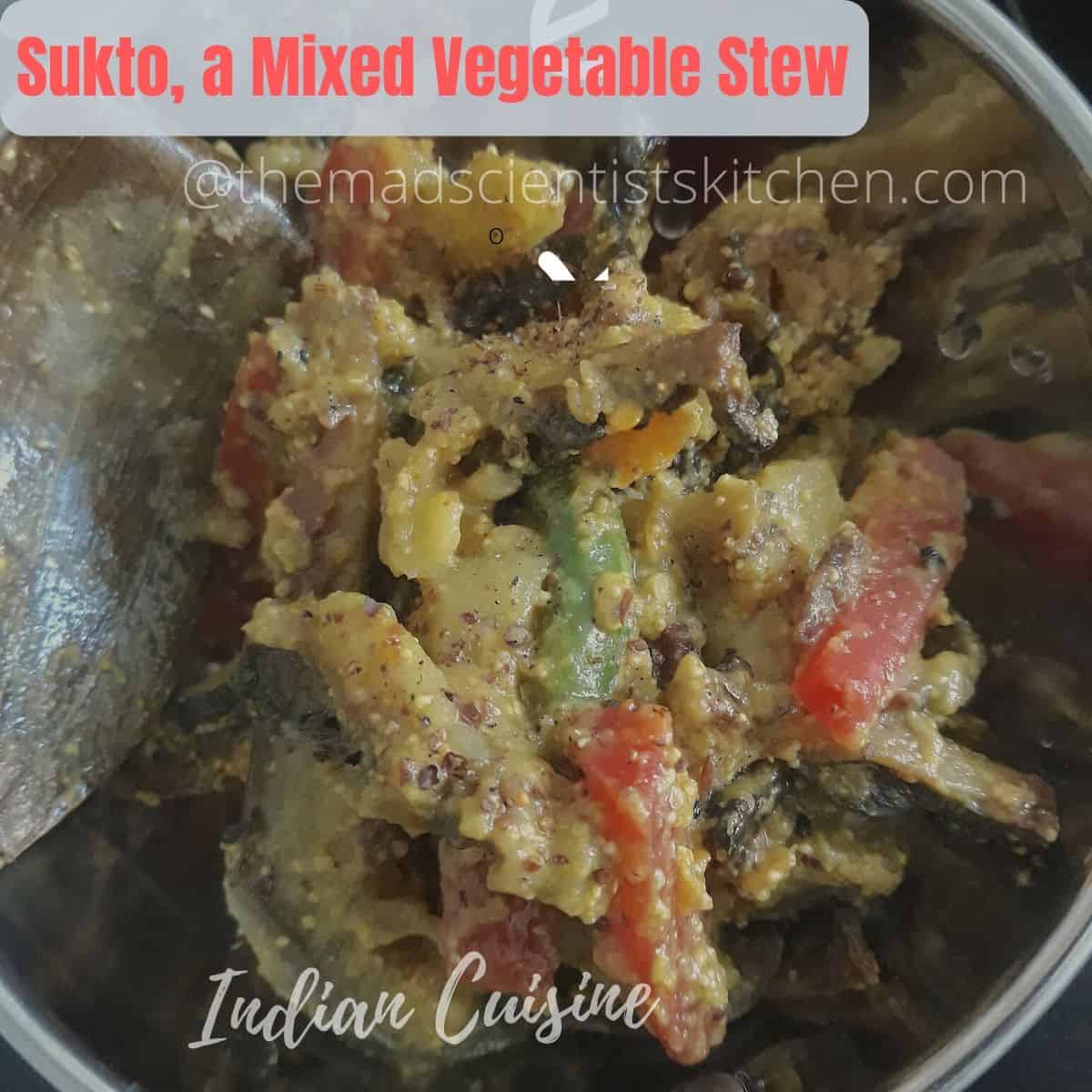 Before we start about Sukto, let me tell you how I am making this delicious stew that I was sure no one will eat. Well, I am a part of Shhh Secretly Cooking and I am paired with Shobha. Shobha is a wonderful cook and you name it she has it on her blog. 
Shobha gave me mustard oil and Kalonji as my secret ingredients. Shobha I gave her yoghurt and chilli powder, her response was this delicious mouth-watering Doi Maach. Just check it out.
With the ingredients, I made Sukto or Suktho who better for an authentic recipe than Sujata?  Sujata has amazing sandesh recipes too!
Needless to say, the vegetable was loved a lot and the pickiest of eaters my daughter, Akanksha liked it.
Sukhto, as it is also called,  and the most important vegetable that goes in your pan when making sukto is Bitter Gourd. In Eastern India kôrola or uchhe,  forms of bitter gourd these are used but bitter gourd is a substitute for you and me. In spring you do use tender neem leaves. and your sukto is served in larger portions.
To make an authentic dudh sukto you will need besides milk,  pumpkin, eggplant, raw/green banana, sweet potato, ridge gourd, drumstick or moringa.
As in any Bengali Cuisine Poppy seed paste and mustard paste and ghee play a major role. Remember however there is no green chilli used in it.
The addition of badi dried lentil dumplings and a spice called radhuni make Sukhto a perfect Bengali lunch recipe with rice.
Did I say serve sukto with rice, hey no you can serve it with Lucchi too. I stand corrected Suktho is served with rice only and as the first course. (Thanks Sujata).
The one ingredient that I love in East Indian Cooking is their Panch Phoran. A delicious and heady mix of 5 ingredients in equal proportions they are
cumin seeds or jeera,
methi seeds or fenugreek seeds,
rai or mustard seeds,
saunf or fennel seeds
kalonji or onion seeds
to make your mixture just mix them up and store in a bottle.

Ingredients to make Sukto:
Bitter gourd:   is important an ingredient. In Bengal, you can use kôrola or uchhe however In summer tender neem leaves are used.
Other Vegetables: pumpkin, eggplant, raw/green banana, sweet potato, ridge gourd, drumstick or moringa. Give or take a few are used.
Panch Phoran: an aromatic spice mixture of fenugreek seed, nigella seed, cumin seed, black mustard seed and fennel seed in equal parts.
Poppy seeds and mustard seed and saunf paste: in Bengali Cuisine Poppy seed paste and mustard paste and saunf play a major role.
Badi: also Bari these are sun-dried lentil dumplings that are deep-fried and used.
Radhuni: a spice that is available in Bengal is a game-changer but you can use Dill seeds or methi seeds.
Ginger: this gives the vegetable a great flavour. Do not skip.
Milk and flour: the binding agents of Sukto.
How to make Sukto:
Soak the mustard seeds powder, saunf and poppy seeds separately in 2 teaspoon water. Grind to a fine paste the saunf, poppy seeds and ginger.

Dry roast 1 teaspoon of panch phoran. Make a fine powder.
Heat the mustard oil to smoking point.
Fry each vegetable individually.Fry the baris. Set aside.
Splutter in oil the panch phoran and bay leaf.
Add all the veggies except the bitter gourd. Add the poppy saunf and ginger mix. Sauté till dry.
Mix in salt, turmeric, mustard powder soaked in water.
Add some water and cook till veggies are tender.
Make a smooth lump free picture of the atta and milk. Add to the pan.
Add the bitter gourd, mix. Drizzle the ghee and switch off the gas.
Add the panch phoran powder on top.
Serve hot with rice or Luchi.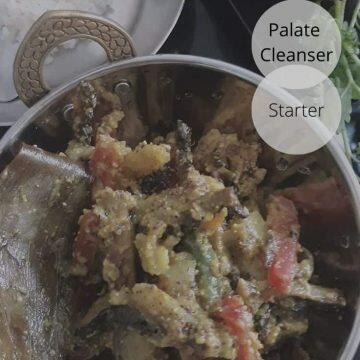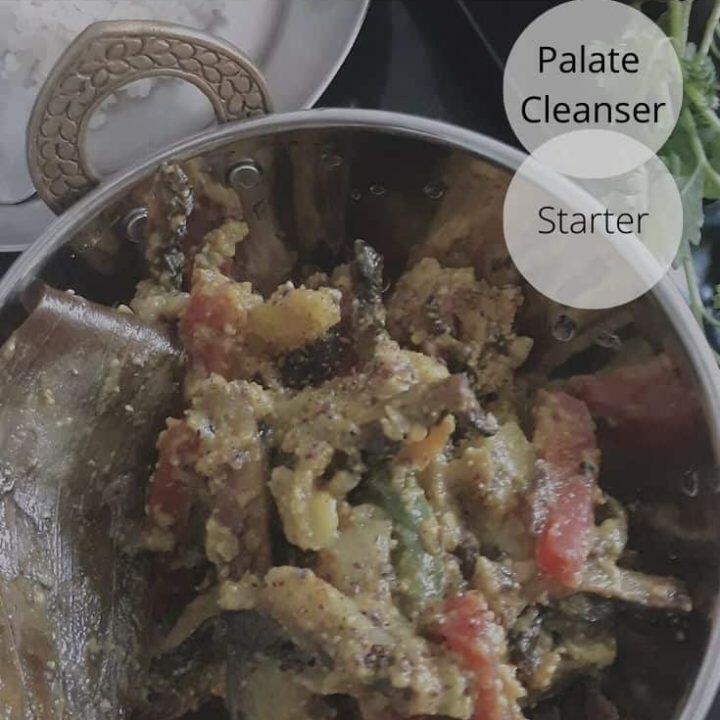 How to make Sukto, a Bengali Vegetable Stew
A mixed vegetable stew that is served for lunch and festive occasions.
Print
Pin
Rate
Equipment
Kadhai/wok

Slotted Spoon

Bowls
Ingredients
1

potato

4-5

beans

1

egg plant

½

cup

carrots

½

cup

pumpkin

¼

cup

bitter gourd

2-3

Bari

4

tablespoon

oil

2

bay leaves

2

teaspoon

panch phoran

Salt and sugar to taste

¼

teaspoon

turmeric powder

1

tablespoon

saunf

2

tablespoon

poppy seeds

1

inch

ginger

2

teaspoon

mustard powder

1

tablespoon

atta

½

cup

milk

1

teaspoon

ghee
Instructions
Soak the mustard powder in 2 tablespoon water.

Soak saunf and poppy seeds.

Dry roast 1 teaspoon panch phoran cool and grind.

Grind the poppy seeds, saunf and ginger to a smooth paste.

Heat oil and fry all the vegetables separately.

Transfer all to a plate and set aside.

In the same oil add panch phoran and bay leaf.

Add the fried veggies except for bitter gourd.

Add the poppy seed paste and sauté till dry.

Add salt, sugar, turmeric and soaked mustard powder. Mix and saute.

Add water and cook till all vegetables are tender.

Mix milk, flour and make a lump-free mixture.

Add to the pan along with the bitter gourd. mix.

Pour the ghee on top.

Switch off the gas and add the powdered panch phoran.

Seve hot with rice or luchi.
Other Stews that may interest you:
Pin for Later:
More recipes you may enjoy
Reader Interactions