Ghooghri for Gluten-free Diet
Ghoogri, also known as Ghooghri is a delicious stir fry, nutritious and tasty and most importantly Gluten-Free.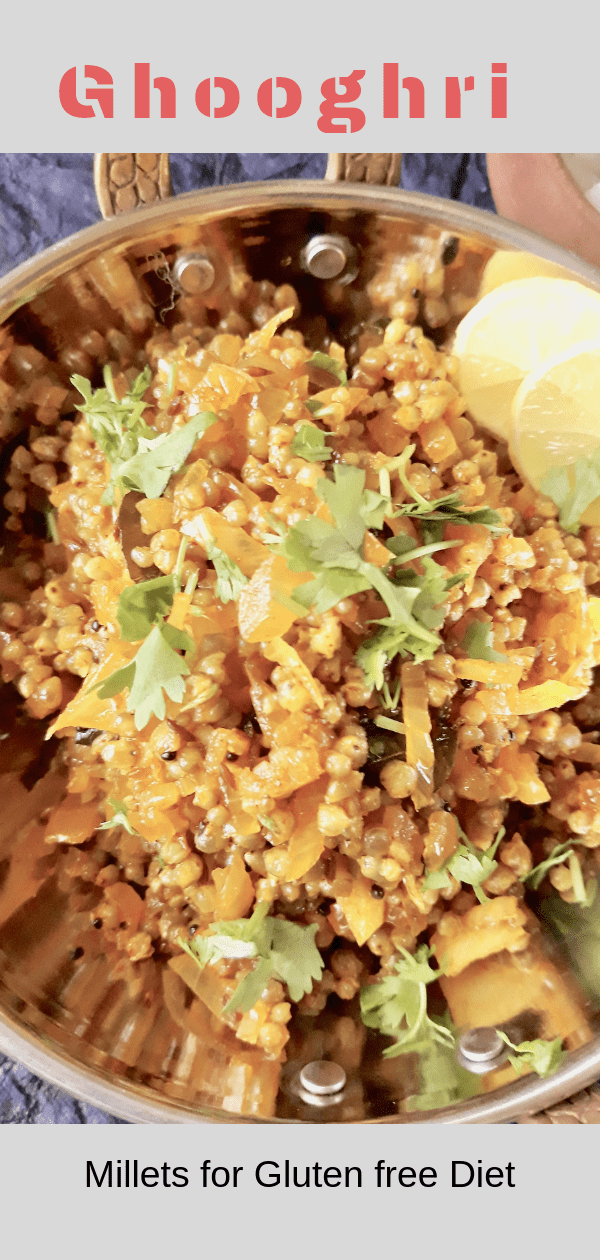 You can make Ghooghri from either bajra (pearl millet) or Jowar (sorghum). Both Bajra and Jowar are great for people suffering from celiac disease and need to follow a gluten-free diet.
When I searched for a dish to be made for Gujarat I came across garlic chutney and ghooghri. I was transfixed by the simplicity and the healthy food that ancient Indians followed. Without all the new terms and research we did have healthy and delicious food.
Ghooghri means bells and is called so as the cooked bajra and jowar look like small bells.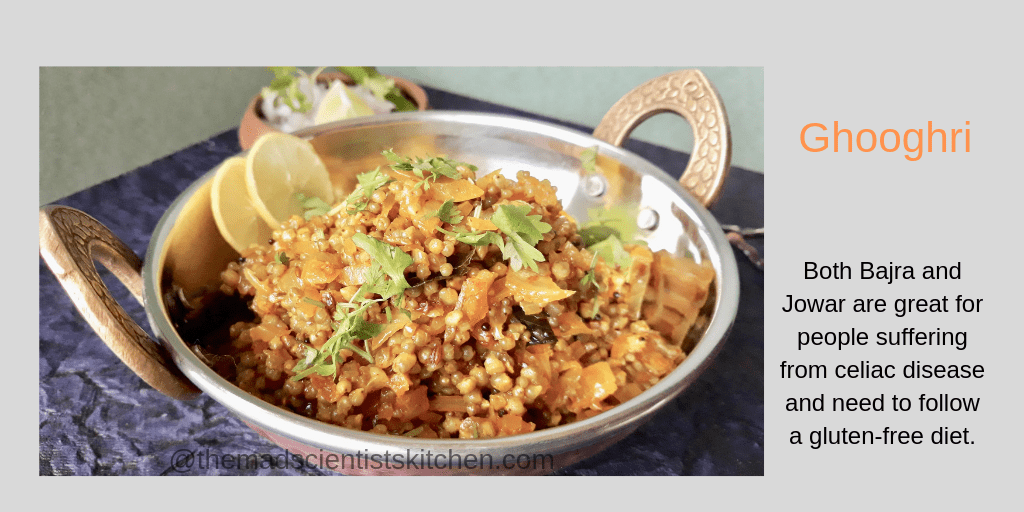 Ghoohri is consumed in remote Kathiyawar by the farmers. Apparently, they eat Ghooghri with rotla and a pat of homemade butter. Healthy and keeps you full for the whole day especially useful for the hard work this farming community does.
The flavour of the cooked bajra was similar to hurda a dish made from tender green grains. Traditional hurda is roasted in a bonfire but check out this adaption for stovetop in a kadhai/wok. Yes, my tried and trusted Kadhai/wok it is my lambe race ka Ghoda.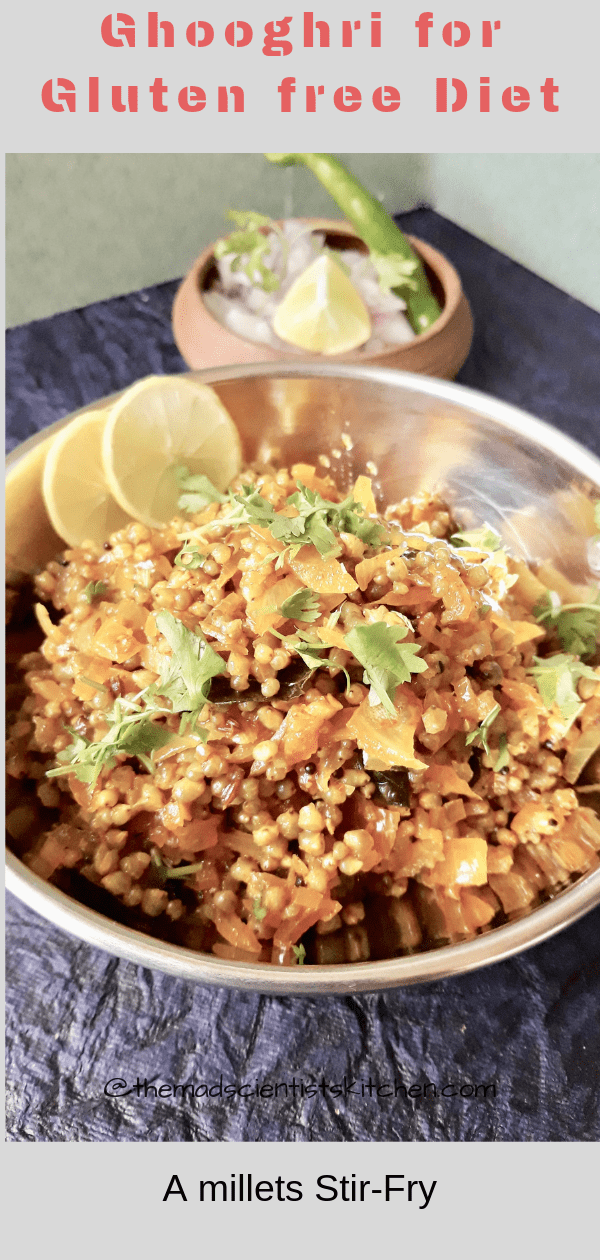 I had made Ghoogri a long time ago but I lost the pictures now again I have tried making it. Here I have not added any veggies other than onion but you can use peas, carrots, cauliflower and capsicum/green peppers.
The millet I have used is bajra, I have soaked the bajra overnight and then pressure cooked it till the bajra was well cooked not mushy. Sauté with veggies and serve hot for best taste. But you can also pack it up in tiffin boxes for school or office. Since is healthy and tasty enough to be eaten by itself.
In case you are using jowar, it will be the same method.
The reason I am now publishing this post is that for the first time I have come across a lady who has acknowledged she is Gluten Allergic. Sorry, dear for the long delay.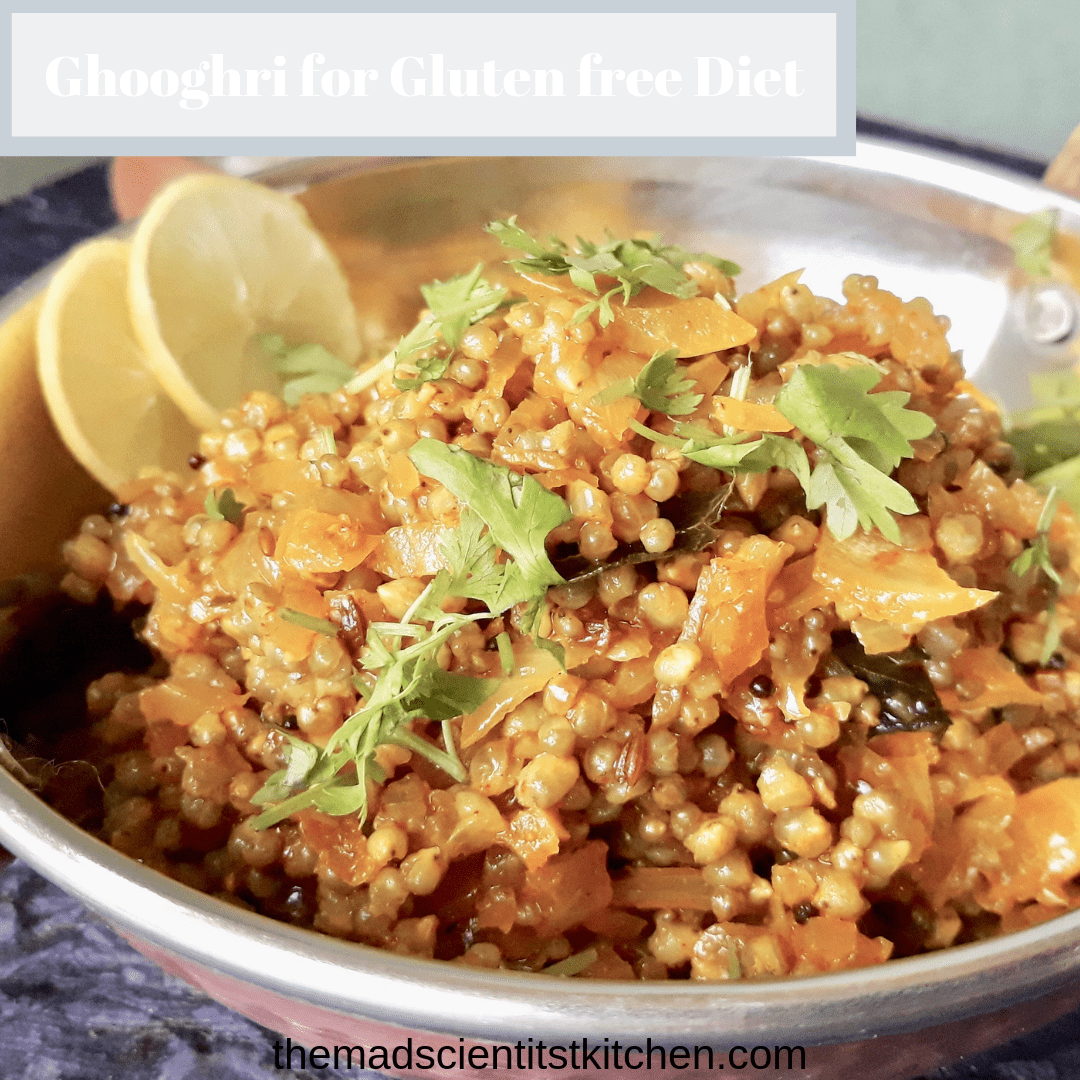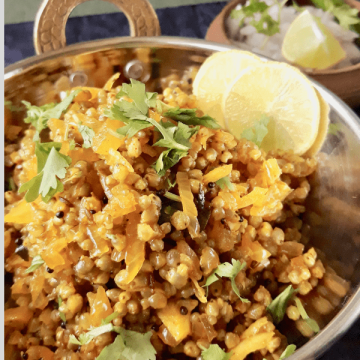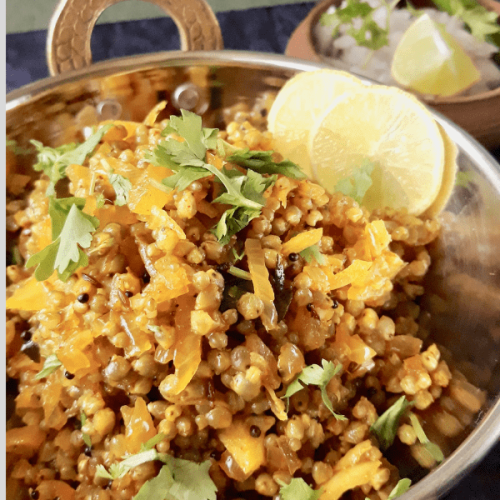 Equipment
Pressure cooker

Kadhai/wok
Ingredients
1

cup

bajra/pearl millet

2

teaspoon

oil

1

teaspoon

ginger paste

2

teaspoon

garlic paste

2-3

teaspoon

green chillies minced fine

½

teaspoon

Mustard seeds

¼

teaspoon

hing/ asafoetida

½

teaspoon

haldi/turmeric powder

5-6

curry leaves

1

onion chopped fine

Lemon juice to taste

Sugar to taste

optional

Salt to taste

coriander leaves and lemon to garnish
Instructions
Check the bajra for any stones and impurities.

Rinse the bajra in running water and then soak overnight.

In the morning check the level of water in the container, if the water does not reach your knuckles add more water.

Pressure cook the bajra for at least 6 whistles.

Let the pressure drop naturally.

Check if the bajra is cooked. If mushy well then bad luck try making bajra ki khichdi. The bajra should be cooked but not mushy for our Ghooghri.

Drain the liquid in the bajra, set it aside you can use it in making a vegetable or even add to daal.

Let the cooked bajra cool down a bit.

Heat a kadhai/wok then add oil.

Once the oil is hot splutter the mustard.

In quick succession add the curry leaves, hing, garlic, ginger and green chilli paste. Stir and cook for about ½ a minute.

Add the onion and haldi/turmeric, cook till the onion is translucent.

Add the bajra and mix well with salt and sugar, if using.

Cover and cook for about 10 minutes.

If the bajra sticks to the bottom of the Kadhai sprinkle some water.

Switch off the gas, and add the lemon juice as needed.

Cover and let the flavours mix well.

Let it sit for about 5 minutes before serving sprinkled with coriander.

You can serve Bajri ni Ghooghri with roti, in fact, I served it with parwal ki sabzi and roti. I noticed that everyone including me finished the roti sabji then ate the Bajrri ni Ghooghri like a snack.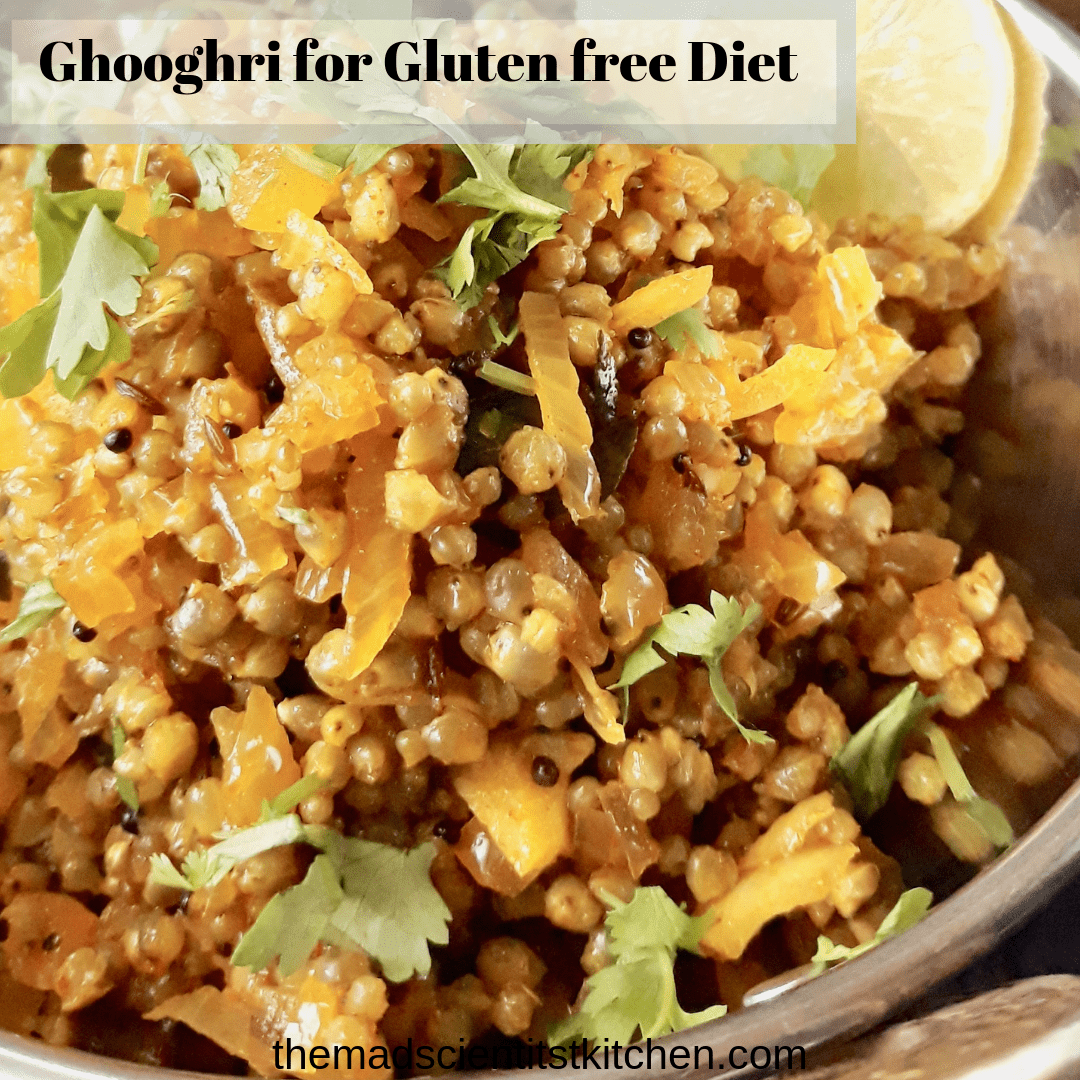 Do you like this recipe? Have you tried it? In case you do and whenever you do please tag me on Facebook. My Instagram handle is #themadscientistskitchen. You can also use my Twitter handle, Then you are always welcome at my Pinterest page too. I will love to see you there.
Please also subscribe to my mailing list and join me in my journey of Food! Will enjoy seeing what you make so that I too can learn from you!!!
Reader Interactions