Egg-less Buttery Cookies~ A Sweet Punch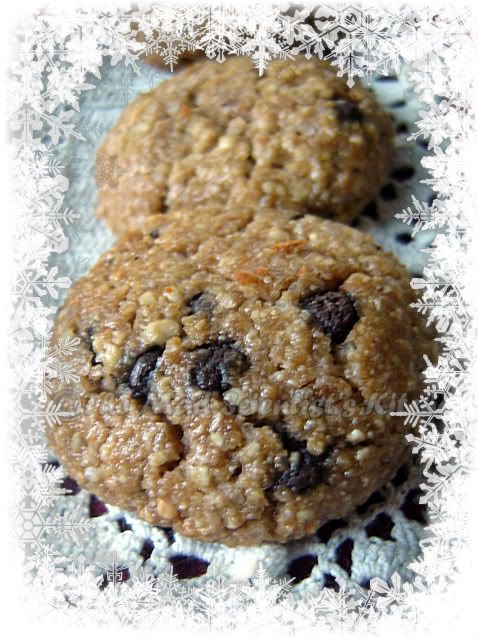 When Priya posted her egg less buttery almond cookies I could not resist them. I had such a craving for them that I baked them immediately.
 Me and follow recipes? Surprised are you not?
Well there are times when I do follow recipes, but you are correct I did not follow it to the T made a few changes to suit our tastes and my pantry contents. I baked them 3 times now.
Here is Priya's recipe.
 Thanks Priya.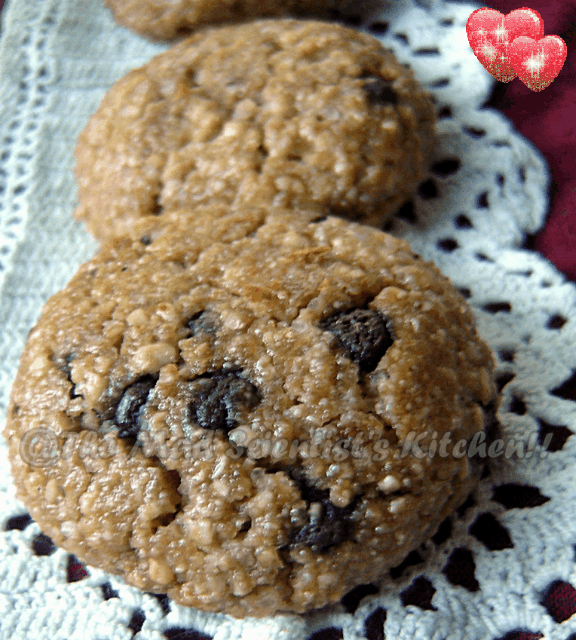 Here are the changes
Ingredients:
½ cup oats, powdered
½ cup besan/kadli hit/chana daal atta
½ teaspoon baking powder
½ cup cashew nut powder
1 tablespoon rava, roasted
½ cup sugar
1 tablespoon cocoa powder
½ cup butter, softened(I used Amul),
¼ teaspoon salt (use only if you are using unsalted butter)
½ cup chocolate chips
½ teaspoon vanilla essence
Milk as needed
Method:
1.        Mix all the dry ingredients well.
2.       Add the melted butter and use milk to make soft dough.
3.       After I mix my cookies dough I prefer to put it in the fridge for say ½ hour. (Some tips I picked up from I think Rachel Allen).
4.       After ½ an hour make a roll of the dough and cut out cookies or make small balls and flatten them a bit. Make 20 balls (It was only after I started baking them I remembered that once Priya had used the prong of a fort to give it nice design.  Next time).
5.       Bake in a preheated oven   at 180°C for 14 minutes or till golden brown.  mine takes 14 minutes in the auto mode please check you oven settings.
6.       Wait for them to cool down before you bit into these beautiful aromatic cookies else learn the hard way as I did with a burnt palate.
7.       If there are any left over after the kids are through wit them store in an air tight container.
Sending this to December Sweet Punch where it was any bake this moth. Baked quite a few recipes but I choose to post these.
Archana
Reader Interactions