Delicious Sago and Chia Seeds Pudding
Delicious Sago and Chia Seeds Pudding is a sweet pudding made out of sago or sabudana and chia seeds.
In India it's called sabudana kheer and is made by cooking together sago in water or milk, sweetened by sugar.
However,  worldwide the styles, ingredients, and presentation may differ.
Sago pudding or sabudana kheer was something that we avoided as kids and even now I was reluctant to make it. Reason being sabudana kheer and rava/sooji kheer was fed when you were not well. Some associations are very hard to shake off.
The first time I tried to shake off my association with sickbed food association was when I made this bottle gourd kheer.
The other names it is called by are the Malaysian Sago Gula Melaka where sago is boiled in water and served with a syrup of palm sugar (gula Melaka) and coconut milk.
In the UK, sago pudding or frog spawn is made by boiling pearl sago and sugar in milk until the sago becomes translucent. It is then thickened with eggs or cornflour.
The puddings that I have tried in the past are Malva Pudding, Self Saucing Chocolate Pudding, Baked Bread Pudding, Banana and Burnt Butter Pudding, Thai Coconut Pudding/Custard, Agar Agar Pudding, Trifle Pudding, Ragi Pudding or Nachni-che-Satv, Coffee Chocolate Pudding, Bread Pudding, Kheer. Do check out my Corn Pudding too which I tried out in the series  Are you Pudding me?
My recipe is adapted from here. The pudding is Indian Style initially but I thickened it and since I love Malaysian Cuisine, Malaysian Sambal Sauce, Nasi Lamak I had to try the Gul Melaka.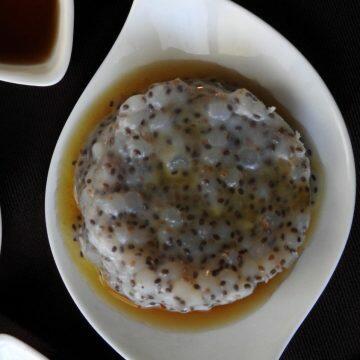 Delicious Sago and Chia Seeds Pudding
Delicious Sago and Chia Seed Pudding!
Print
Pin
Rate
Ingredients
For the Sago Chia Seed Pudding
3

Cups

Water

¼

Cup

Sago/sabudana

1

Tablespoon

Chia seeds

(optional)

¼

Cup

Sugar

2

Tablespoons

Milk
For the topping:
¼

Cup

Jaggery

2 ½

Teaspoons

Water

3 ½

Tablespoons

Coconut milk
Instructions
Rinse and soak the sago in 1 cup of water. (This cuts your cooking time). Soak the chia seeds too. Say 20-30 minutes.

Transfer and cook in a deep pan on low flame stirring regularly.

Add water if the sago starts sticking to the bottom of the pan. Cook until the sago becomes translucent, I needed 3 cups of water.

Add the sugar and milk cook for a few minutes until the sugar dissolves.

Mix well and transfer to greased moulds. Refrigerate overnight.
For the topping:
In a small pan mix the jaggery and water.

Bring to a boil, and cook until the jaggery has dissolved.

Strain through a fine sieve to remove any impurities.

Unmold the puddings, and serve with the coconut milk and palm sugar syrup (gula melaka) separately for each person to pour over their serving.
Check out the Blogging Marathon page for the other Blogging Marathoners doing this BM#74
Hi! First time here?
You are Most Welcome! I hope you keep coming back for more here. If you are my regular visitor then Thanks, for you encourage me to experiment more!! I would like you to please click on my link below and like my Facebook Page. I will be happy if you can follow me on on Twitter too!
Reader Interactions