Last Updated on
Bombay Toast is a roadside delicacy that I really want to try every time we go to Mumbai.
Going to Mumbai is rare now.  I hope to sink my teeth into this sandwich at least this time but  I somehow never manage to eat it. The bread, chutney, fillers of potato, cucumber, tomato, capsicum and cheese make it a filling meal.
How can you?  there is vada pav, dabeli, Pani puri, sev batata puri and so many newer and tastier stuff that needs to be tried. Then there is the wedding or thread ceremony or engagement that we have come down to attend. My poor tummy rebels! My only option is to make my Bombay sandwich myself.
In my place, we are all happy when there is a toast for dinner. The only problem is I have to make them. Yes, I am a foodie who does not cook at night.
So let us get down to the making of Bombay Sandwich the main ingredients of which are of course sliced bread, green chutney, onion, boiled potatoes, tomatoes, cucumber, capsicum, chaat masala, cheese, salt and pepper powder. Big list hmm well it's something you can add or remove but this is what goes in it.
So let start shall we?
What you will need for 1 sandwich (these measures are just indicative like I already said add or reduce the number of fillers in the sandwich).
The pictures I realise need to be redone. Will do so till then please excuse.
The other toasts I have tried in the past are Simple Cheese Toast, Garlicky Cheese Toast, Simple Corn Toast, Delicious Grilled Sandwich, Toast with Feta Cheese Potato and Onion Rings.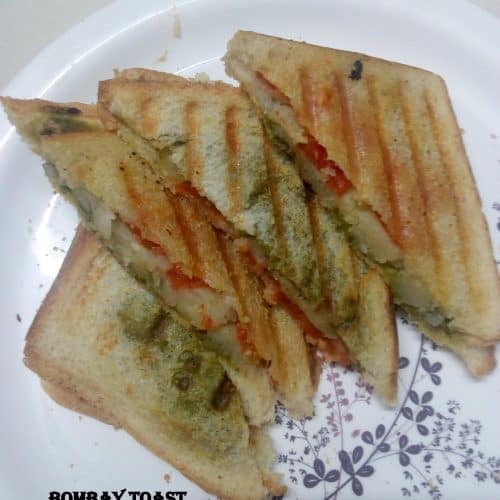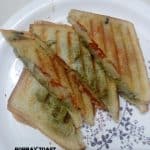 Print Recipe
Bombay Toast A Street Side Must Have Of Mumbai
Filling street food that you will find in Mumbai where Office Goers and College Kids line up for a quick snack.
Ingredients
4

Bread Slices

2

Tablespoons

Green Chutney

½

Potato

boiled, peeled and sliced

1

Tomato

sliced in circles

¼

Cucumber

sliced in circles

1/2

Capsicum

sliced in circles

½

onion rings

3

Cheese slices

1

Tablespoon

Amul Butter

Chaat masala

Black Pepper powder

Salt to Taste
Instructions
Butter the bread slices and set aside.

Apply the green chutney on the buttered side and lay them side by side.

Now on one slice arrange the potato slices, and the capsicum slices.

Sprinkle chaat masala, pepper and salt.

Cover with the cheese slice.

Now lay the second slice on the cheese. I put the chutney side up.

Arrange the tomato and cucumber slices.

Sprinkle chaat masala, pepper and salt.

Cover with the cheese slice.

Now lay the third slice on the cheese. Again I put the chutney side up.

Now add the onions rings. Sprinkle chaat masala, pepper and salt.

Cover with the cheese slice.

Now lay the forth slice on the cheese. Put the chutney side down. Press well.

Transfer to a toaster and cook till it's toasted to your needs serve hot.
Check out the Blogging Marathon page for the other Blogging Marathoners doing this BM#76
Hi! First time here?
You are Most Welcome! I hope you keep coming back for more here. If you are my regular visitor then Thanks, for you encourage me to experiment more!! I would like you to please click on my link below and like my Facebook Page. I will be happy if you can follow me on on Twitter too!