11 June, 2016
Black Currant Ice Cream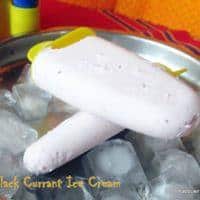 Posted in :
#3 Ingredient Dish
,
Bachelor Recipes
,
Blogging Marathon
,
Chilled Dessert
,
Dessert
,
Freeze
,
Ice cream
,
Kid Friendly
,
Milk & Milk Products
,
Summer
,
Summer Cooler
on
by :
ArchanaPotdar
Tags:
Black Currant Ice Cream
,
Dessert Topping
,
Freezer
,
Mahama Dessert Topping
,
No Cook
,
Skimmed milk
,
whipped cream
Black Current Ice Cream happens to be my favourite ice cream. Somehow the ice cream just sits there and waves out to me like hi how are you? Everytime!
Even if I eat something else and end up wishing I had eaten Black Currant Ice Cream!! It was not a surprise to the girls or hubby when at Mahama outlet in Panchgani I picked up Black Current Topping. In fact, they added it to my shopping bag without me even noticing it.
Now, it's just before monsoon in Goa, India. The humidity is high and I am in no mood t cook, bake or okay stay in the kitchen!!
So the other day my husband walked in with a friend!  I have absolutely nothing to offer.
Luckily I had some skimmed milk cooling in the fridge so with Black Currant Dessert Topping I made a milkshake. Wish I had taken pictures of it, though.
The shake was much appreciated but I was still left with some black current milkshake and after making the Tender Coconut Ice Cream some unsweetened whipped cream.
So it was logical to put them together wasn't it? Occupied much less fridge/freezer space gave me an amazing dessert a few icicles. But still tasty ice cream that elder one appreciated.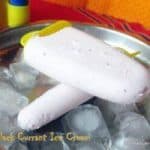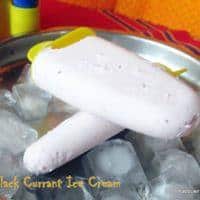 Print Recipe
Black Currant Ice Cream
This ice cream is a delicious mix of just 3 ingredients.
Ingredients
2

Cups

Whipped Cream

unsweetened

400

ml

Skimmed milk

1

Cup

Black Currant Dessert Topping
Instructions
Whip the skimmed milk and the dessert topping in the mixer/blender till the mixture is well blended.

Whip the cream till the peaks stand.

Fold the milk shake in the whipped cream till well blended.

Transfer to a Popsicle maker or to a sealed container and freeze till set.

Hold the popsicle container in water before you unmould and serve.
Notes
Since dessert toppings are sweet I have used it sparingly. I would like the purple colour that Black Current Ice Cream comes in but I am okay with the light pink colour this ice cream had.
Also sending this recipe to Srivalli's kids delight event hosted by PJ for this month.