Beetroot smoothie is a healthy way to eat beets.
A great way to get all the goodness of beets into you and your child without the fuss. You should try it even if you don't like beets, I just did.
This Beetroot Smoothie when I first made it I  did not share it with anyone. My thought was hubby will not like it and girls well lesser said the better. In fact, I did not expect to like it at all because I did not like beets
I loved it and hence I posted it. Hubby saw it on Facebook and kept on teasing me that I have put on weight is because I don't share food with him. Finally just to shut him up I made it again.
Needless to say, after that, we have tried many more smoothies and shakes. I have listed them later in the post for your quick reference.
What is the difference between milkshake and smoothies?
Milkshakes are made from milk and fruits, flavours and ice creams. 
Milkshakes are not a complete meal.
Smoothies are made from blending milk, yogurt, fruits and seeds.
 A smoothie is so called as it is smooth in consistency and texture. The smoothie is a healthier and innovative the ingredients you can use are up to you. Smoothies can be considered as a meal replacement as they are rich in minerals and vitamins.
A smoothie is especially great for lactose intolerant as you can use ice or plant-based milk to blend your smoothies.
Of the different smoothies, I have tried the beetroot smoothie was a bit of a surprise I did not expect it to taste good. After all, like I said  I have recently started liking beetroots.
Beetroot was first cultivated by the Romans.  Beetroots the edible taproots and their leaves we enjoy are useful as a food colouring and as a medicinal plant. Sugar beet is an important product made from beetroot.
The other names for beetroots are table beet, garden beet, red beet, or golden beet. 
Can you believe Beetroot, chard and spinach are from the same family?  In a beetroot, you can eat the leaves that taste bitter and the root is sweet. The colour of beetroot can range from rich purple colour to golden.
Health Benefits of Beetroot
The nutritional value of Beetroot and beetroot greens are huge.
While the beetroot greens are excellently enriched with calcium, iron and vitamins A and Vitamin C the beets themselves are a great source of fibre, folic acid, potassium and manganese.

Beetroots help to stimulate the liver's detoxification processes.

The pigment in beets betacyanin is thought to suppress the development of some types of cancer.

Beets are also one of the richest sources of glutamine, an amino acid, essential to the health and maintenance of the intestinal tract.

Beetroot juice reduces blood pressure in hypertensive individuals and so may have an effect on mechanisms of cardiovascular disease.
After reading these benefits of eating beets do you want to buy them?
Go ahead choose firm, smooth, and a vibrant red-purple, not soft, wrinkled or dull in colour. Dig your fingernail in the beetroot. You get a clean cut then best buy it. It is fresh!
 

Other than a Beetroot Smoothie how does one eat Beetroot?
Beets are eaten boiled, steamed, roasted or raw, either alone or combined with any salad vegetable.

 

The boiled or steamed beetroots are peeled and then eaten warm with or without butter.

 

Pickled beets are a traditional food in many countries and eaten cold.
Hard-boiled eggs are refrigerated in the liquid left over from pickling beets and allowed to marinate until the eggs turn a deep pink-red colour. This is traditional Pennsylvania Dutch pickled beet egg.
In Poland and Ukraine, beetroot is combined with horseradish to form popular ćwikła, which is traditionally used with cold cuts and sandwiches, and to a meal consisting of meat and potatoes.

 

In Serbia where the popular cvekla is used as a winter salad, seasoned with salt and vinegar, with meat dishes.

 

As an addition to horseradish, it is also used to produce the "red" variety of chrain, a popular condiment in Ashkenazi Jewish, Polish, Russian and Ukrainian cuisine.
In Australia to make hamburgers beetroot is combined with a fried egg and the beef patty and salad to make an Aussie burger.
How can we forget the Borscht or beet soup is a popular dish in Eastern Europe?
In Indian cuisine, chopped, cooked, spiced beet is a common side dish.
Beetroot wine, anyone? Yes, you can make wine too from beetroots.
The easiest option is, of course, Beetroot

 

Smoothie.
How does one make a beetroot smoothie?
Basically, you can use the beetroot raw or cooked.

 

Add carrots, berries, apples, oranges to flavour your smoothie.
Other suggestion that I came across to add to beetroot smoothie and I may try out are kale, cucumber, beetroot greens, ginger, celery, date,  kiwi.
Pineapple too if your kids are okay with it. (mine is not).
 Use Honey or Maple Syrup if your kids want it sweet.
For the liquids use milk, curds or water/ice, plant-based milk the choice is yours.
You can freeze the beets to use them in smoothies but fresh is the best. In my place, we get beets all year round so I will never get in the hassle of freezing them.
Some of Our Favourite Healthy Breakfast Smoothies
Now let us get down to serious business of making the smoothie, Beet Smoothie, to be precise.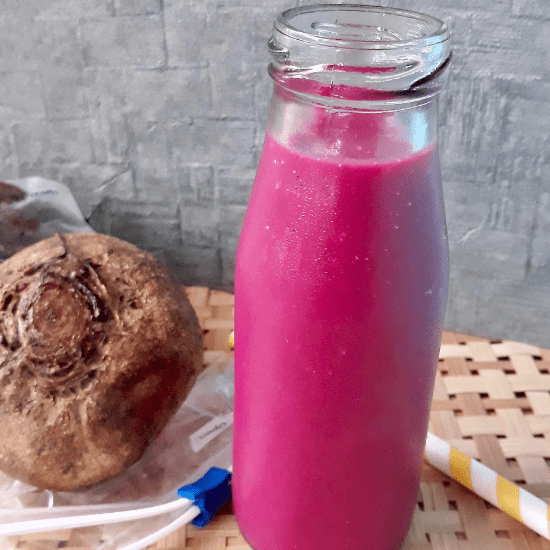 Equipment needed:
To make this smoothie out of beets especially the raw beets you need a good mixer/blender. Something like this one here
If you do not have one that is specially designed to make these smoothies just grate the beets.
Don't have a grater chop the beetroot fine.

But it is easier when you use cooked beets. You can use your regular mixer/grinder.
These cooked beets can be kept in the refrigerator for 2-3 days so you can cook them. In case you do not plan to use them in a smoothie can always make some other dishes this stir fry, or a salad. I have even added to a cake too in the past.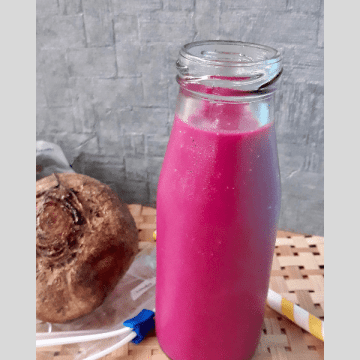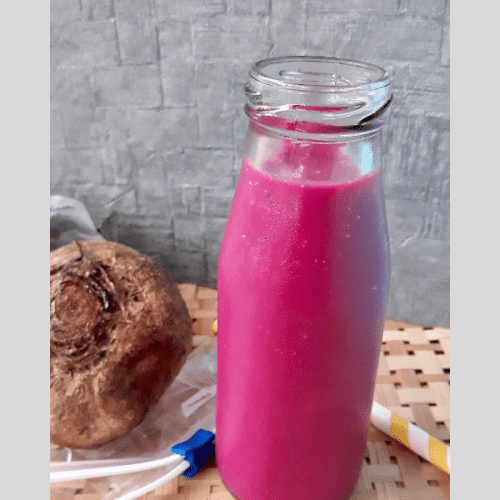 Beetroot Smoothie 
Even if you do not like beetroot you will like this smoothie, I did.
Print
Pin
Rate
Equipment
Blender or nutribullet

Grater

Chopper
Ingredients
1

beet boiled

peeled and cut in chunks

1

carrot

small cut in pieces

½

apple

small

1

teaspoon

lemon juice

2-3

mint leaves

A pinch of salt

Water as needed
Instructions
Peel and roughly chop the beetroot.

Chop the carrot and the apple too.

Add them all ingredients except the water to the blender jar.

Add water about ¼ cup and run the blender.

Add water as needed. You may need about ¾ cup of water.

Once the mixture becomes smooth serve immediately.
Notes
Mix and match your ingredients as per your taste and availability.
This post is an update of an old post, where I had used just milk to make my smoothie. Why am I bothering with an old post? Well, I am a part of a Foodie Group where we are trying to update old posts every 15 days. The reason is what I did in the past is not necessarily what I do now. I used to make this smoothie with only milk and beets. Now I use different ingredients, I need to update my old knowledge with new. After all, lifestyles change. I am trying to include more of Simple yet Healthy Vegetarian Dishes In Old Age.
This is my old picture, the one I recovered after I lost data to a hack (Another reason some of my recipes are lost) .  Very pretty isn't it?  But now I like to think my pictures have become better, my writing skils have improved. LOL!
Check out the Blogging Marathon page for the other Blogging Marathoners doing this BM#65
Disclaimer: We are a participant in the Amazon Services LLC Associates Program, an affiliate advertising program designed to provide a means for us to earn fees by linking to Amazon.in and affiliated sites. When you click and buy through this site, it helps us earn to keep this site running.
Sharing this recipe with the following event:
A Facebook group where bloggers get together to redo their old posts.
Do you like this recipe? Have you tried it? In case you do and whenever you do please tag me on Facebook. My Instagram handle is #themadscientistskitchen. You can also use my Twitter handle, Then you are always welcome at my Pinterest page too. I will love to see you there.
Is there something new, different cuisine or diet that you want to know more about? Do drop a line and I will try to answer your questions/requests.
Please also subscribe to my mailing list and join me in my journey of Food! Will enjoy seeing what you make so that I too can learn from you!!
Archana
Reader Interactions