Last Updated on
It's is strange how I chose to make this delicious  Thai Noodles with Spicy Peanut Sauce! I did the childhood method of choosing inni minne mini mo….! The net result of this meal was YUM!!!
This week my chosen theme for Blogging marathon is 1 cuisine 3 dishes! Thankfully Valli had whittled down the cuisines to American street food, Arabian cuisine, Thai Cuisine, French cuisine! Where we had to choose 1 cuisine and make 3 dishes. Like I said I resorted to … do inni mine mini mo!!
…
Finally, I landed onThai Cuisine …
Food in Thailand has harmony is the guiding principle behind each dish.
 Thai cuisine is essentially a marriage of centuries-old Eastern and Western influences harmoniously combined into
something uniquely Thai.
Thai cooking originally reflected the characteristics of a waterborne lifestyle where Aquatic animals, plants and herbs were major ingredients, meat was avoided. Subsequent influences introduced the use of sizeable chunks of meats in Thai cooking.
As most Thais are Buddhist, hence Thais shunned the use of large animals in big chunks. They were laced with herbs and spices and shredded.
In the traditional Thai cooking stewing and baking, or grilling was used but with Chinese influences frying, stir frying and deep-frying were imbibed in the cooking.
Not only the Chinese but Portuguese, Dutch, French and Japanese also influenced the Thai cooking. Did you know that chillies were introduced during the late 1600s by Portuguese missionaries who had acquired a taste for them while serving in South America?
Thais are adept at integrating foreign cooking methods and substituting ingredients. Like the ghee used in Indian cooking is replaced by coconut oil and coconut milk substituted for other dairy products. Spices are toned down and enhanced by fresh herbs such as lemon grass and galangal. In Thai curries, fresh herbs are used. Thai curries burn
intensely, but briefly.
Like in Indian cuisine in Thai cuisine a Thai meal is served all at once, permitting dinners to enjoy complementarily
combinations of different tastes.
There must be a harmony of tastes and textures within individual dishes and the entire meal.
I have adapted my  Thai Noodles with Spicy Peanut Sauce from here.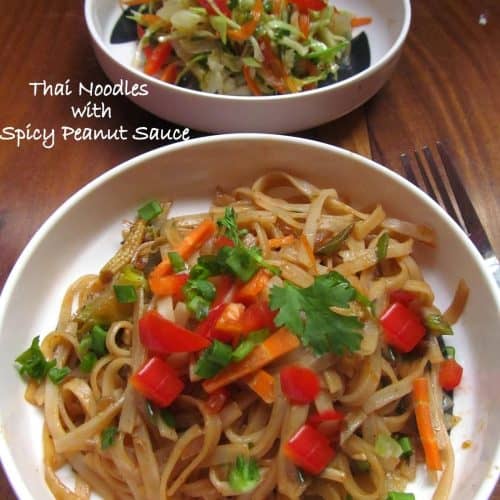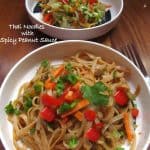 Print Recipe
Thai Noodles with Spicy Peanut Sauce
A harmonious medley of vegetables and noodles, stunning colours too!
Ingredients
1

Packet

Rice noodles

3

Tablespoons

Oil

1/2

Cup

Spring onion

chopped the greens and onions separated

1

cup

Carrot

finely shredded

2

cups

mixed fresh vegetables like cauliflower,carrots,,mushrooms, beans, red, yellow and green capsicum

3

Tablespoons

garlic

minced

1/2

Tablespoons

Ginger

minced

1/4

Cup

Honey

1/4

Cup

Peanut butter

1/4

Cup

Soy sauce

3

Tablespoons

Rice vinegar

1/2

Tablespoons

Chilli-garlic sauce

Dhania/ Coriander Leaves

for garnish
Instructions
Cook the rice noodles according to package instructions. In my case they were soaking the noodles in hot water for 45 minutes.

Set aside.

Heat the oil in thick kadhai/wok over high heat.

Add onions, carrots, stir-fry veggies, garlic and ginger. Sauté until vegetables soften.

Add honey, peanut butter, soy sauce, vinegar and chilli-garlic sauce and mix well. Simmer or 2 minutes.

Drain the noodles and toss them in the kadhai/wok. Mix well.

Serve warm garnished with spring onion greens and dhania/ coriander leaves.
Check out the Blogging Marathon page for the other Blogging Marathoners doing BM#48
Hi! First time here? Well,then you are Most Welcome! I hope you keep coming back for more here. If you are my regular visitor then Thanks, for you encourage me to experiment more!! I would like you to please click on my link below and like my 
Facebook Page
.
I will be happy if you can follow me on 
on Twitter
 too!