Savoury Kugelhopf #BreadBakers
Finally, I am baking the  Savoury Kugelhopf it is the tastiest and yummiest bread that I have baked till now. It has been ages since I have last baked a bread and #BreadBakers International bread theme seemed ideal.
This bread was sent by Aparna of My Diverse Kitchen as our 7th challenge for the We knead to bake since I have not done the task though I will work on it now.  The write up is most what Aparna sent us then.
The Kugelhopf or Kugelhupf, Gugelhupf or Kugelhoph is a famous sweet yeasted cake from the Alsace region of France, as well as in Germany, Switzerland, and Austria, and variations of this are also found in some countries of Eastern Europe.
Remember Marie Antoinette of France the lady who said  "let them eat cake"  brought it from her home country Austria to France upon her marriage to King Louis XVI.
The pan in which you bake the Kugelhopf is a special pan that that is round with a hole in the centre, somewhat like a bundt pan but heavier.  The Kugelhopf has a dense bread-like texture and is made from somewhat enriched dough like brioche but is not as rich. It is considered similar to a coffee cake that might be eaten for or with breakfast or could be part of an afternoon snack with coffee.
This savoury version is also good for breakfast, as a snack or with a simple soup.
A lesser known version of the Kugelhopf is its savoury Alsatian version called the Kugelhopf aux Lardons. "Lardons" is the French word for bacon, and this version is typically made with onions, ham/ bacon, walnuts and herbs.

Being a vegetarian cook  I have substituted for the ham/ bacon but if you are non-vegetarian feel free to bake the "Kugelhopf aux Lardons".
Eggs are a typical part of the recipe but you can try and substitute powdered flax seed for the eggs.  Try using sun-dried tomatoes and toasted pine nuts instead of the tomatoes/ bell pepper and walnuts. I used plain processed cheese you can substitute it with any cheese of your choice.  A sharper cheese will taste better.

This Kugelhopf bakes in an 8" Kugelhopf pan, but you should also be able to bake it in an 8" Bundt pan, a regular loaf tin (or 2 small ones), smaller Brioche tins or even muffin tins. If you're baking this in muffin tins you might want to use half the recipe, though I understand that this bread freezes well.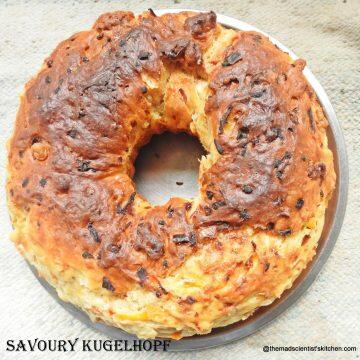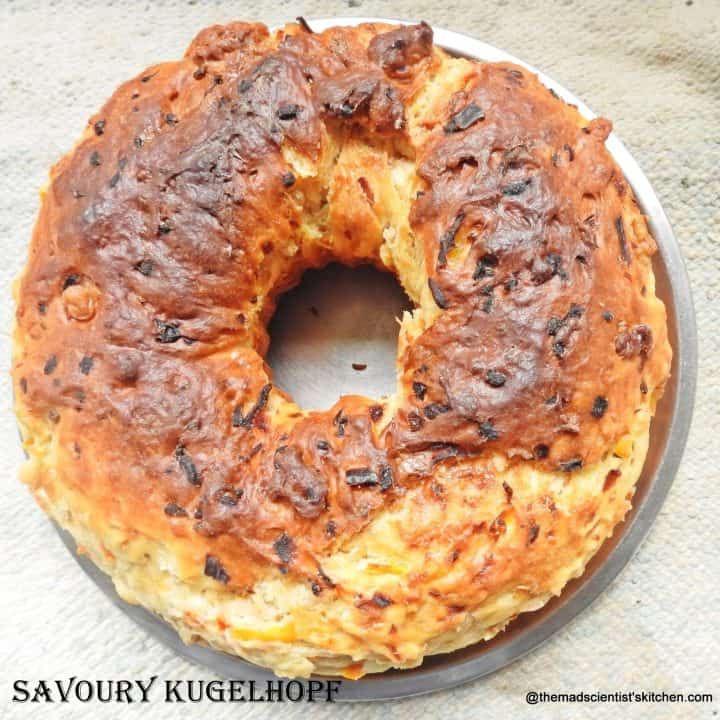 Equipment
food processor

Bowls

Kadhai/wok

Baking tray

Bench Scraper

Oven
Ingredients
3-½

cups

maida/all purpose flour

2

teaspoon

instant yeast

1

teaspoon

Salt

or to taste

75

grams

Butter

at room temperature

¾

cup

Milk

2

eggs

beaten lightly

1

teaspoon

Oil

⅓

cup

capsicum/bell peppers

chopped

⅓

cup

Tomatoes

deseeded pulp-free and chopped

1

cup

Onions

finely chopped

½

cup

Cheese

diced

⅓

cup

Walnuts

coarsely chopped

1 ½

teaspoon

black pepper

coarsely crushed

1

teaspoon

dried thyme
Instructions
I used the processor though the dough can be made by hand. But be forewarned it's a very sticky dough.

Pulse to mix for a few minutes 3 cups of flour, yeast, and salt.

Add the butter, a little at a time, and process till incorporated.

Add the warm milk and process until mixed.

Add the eggs and process till mixed.

Your dough will be now soft and sticky.Continue kneading the dough adding more flour, a little at a time and just enough till the dough pulls away from the sides of the bowl. Do not give in to the temptation and add more flour than absolutely necessary.

Your dough will be very soft, elastic and just short of sticky.

Transfer the dough to an oiled bowl, cover and let it rise until double in volume this should give you a free time of about 1 ½ hours to 2 ½ hours! But mine was ready in an hour so keep an eye on the dough.

Heat ½ teaspoon oil in a kadhai/wok.

Stir fry the chopped green bell pepper, the tomato and a pinch of salt till the raw smell disappears but the vegetables are still crisp/ crunchy.Set aside.

Add the ½ teaspoon oil and sauté the onions with a pinch of salt till they turn golden brown. Add to the bell peppers and keep aside.

Grease an 8"kugelhopf mould (if you have it) or like me use a bundt pan well, especially around the centre.

Since I was using a bundt pan I added some of the chopped walnuts in the bottom of the mould. If you're using a loaf tin or brioche moulds, then don't do this. Instead press in the walnuts on top of the dough after the second rise, just before baking.

Meanwhile, the dough has risen, deflate it and flatten the dough out. Spread the filling of cheese, stir-fried onions, bell pepper and tomato, the remaining walnuts, black pepper and thyme.

Fold the dough over and then knead it this way the filling will be more uniformly spread.

Use your scraper as the dough will be a bit sticky.Do not add more flour!

Roll the dough into a log, long enough to fit into the mould comfortably.

Gently transfer the log in the mould in a circle and pinch the two ends together to close the "circle" of dough.

Cover and let the dough rise for about an hour or so, until it reaches the edge/ rim of the mould.

Towards the end of the rise time pre-heat the oven to 200°C.

Bake the Kugelhopf at 200°C for about 35 to 40 minutes(mine was ready in 30 minutes) until the top is golden brown and sounds hollow when it is tapped.

Unmould the Kugelhopf and let it cool on a rack.

Slice and serve.
Notes
Notes to self: Bake at 180C next time or make a foil tent on top of teh bread.
Reader Interactions