Last Updated on
When picked up these chillies Red Chilli, Jam/Jelly was the last thing that I was expecting to make and enjoy.
The very thought was different and sounded strange till I remembered the sweet chilli sauce that we used to buy. Must thank my group of BMers they came up with amazing dishes.  New to me was this Jalapeño Jelly that Sandhya suggested.
I made three things from the chillies one was this  Ajika /Adjika a Georgian Red Chilli Dip, second was this jelly and this was chilli pickle. I think I better buck up and click pictures of the chilli pickle before the girls discover it.
For making this Jelly you need pectin. Now I was worried and wondering if I can pick it up in Panaji, Goa. One of my friends who owns a store where she sells amazing chocolates and stuff like this happened to message saying she has pectin for sale. The rest was simple.
One word of caution you are handling chillies, they are pungent so use gloves.
I used oil and the chillies I used are generally used to make fish curries here in Goa. The amount used is 1-2 for a full coconut (they are very hot). My hands were burning till the evening.
To understand Jam Making read this.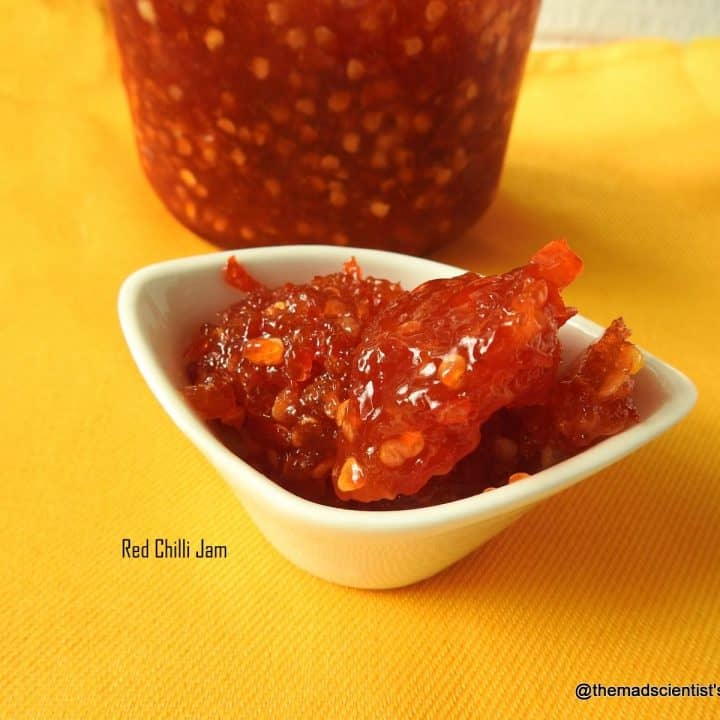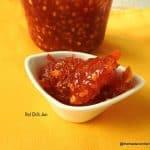 Print Recipe
Chilli Jam
Make this Red Chilli Jam/Jelly and using it to make different side dishes!
Ingredients
1

cup

Red Chillies stems removed

1

cup

Cider vinegar

3

cup

Sugar

3

tbsp

Pectin

Red food colouring

optional
Instructions
Wash and drain the peppers. Deseed the chillies you will get a milder jelly. Mine were full of seeds and I did not deseed them. Still while handling the chillies please use gloves or oil your hands. My skin is sensitive skin and I was burning from morning to evening.

Puree the chillies in a chutney pot. Use the vinegar to make a smooth paste.

In case you are using powdered pectin run it in the chutney pot with the chillies to avoid lumps.

Transfer the mixture in a large pan. I used a thick-bottomed steel pan (vinegar is acidic and using aluminium is not recommended).

Bring the mixture to boil stirring frequently.

Once the mixture starts thickening add the sugar.

Once you add sugar the mixture becomes watery. Add red colour if using. Boil until it thickens a bit.

Do the plate test.

Keep the glass jars on the wooden tray. Once the jam starts setting ladle the hot jelly into jars.

Allow the jelly to cool entirely on the wooden tray so that they can set well and your jars do not crack.
Notes
A delicious way to preserve red chillies.
If you liked this Jam but need a milder and sweeter jam, or you have too many grapes and want to preserve them then do check out my Black Grapes Jam.
This goes to this week of Blogging Marathon entry as Condiments of your Choice!

Check out the Blogging Marathon page for the other Blogging Marathoners doing this BM#77
Hi! First time here?
You are Most Welcome! I hope you keep coming back for more here. If you are my regular visitor then Thanks, for you encourage me to experiment more!! I would like you to please click on my link below and like my Facebook Page. I will be happy if you can follow me on on Twitter too!