Grape Jam|Black Grapes Jam| Grape Jelly
I made this amazingly delicious, beautiful Grape Jam!
I mean just look at the colour! And the taste just right with the correct amount of sweetness and tart mixed.
Breakfast is such a delicious pleasure! Wait did I say breakfast then what about lunch with Grape jam spread on the chapati? In between snack? or Dinner! you get my point.
I love black grapes.  The fact that I have a  bad throat after eating them is secondary. I have to eat them even as a child my grandparents used to take me to Vrindavan Gardens, Mysore and I used to not budge from there till they brought me black grapes juice. Wish they were around now I would love to enjoy grape juice with them. Come to think of it, they would have loved this jam and gone around telling everyone they meet about the grape jam.
So when I see them and the weather is good I do buy them. I end up buying more than I need.
Around this time I picked up pectin … need I say more. The end product is in front of you. Here is the article I wrote in a bid to clear my thoughts on pectin.
When I am making a jam, my intention is to preserve the fruit. I do not think of all the vitamins or food nutrition values. There are some things that you have to enjoy and jam is one of them.
Enjoy the jam and the delicious toast I made with it.
The main ingredients are black grapes, sugar, lime juice and pectin.
This recipe is copied from here.
This is my  Condiments of your Choice for the blogging marathon!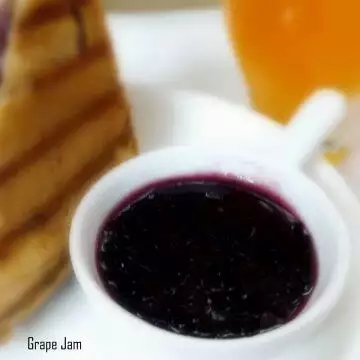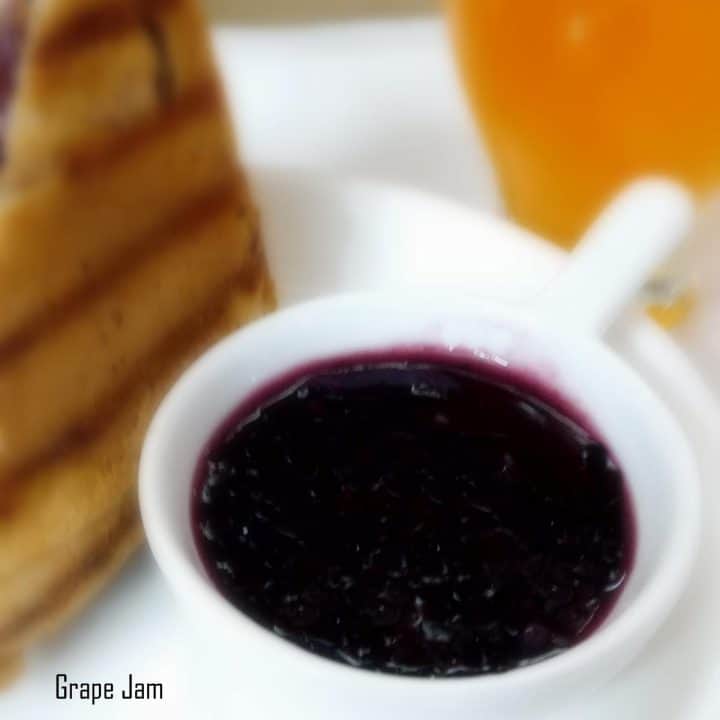 Ingredients
1-½

kilogram

grapes

seedless

1

cup

Water

1-¼

cup

Sugar

3

tablespoons

Pectin

¼ -½

cup

Lemon juice
Instructions
Wash and remove the grapes from the stems. I generally soak them for1-2 hours in salted water.

Remove the spoilt grapes. Bruised and split a strict no-no. We want the jam to last.

In a thick bottomed and nonreactive(steel) pan add the water and grapes bring to a boil.

Simmer the grapes stirring occasionally. It will be a great idea to crush the grapes. After about 10 minutes switch off the gas.

Let the grapes mixture cool slightly.

Now you have 2 choices you can crush the grapes and sieve the skins or just crush the grapes and continue.

Here I have kept the skins.

Measure the grapes pulp. I had a little over 4 cups.

Use the same pan in which you had boiled the grapes add the sugar, grapes pulp, lemon juice and the pectin (since mine was powdered pectin).

Run the blender once to dissolve the pectin.

Bring to boil and cook the mixture continuously.

The mixture will start thickening. Check if the jam is done.How?Do the plate test( link below).

Once the jam is done it will set like a jam/jelly.

Switch off heat and skim any foam with a spoon.

Ladle jam into bottles set on wooden tray.

Cool fully before storing the jam.
Check out the Blogging Marathon page for the other Blogging Marathoners doing this BM#77
Hi! First time here?
You are Most Welcome! I hope you keep coming back for more here. If you are my regular visitor then Thanks, for you encourage me to experiment more!! I would like you to please click on my link below and like my Facebook Page. I will be happy if you can follow me on on Twitter too!
Reader Interactions