4 June, 2016
Simple Beetroot Stir-Fry Made in a Jiffy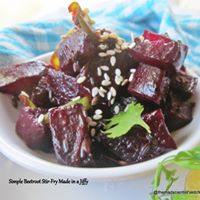 Posted in :
Bachelor Recipes
,
Beet root
,
Blogging Marathon
,
For the Tiffin Box
,
Healthy food
,
Indian Cuisine
,
Kid Friendly
,
Meal
,
Side Dish
,
Stir Fry
,
Stir-Fry or Dry Vegetables
,
Vegetables
on
by :
ArchanaPotdar
Tags:
Beetroot
,
Everyday meal
,
Simple Beetroot Stir-Fry Made in a Jiffy
Beetroots have been in cultivated since Roman times. In fact, we have to thank them for cultivating a lot of the vegetable we eat today. Beetroots are medicinal plants. You can check that out here.
After the beetroot smoothie yesterday I am sure you have guessed I am back again, with a theme. It's one vegetable and different forms. When my younger one was small I used to feed her boiled beetroot. My elder one used to be thrilled with her sister's lips that used to become pink. She used to call her Madhuri Dixit, who happened to be her favourite heroine.
Today try this vegetable. It's delicious and simple to make.
You can make it diced small or grating the beetroot. Actually, if you grate the beetroot after peeling it  will save you cooking time. In fact, its just add the grated beetroot in the tempering, stir and let it sit covered for about 5 minutes. Here I had to wait for the beetroot to cook.
Let's get down straight to the recipe.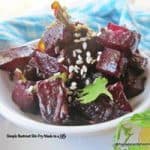 A lovely side dish or vegetable as you wish. I can have it as a snack too.
Servings

Prep Time

1

Serving

10

Minutes
Servings

Prep Time

1

Serving

10

Minutes
Heat the oil in a kadhai/wok.

Add the jeera and let them splutter.

Add the beetroot in the kadhai/wok.

Mix well and cook covered for say 2-3 minutes.

Add some water as you do not want the beetroot to burn.

Once the beetroots are cooked to your satisfaction add salt.

Let it sit covered for some time.

Just before serving add the sesame seeds and lemon juice.
n case you grate the peeled beetroot then you just need to add the grated beetroot to the tempering, stir. Close the lid and switch off the gas. Let it sit for about 5 minutes before opening the pan.
Check out the Blogging Marathon page for the other Blogging Marathoners doing this BM#65