Ragi Mudde Ragi Muddi as it is called in Karnataka is a staple food in rural areas.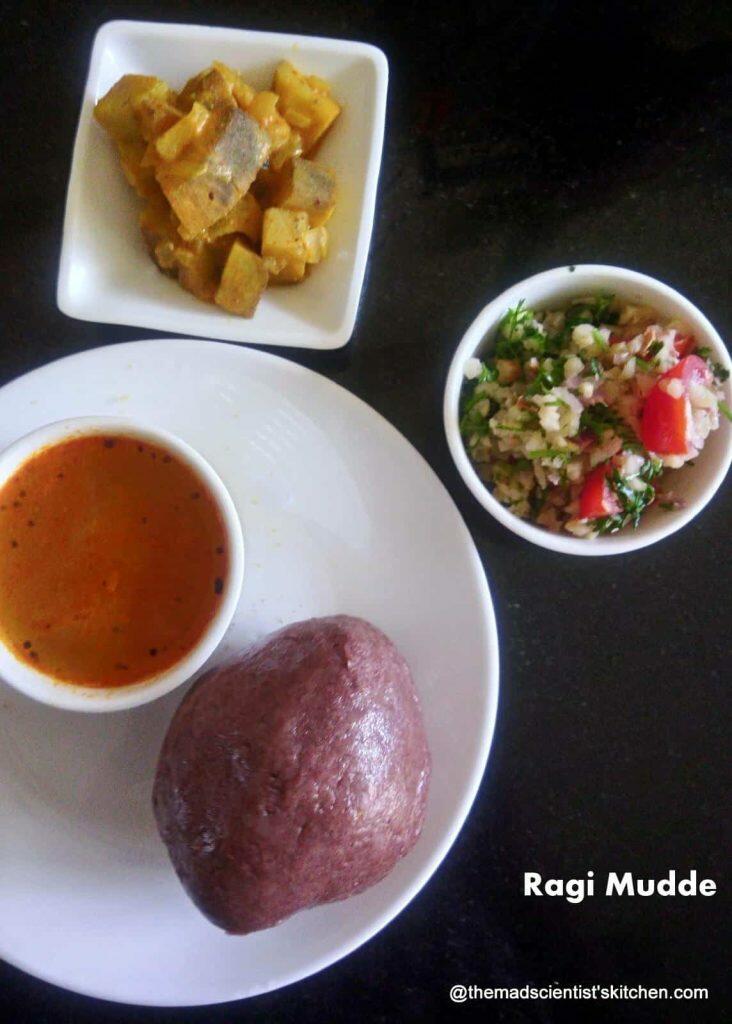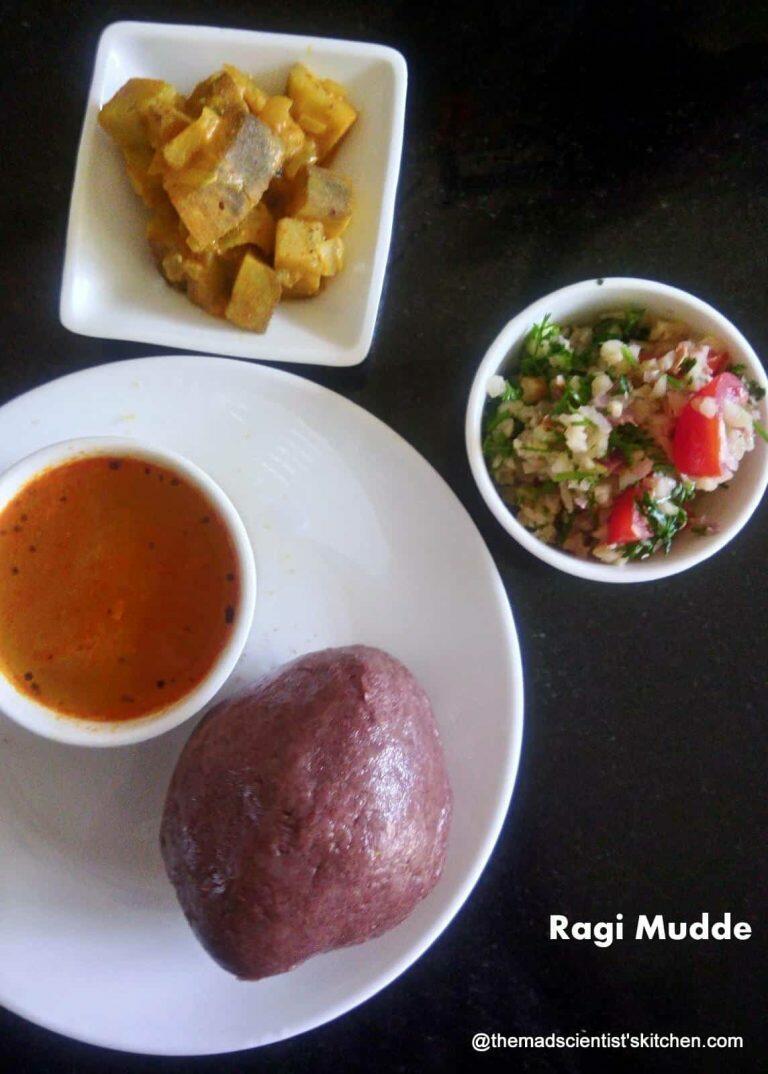 Many thanks to Kalyani for this pleasure of writing a guest post for her a healthy conscious blogger, this is indeed a great honour for me.
 Kalyani and I met in the blogging marathon forum and have become good friends. I admire her dedication to sugar free, refined flour free vegan cooking.  There are quite a few of her recipes waiting to be tried out in my kitchen one of them is this brownie.
Coming to my post,
Ragi Mudde Ragi Muddi as it is called in Karnataka is a staple food in rural areas.
Mudde is nothing but Ragi or Nachne flour cooked and then made in balls. The accompaniments are rasam, vegetable generally a leafy vegetable.
In Andra Pradesh, area rice flour or rice is added to make these dumplings and it is called ragi sankati. Ragi sankati is served with a simple chicken curry, chicken gravy or chicken pulusu in Rayalaseema area.
So the difference between ragi sankati and Ragi mudde is the addition of rice.
My first introduction to ragi muddi was when Amma made it in the evening. It was more like pithla or a watery zunka she served it with dollops of homemade ghee.
Pappa, however, did not like muddi or even khichidi much. In fact, he was upset that we were eating Muddi.
Therefore, we started demanding it when he was on tour.  It was around this time I started listening to music and once in Dharwad, my hometown I heard Dr Rajkumar crooning about going home and eating muddi. So I was thrilled!!
Serve ragi mudde with rasam, leafy vegetables, if you are non-vegetarian with chicken gravy.
The reason I am stressing on consuming finger millets or ragi is that Ragi is rich in calcium and iron. Finger millet also helps in maintaining a steady GI and hence is useful for diabetics.
To prepare Ragi Mudde you can use ready store bought flour and it is simple enough for a bachelor to prepare. Have mudde for breakfast or lunch as it is advised to have ragi in the daytime.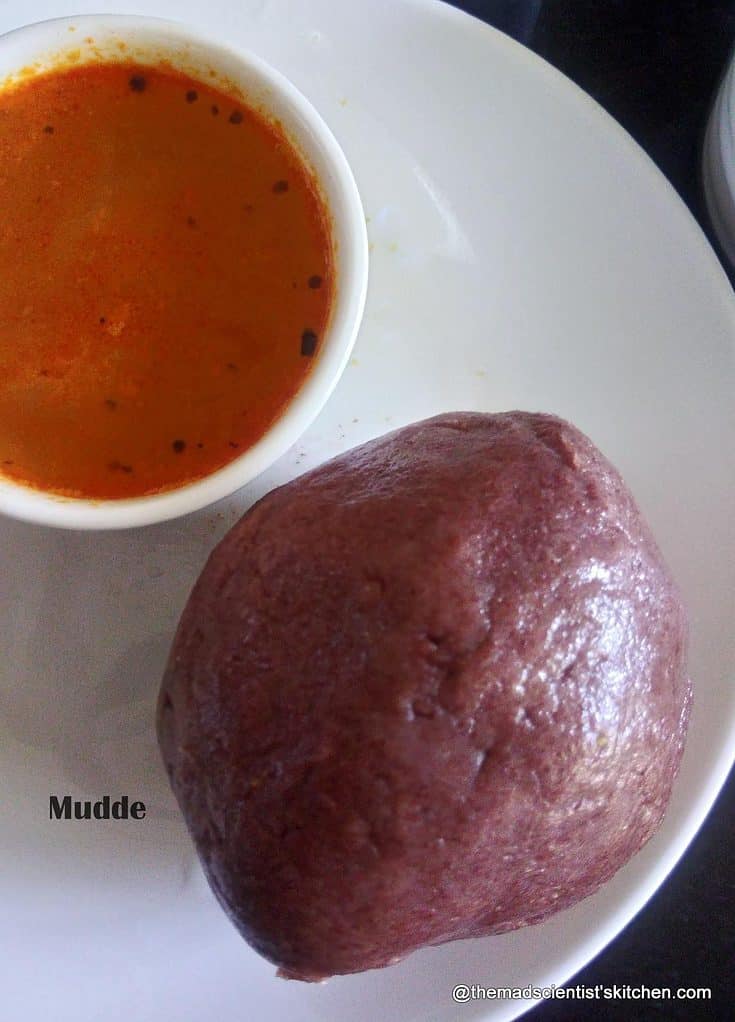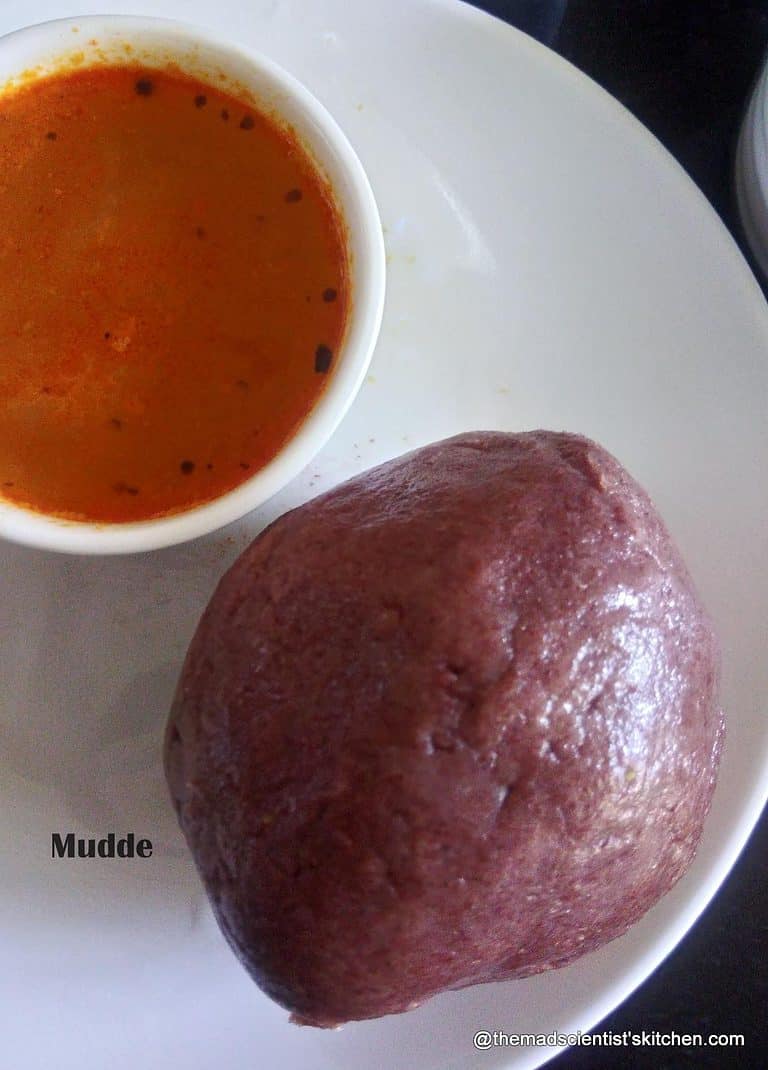 The other forms in which you can consume Ragi are
Let us now head to Kalyani's place for the recipe of  Ragi Mudde.
I served Ragi Mudde with Raw banana vegetable, raw papaya salad and rasam but I suggest you serve it with Methi dal or Palak Moong dal,  kossambri .
Reader Interactions