Last Updated on
Poached Eggs!  Where the eggs are cooked in simmering water!
Poaching is something that has scared me and held me back all these years simply because I was worried that the egg will not be called poached but dispersed.
No, I am not joking truly one of the most difficult ways to cook eggs is poaching eggs. Once you master poaching eggs it opens new and exciting options that are endless.
So what is a poached egg?
An egg that is cooked in gently simmering water is a poached egg. A perfectly done poached egg has a soft and runny yolk and with a hardening crust and no raw white remaining.
A poached egg is eaten as it is or it can be used as a topping.
You too can poach an egg perfectly all you need is to follow these tips from BBC Good Food. Of which I followed the first 3 tips and the last 2 tip. But I used a round cookie cutter to poach my egg as the first one dispersed.
The eggs are really fresh.

Add a small dash of vinegar to a pan of steadily simmering water.

Crack eggs individually into a ramekin or cup.

Create a gentle whirlpool in the water to help the egg white wrap around the yolk.

Slowly tip the egg into the water, white first. Leave to cook for three minutes.

Remove with a slotted spoon, cutting off any wispy edges using the edge of the spoon.

Drain onto kitchen paper – nobody wants eggy poaching water making their toast soggy or wilting their salad.
In case you want the yolk a bit less runny cook for a minute more.
The other egg dishes you may want to check out are Bhuna Masala Egg Curry, Anda Bhurji Wraps/ Scrambled Eggs Wrap ~Indian style, Egg Chat.
Day 25
Check out the Blogging Marathon page for the other Blogging Marathoners doing BM# 80
[inlinkz_linkup id=725598 mode=1]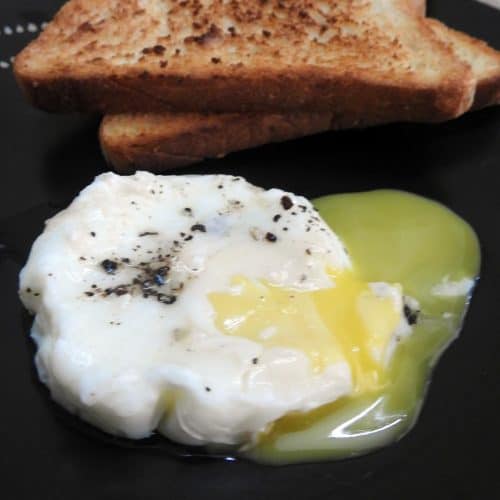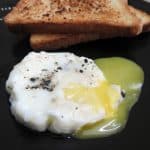 Print Recipe
Poached Eggs
Eggs cooked in gently simmering water!
Ingredients
1

Egg

1

tsp

Vinegar

Salt and Pepper

to taste
Additional Equipment:
a deep saucepan

Water

round cookie cutter

optional

kitchen napkins

slotted spoon
Instructions
In the saucepan add water. The water should be a little more than 1/2 the pan.

Place the cookie cutter in place.Add the vinegar and let the water come to a boil on high flame.

Meanwhile crack the egg in a small bowl.

When the water starts boiling lower the flame. It will start simmerring gently lower the egg whites in the cookie cutterthen add the yolk.

Let the egg cook for 3 minutes.

With a slotted spoon lift the cookie cutter (the egg will be in the cutter) to the paper napkins.

Gently separate the poached egg from the cutter and serve warm on toast,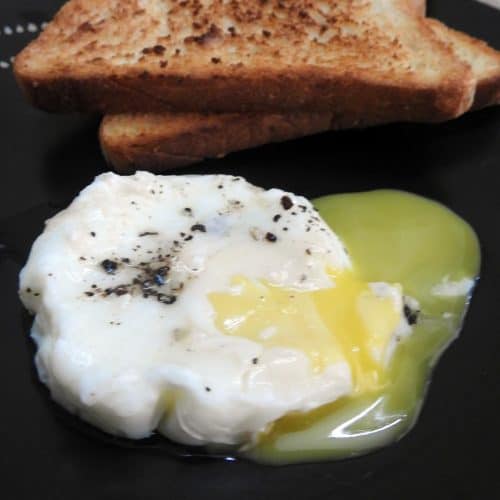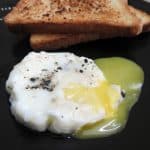 Print Recipe
Poached Eggs
Eggs cooked in gently simmering water!
Ingredients
1

Egg

1

tsp

Vinegar

Salt and Pepper

to taste
Additional Equipment:
a deep saucepan

Water

round cookie cutter

optional

kitchen napkins

slotted spoon
Instructions
In the saucepan add water. The water should be a little more than 1/2 the pan.

Place the cookie cutter in place.Add the vinegar and let the water come to a boil on high flame.

Meanwhile crack the egg in a small bowl.

When the water starts boiling lower the flame. It will start simmerring gently lower the egg whites in the cookie cutterthen add the yolk.

Let the egg cook for 3 minutes.

With a slotted spoon lift the cookie cutter (the egg will be in the cutter) to the paper napkins.

Gently separate the poached egg from the cutter and serve warm on toast,