Eggless Tomato Omelette |Vegetarian Omelette |Besan ka Cheela
Tomato Omelette is a vegan and gluten-free option as a breakfast recipe.
Easy and fast to make these healthy pancakes are protein-rich too.
Tomatoes are rich in umami components lend a delicious flavour to this eggless gram flour dosa. 
Tomato Omelette is very commonly called Besan ka Cheela in North India. This pancake is not restricted to any particular region in India and is available in most places especially Udupi Hotels.
With the lockdown, I am trying to utilise my pantry staples to make my food interesting without multiple trips to stores. During one of my trip, I picked up tomatoes generally I picked up some raw, some half-ripe and ripe. Here I had no choice all of them have started ripening even in the fridge. So using them up and redoing my older pictures.
Content
Does the word omelette make you wonder how it can be vegan?
Basically, there is no egg in tomato omelette. Besan or chickpea flour and tomatoes are the main ingredients. The only animal product used in Indian homes is ghee. To make a dosa a mixture of ghee and oil is used to grease the pan. Avoid ghee!
Long before the word Zero Waste was coined my mom many times to stretch the dosa batter, on the second day, added chickpea flour to make Tomato Omelettes.  Adjust the consistency of the batter with water after you add the besan.
You can make these chela gluten-free use rice flour in place of rava or sooji.
Besan or Chickpea flour:  Bengal Gram flour a gluten-free flour.
Rice flour: Add to give the extra crispness. 
Rava: In case you do not have rice flour use rava or sooji. Only your  Tomato Omelettes will not remain gluten-free.
Water: Make a batter of pouring consistency with the flour. 
Onions and tomatoes: use finely chopped they add the flavour.
Bell peppers, spinach: these are optional veggies that you can use. Chop them fine. 
Green chillies, coriander: Use green chillis as per your taste. I generally chop both the chillies and coriander fine.
 Salt, red chilli powder, hing and turmeric: are the spices that flavour this dosa.
Oil: you will need oil to grease the skillet. Use something like sunflower, rice bran, vegetable oil I prefer to use a mix of homemade ghee and oil.  But when you use ghee it will not be Vegan.
In a bowl, mix well all the ingredients except water and oil.
Add the salt, chilli powder, turmeric and add water sparingly. You can always add more if needed. 
Grease and heat a non-stick tawa pour a ladle of the batter. Drizzle oil. 
Cook on both sides.
Serve hot with coconut chutney, sambar, pickle. I love it with homemade tomato sauce or tomato chutney.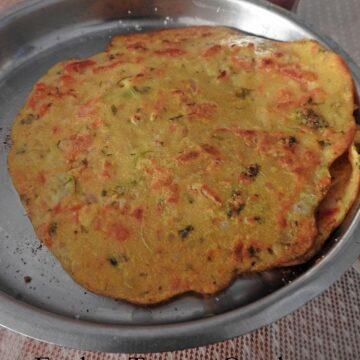 Tomato Omelette
Simple yet delicious Vegetarian Tomato Omelette also called as Besan ka Cheela!
Print
Pin
Rate
Equipment
Bowl for mixing

Spoons and Ladles

Non-stick tava/skillet
Ingredients
1

cup

besan/ chickpea flour

¼

cup

rice flour

roasted and cooled

2

medium onions

finely chopped

3

medium tomatoes

finely chopped

1

green chilli

finely chopped

1-2

tablespoon

dhania/ coriander Leaves

finely chopped

¼

teaspoon

hing/asafoetida

salt to Taste

¼

teaspoon

haldi/turmeric powder

2

teaspoon

red Chilli powder

½

cups

water

you may need upto 1 cup

Oil to fry as needed

¼

cup

bell peppers/capsicum

optional , finely chopped

½

cup

palak/spinach

optional , finely chopped
Instructions
Chop the onions, tomatoes, chillies, coriander fine. Chop the bell peppers and spinach if using fine. If you have food processor use it.

In a mixing bowl, mix well the chopped ingredients, besan and rice flour, salt, chilli powder.

Add ½ cup water and make a loose batter. Add more if needed.Your batter should be between dosa batter and neer dosa batter, not too loose and not too thick.

Grease and heat a non-stick pan.

When it is well heated, add the batter in circular motion. You cannot spread the batter much.

Or add the batter in the centre then move it gently to the sides.

Add a few drops of oil on the sides of the dosa. Cover and cook.

You can flip the dosa only when it is well cooked else your dosa will break.

Once you flip it, cook on the other side.

Serve hot with tomato sauce or chutney of your choice.
Notes
In case you are using rava/sooji let the batter sit for about 10 minutes before you start making the pancakes.
Adjust the water after it sits. Remember, you can always add more water.
Reader Interactions