Researching puddings I saw this delicious Corn Pudding.
I expected the corn pudding to be a something of a stuff to feed babies.  Reason being it's also known as corn mash. But this bowl of this delicious corn pudding which has cooked corn and that gave it a nice texture. Do not miss my love mushrooms and capsicum and it had me drooling.
Corn pudding is typically a rural staple in Southern US. It is also known as pudding corn and don't mistake it for hasty pudding that is made from ground corn and not the corn kernel. The other names are Puddin' corn,  pudding corn, hoppy glop, corn mash, country pudding. The main ingredients are maize and water.
Though we associate Pudding with dessert it can be a savoury dish too.  Latin word botellus is believed to be the root of the French boudin which means "small sausage", referring to encased meats used in medieval European puddings.
In the Commonwealth countries, the word typically denotes a dessert. These puddings are known as custards (or curds) if they are egg-thickened, blancmange if starch-thickened, and jelly if gelatin based.  They can be baked, steamed or boiled.
Pudding may also be bread pudding and rice pudding.
The puddings that I have tried in the past are Malva Pudding, Self Saucing Chocolate Pudding, Baked Bread Pudding, Banana and Burnt Butter Pudding, Thai Coconut Pudding/Custard, Agar Agar Pudding, Trifle Pudding, Ragi Pudding or Nachni-che-Satv, Coffee Chocolate Pudding, Bread Pudding, Kheer.
My pudding is adapted from here.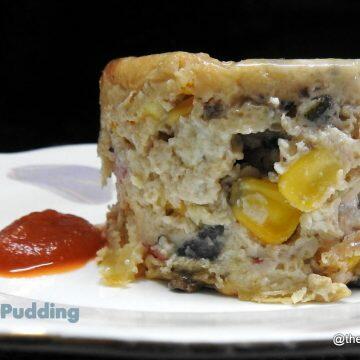 Ingredients
375

Grams

Sweet corn kernels

25

ML

Water

3

eggs

250

Grams

Processed cheese

shredded

250

ML

Milk

75

Grams

Spring onions

chopped

50

Grams

Red Capsicum

50

Maida/APF

½

Teaspoon

Majoram

dried

Salt

½

Teaspoon

½Pepper
Instructions
In a large bowl microwave the corn and water covered on high power for 6 to 8 minutes, stirring every two minutes. If there is excess water, drain.

In a separate bowl, beat eggs.

Stir in cooked corn, cheese, milk, onions and red capsicum.

Whisk in flour, marjoram, salt and pepper.

Pour into a greased microwaveable moulds or one large baking dish.

Cover with parchment paper or foil. Pierce tiny holes on top.

Bake in a preheated oven at 180°C for 8 to 10 minutes or until knife inserted in centre comes out clean.

Let it stand for 5 minutes before serving.
Notes
Use 1 tablespoon fresh marjoram very finely chopped if you have access to it.
Check out the Blogging Marathon page for the other Blogging Marathoners doing this BM#74
Hi! First time here?
You are Most Welcome! I hope you keep coming back for more here. If you are my regular visitor then Thanks, for you encourage me to experiment more!! I would like you to please click on my link below and like my Facebook Page. I will be happy if you can follow me on on Twitter too!
More
Reader Interactions