Bora with Aloo|Waal with Potatoes|Chinese Long Beans with Potatoes
Bora with aloo in nothing but Waal or Chinese Long Beans and cooked with potatoes in this delicious Latin American way, more specifically in the Guyana Cuisine just disappeared from my daughter's plates.
The recipe is simple and uses just Long beans, onions, potatoes, garlic and wiri wiri peppers and tomatoes are optional. The wiri wiri peppers I substituted with Kashmiri chilli powder. The Guyanese call the Waal as Bora and serve them plain or paired with Saltfish, shrimp or just added to fry rice for added crunch.
Beans and I have a no-no relationship in the past. It is only now I have started eating beans thinking of their health benefits the other beans I have used are French beans and waal, cluster beans or gavar. The regular beans vegetable with french beans are Avrikai Palya and French Beans Foogath. Waal I am yet to record the everyday vegetable but this is one starter that I have tried and enjoyed Waal/Long Beans in Butter Garlic Sauce. Cluster beans made with pumpkin tastes great.
When I chose to Explore Latin America as my theme this month I did not know what I had signed up for. Honestly, I assumed that it is a small group of countries and so they will have fewer recipes to browse through. Boy, am I wrong?
Latin American countries according to Wikipedia are," Latin America consists of nineteen sovereign states and several territories and dependencies which cover an area that stretches from the northern border of Mexico to the southern tip of South America, including the Caribbean."
There may be 19 countries but the variations as per country and regions give you a mind-boggling variety. The cuisine of Latin America is referring to typical foods, beverages, and cooking styles common to many of the countries and cultures in Latin America. Typically Latin American cuisine are maize based like tortillas, tamales, tacos, pupusas, arepas, salsa and condiments like Guacamole.
Spices used in Latin American cuisine are distinct to different countries nay regions. The shared spices are used in different quantities. Now you guess the reason for the variety?
Beverages consumed are mate, hibiscus tea, Desserts dulce de leche, alfajor, rice pudding, tres leches cake, teja and flan.
This recipe is adapted from here.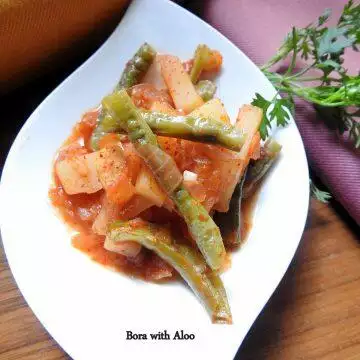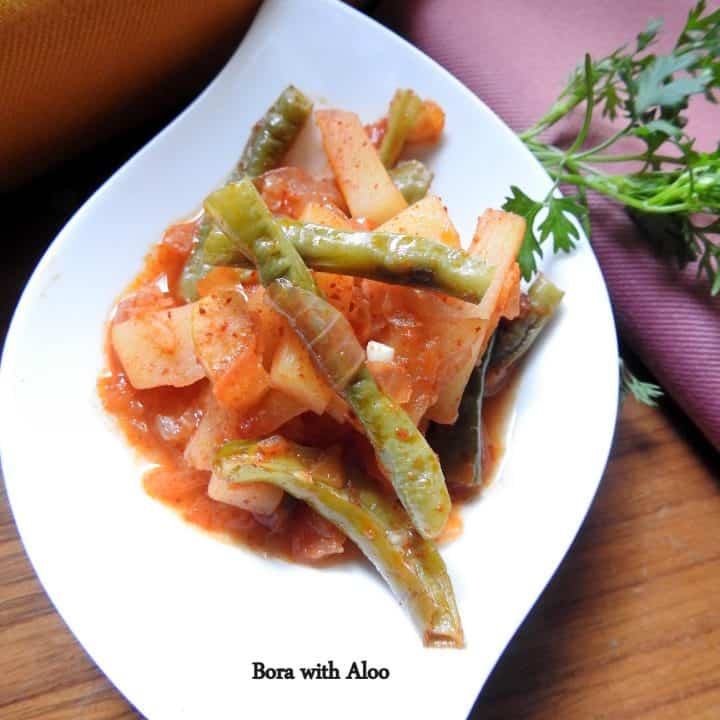 Ingredients
500

grams

waal

2

Potatoes

chopped in batons

4

Garlic cloves

chopped

2-3

Onion

chopped

1

teaspoon

Red Chilli powder

1

Tomato

chopped fine

Salt to Taste
Instructions
Cut the waal into 1-inch pieces, wash and set aside.

In a kadhai/wok sauté onion and garlic until translucent.

Add the chopped tomatoes and cook till they soften a bit.

Add potatoes and cook covered for five minutes.

Add waal and sauté.

Cook covered till the waal are a bit tender.

Season dish with salt and red chilli powder.
Check out the Blogging Marathon page for the other Blogging Marathoners doing this BM#77
Hi! First time here?
You are Most Welcome! I hope you keep coming back for more here. If you are my regular visitor then Thanks, for you encourage me to experiment more!! I would like you to please click on my link below and like my Facebook Page. I will be happy if you can follow me on on Twitter too!
Bora with Aloo, Chinese Long Beans with Potatoes, Waal with Potatoes, Latin American Cuisine
Reader Interactions