18 October, 2017
Brookies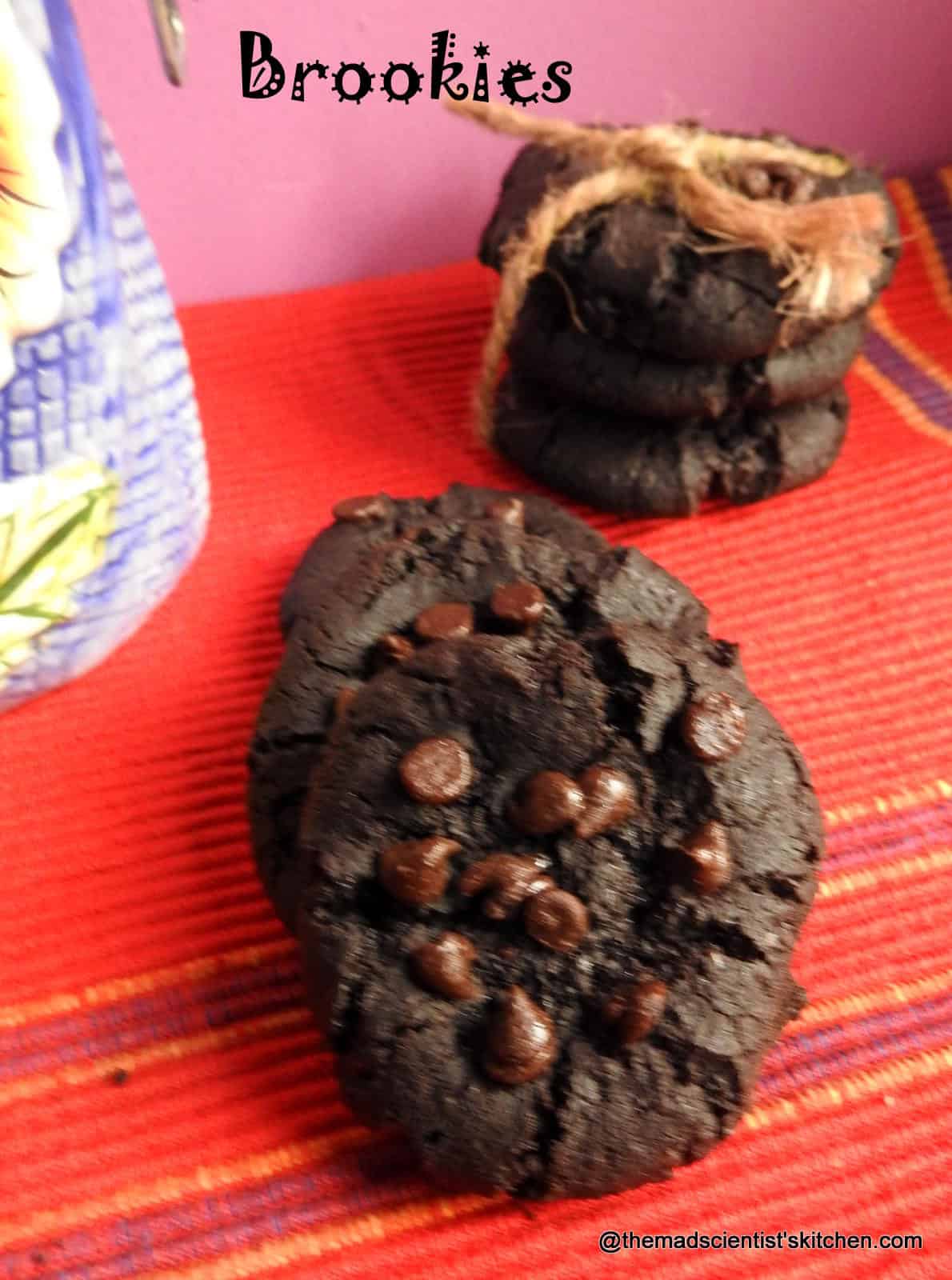 Comments : 8 Posted in :
Bachelor Recipes
,
Baked
,
Blogging Marathon
,
Brownies
,
Cookies
,
Dessert
,
For Chocoholics
,
Kid Friendly
,
Simple and Healthy Vegetarian Diet in Old Age
,
Snack
on
by :
ArchanaPotdar
Tags:
Bachelor Recipes
,
Baked
,
Brookies
,
Brownies
,
Chocolate
,
Cookies
,
Dessert
,
Kid Friendly
,
Simple and Healthy Vegetarian Diet in Old Age
,
Snack
"Brookies" this way a new word that I heard in my conversation on whats up with the other BM members. These brookies are soft and chewy cookies/brownies.
Mom Chef shared the recipe too and anything with cocoa is welcome at home.
Honestly speaking I do not enjoy making biscuits/cookies, as the effort involved tremendous. Hardly a few say 7-8 cookies at a time in my oven and you have to start all over again.  Me I am a lazy person and I shirk hard work but these Brookies sounded too good so I made them.
I have made absolutely no changes to the original recipe. How is it possible?
I used regular sugar in place of castor sugar and the girls realised it. Therefore, I suggest using castor sugar or at least next time I will run regular sugar in the dry chutney pot for one round.
The main ingredients are maida, cocoa, butter, sugar, milk and baking powder and baking soda.
The other cookies recipes you may be interested in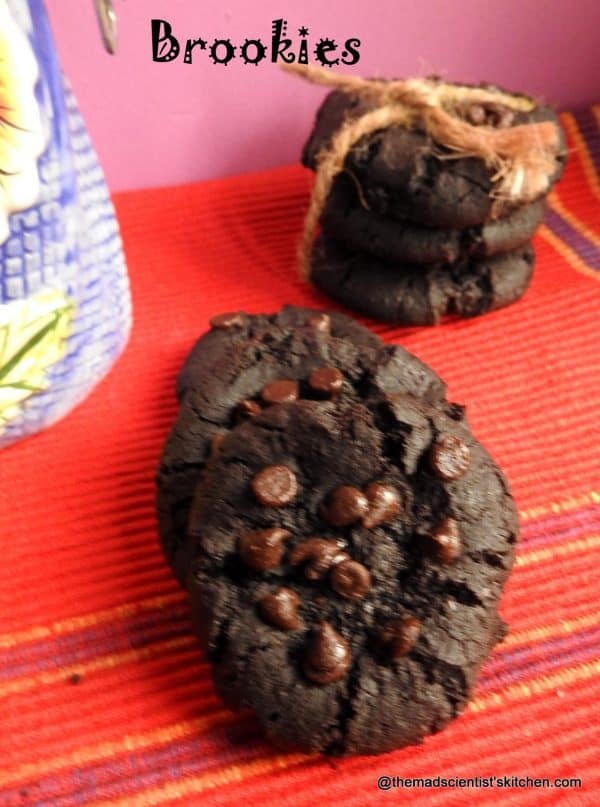 | | |
| --- | --- |
| | |
Preheat the oven to 160 degrees C. Line a baking tray with parchment paper.

Sift together the flour, cocoa, baking powder and baking soda.

Stir in the sugar and salt. Mix until combined.

Add the butter and vanilla.

Try and bind the dough. Use milk as needed to make a smooth dough.

Add half of the chocolate chips and mix.

Make a roll of the dough.Wrap in a cling film and set in the fridge for about 10-15 minutes. This helps in making balls from the dough. You can also scoop the dough on the parchment paper and bake directly without chilling the dough.

Make balls and place on the parchment paper lay them at least 2 inches apart, as The cookies spread.

The rest of the chocolate chips place on the balls. This is for the visual effect only.

Enen though the brokies look soft or done Bake for 10 minutes ONLY or they will turn crispy.

Leave them on the tray for 10-15 minutes until fully cool and immediately transfer to an airtight container to store.
If you do not want your brookies to spread too much, keep the filled tray in the fridge for 10 minutes and then bake. This will give you thicker brookies.
Check out the Blogging Marathon page for the other Blogging Marathoners doing this BM#81

​Hi! First time here? You are Most Welcome! I hope you keep coming back for more here. If you are my regular visitor then Thanks, for you encourage me to experiment more!! I would like you to please click on my link below and like my
Facebook Page
. I will be happy if you can follow me on on
Twitter
too!
​
8s COMMENTS