Sabudana Vada Recipe|How to make Sabudana Vada|Fasting Foods
 Sabudana vada is a deep fried snack from Maharashtra and is ideal for today's  Ashadhi Ekadashi or Ashadhi a fasting food.
Traditionally Sabudana vada  is served with spicy green chutney and chaha or tea. To enjoy its flavours eat it hot. Sabudana vada or Sago vada are crunchy yet filling and nutritious. The vada just melts in your mouth.
In the Hindu calendar, Ekadashi is the eleventh lunar day (Ekadashi) of the bright fortnight (Shukla Paksha)and is considered auspicious and we fast. But today is the Hindu month of Ashadha (June - July) so it is called  Ashadhi Ekadashi or Ashadhi and this is much more significant to most Hindus.
The other names of this day are  Shayani Ekadashi, Maha-Ekadashi,  Prathama-Ekadashi, Padma Ekadashi, Devshayani Ekadashi or Devpodhi andToli Ekadashi.
Ashadhi Ekadashi or Ashadhi is a day of special significance to Vaishnavas, followers of Hindu preserver god Vishnu. The Lord Vishnu and Goddess Laxmi are worshipped. There are prayers and bhajans sung through the entire night. Devotees fast and take vows that they maintain the next four months called Chaturmas, the holy four-month period of the rainy season. These may include, giving up a food item or fasting on every Ekadashi day.  The fast is strict and you avoid all grains, beans, cereals, certain vegetables like onions, garlic and certain spices.
In Maharashtra, this is the day when the Pandharpur Ashadi Ekadasi Waari Yatra ends in Pandharpur on the banks of the Chandrabhaga River. The religious procession of pilgrims, called Warkaris walk from different parts of Maharashtra, barefoot. Many carry images of saints and they sing Abhangas (chanting hymns) of Saint Tukaram and Saint Dnyaneshwar, dedicated to Vitthal Rakmai or Vishnu and Rukmini.
So let us get back to upvaas/vrat/fasting that you can eat Rajgira Thalileeth~Fasting Special, Shingade chya Pith cha Shira Recipe~FastingSpecial, Goan Kanga che Kheer|Sweet Potato Pudding a Traditional Goan Dish, Sabudana Thalippeth,  Sabudana Khichidi, Delicious Sago and Chia Seeds Pudding, V for Varya chi Khichidi.
In Karnataka Uppitu and Hachid Avalakki without onion and garlic are acceptable for fasting. Sweet Poha is also eaten with relish. In Goa Chapatti and Usali is preferred.
Add Sabudana Vada to the list of fasts  Sankasthi, Navratri or even Ashadhi Ekadashi or Ashadhi like as it is made from sabudana/sago, boiled potato, crushed roasted ground nuts, green chillies and is deep fried.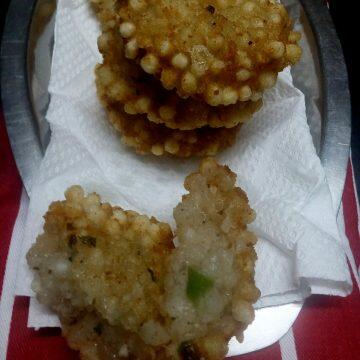 Sabudana Vada Recipe|How to make Sabudana Vada|Fasting Foods
Sabudana vada or Sago vada are crunchy yet filling and nutritious they just melt in your mouth.
Print
Pin
Rate
Ingredients
1-½

cups

sago

soaked

2-3

Potatoes

boiled

½

cup

ground nuts

roasted and coarsely crushed

2

teaspoon

Green chilli paste

1

teaspoon

Lemon juice

2

teaspoon

Sugar

¼

cup

Dhania/coriander leaves

finely chopped

Salt to Taste

Oil for deep-frying
Instructions
In a deep bowl grate the boiled potato mix the sago, green chillies, lemon juice, sugar, coriander and salt.

Heat the oil in a kadhai/wok.

Shape 12 lemon sized balls and flatten them.

Lower the flattened balls in the hot oil.

Fry 2-3 at a time on medium flame till they turn deep golden in colour on both sides.

Drain on absorbent paper.

Serve hot with tea and green chutney.
Notes
Wash ½ cup of sabudana  drain. Then add ¾ cup of water let it rest for a minimum of 4 to 8 hours. They will increase in size and can be crushed when you squeeze the grain.
Hi! First time here?
You are Most Welcome! I hope you keep coming back for more here. If you are my regular visitor then Thanks, for you encourage me to experiment more!! I would like you to please click on my link below and like my Facebook Page. I will be happy if you can follow me on on Twitter too!
Reader Interactions