3 September, 2016
Easy Baked Apples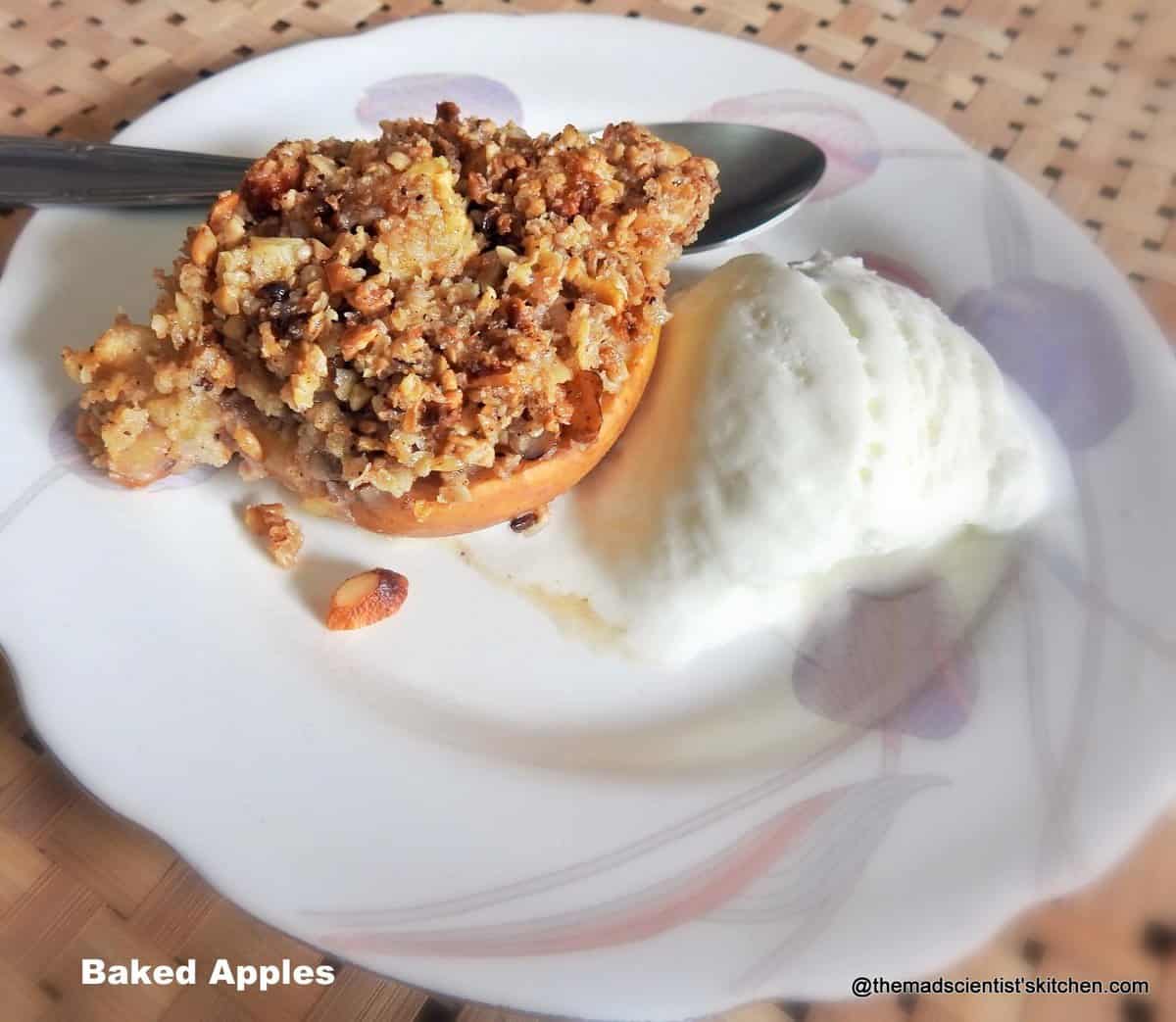 Comments : 1 Posted in :
#Cooking Carnival
,
Bachelor Recipes
,
Baked
,
Baked Apples
,
Blogging Marathon
,
Simple and Healthy Vegetarian Diet in Old Age
on
by :
ArchanaPotdar
Tags:
#Cooking Carnival
,
Baked
,
Easy Baked Apples
,
Simple and Healthy Vegetarian Diet in Old Age
Baked Apple is an English dessert dating back to 1947 it appeared in a newspaper article.
Over the years, the British made popular desserts baking apples in the form of tarts and pies. In an English recipe from 1685 tarts with candied oranges were made from apples that were peeled, cored and cut then cooked in claret wine.
In 1784 The Art of Cookery, a cookbook, was released in London providing two new baked apple recipes. Black caps, the first of the two, said to core the apples after cutting them in half and baking them in citrus water and sugar. Whole baked apples were to be made by putting the apples, sugar, and wine in earthen pots and baking them for an hour. Over the years many new recipes and variations to the old ones, have been added to the collection. Some of them being Apple Upside Down  Cake ( I keep getting requests for this one), Apple Pie, Apple and Plum Cobbler.
From "A for apple" to "An apple a day keeps the doctor away", no other fruit holds a reputation much like an apple. Although much disputed, it is believed to have originated somewhere between eastern Europe to Central Asia. Over the centuries, however, it has spread throughout the world to be one of the most popular fruits. Currently, worldwide 7000 varieties of apples grown.
Apples have enjoyed an extremely colourful and scandalous place in both, human legends and histories.
In Greek Mythology, the apple was considered a symbol of feminine fertility. Marriage proposals were said to be made by presenting a maiden with a red, ripe apple. The Norse crowned the apple as the fruit of immortality. They believed that their gods ate magical apples that made them indestructible. Eve ate apples, the forbidden fruit in the biblical legends. This is believed to be the event that caused the fall of humankind from Eden.
A well-documented fact in the history of apples is the story of a real person, Johnny Chapman who planted 100,000 square miles of apple trees while walking barefoot thus providing food for years.
Health Benefits:
Apples are quite often a favourite among many diet plans. They are rich in Vitamins A, B, C, E, K, and fibre. Apples also contain flavonoids, which are an antioxidant used to battle many cardiovascular diseases, some cancers and many other chronic conditions. Further, researchers at Linus Pauling Institute claim that fructose in apples boost the bodies uric acid production aiding the antioxidant activity of flavonoids.
People who suffer from a sensitive digestive tract can benefit from cooked apples. Cooking the apples makes them easier to digest.  Cooking of apples does affect the heat-sensitive nutrients, on the whole, the nutritional value between fresh and cooked apples is relatively similar. Add other ingredients to the cooked apples or baked apples to compensate the lost nutrients.
Tips for working with apples:
Most of the nutrients from the apple lie right under its peel. So, even if the recipe asks for it, avoid removing it.

To avoid browning soak the cut apples in water mixed with lemon juice.

To avoid pesticide residue, either buy organic apples or wash the fruit thoroughly.

One bruised apple can damage the rest of the apples in the pile. Blackened apples go to the bin immediately.
Easy Baked Apples
Baked apples are a delicious dessert. Especially good if you suffer from a sensitive digestive tract.
Preparation time: 15 minutes
Cook time: 30 minutes
Total Time: 45 minutes
Serves: 4
Ingredients:
4 Apples
1 cup Rolled Oats
¼   cup Cinnamon Sugar
¼   cup Butter
1/8   teaspoon Salt (Optional)
A Few Almonds
A Few Cashew Nuts
Method:
Set the oven at 175°C/ 350 degrees F  and preheat.
Meanwhile mix oats, the sugar and nuts. Mix the butter well.
Using a sharp knife remove the centre if each apple and make a large cavity in the apple. Or cut up the apple and scoop out the apple pieces.
I added the scoops back in the oats mixture and mixed it up.
Fill each of the apples with the oats mixture.
Bake in till the apples are tender and filled bubbles.
Takes about 30 minutes.
Day 3
Check out the Blogging Marathon page for the other Blogging Marathoners doing BM# 68
Loading InLinkz ...
1 COMMENT