Cabbage Salad Indian Style
Cabbage Salad Indian Style is cabbage warmed and spiced with red chilli powder simple enough but its amazingly delicious.
I have no issues if they call it Cabbage Salad Indian Style as long as they eat cabbage vegetable happily.
As a part of the series On Simple Vegetarian Food in Old Age in #Cooking Carnival Cabbage Salad Indian Style.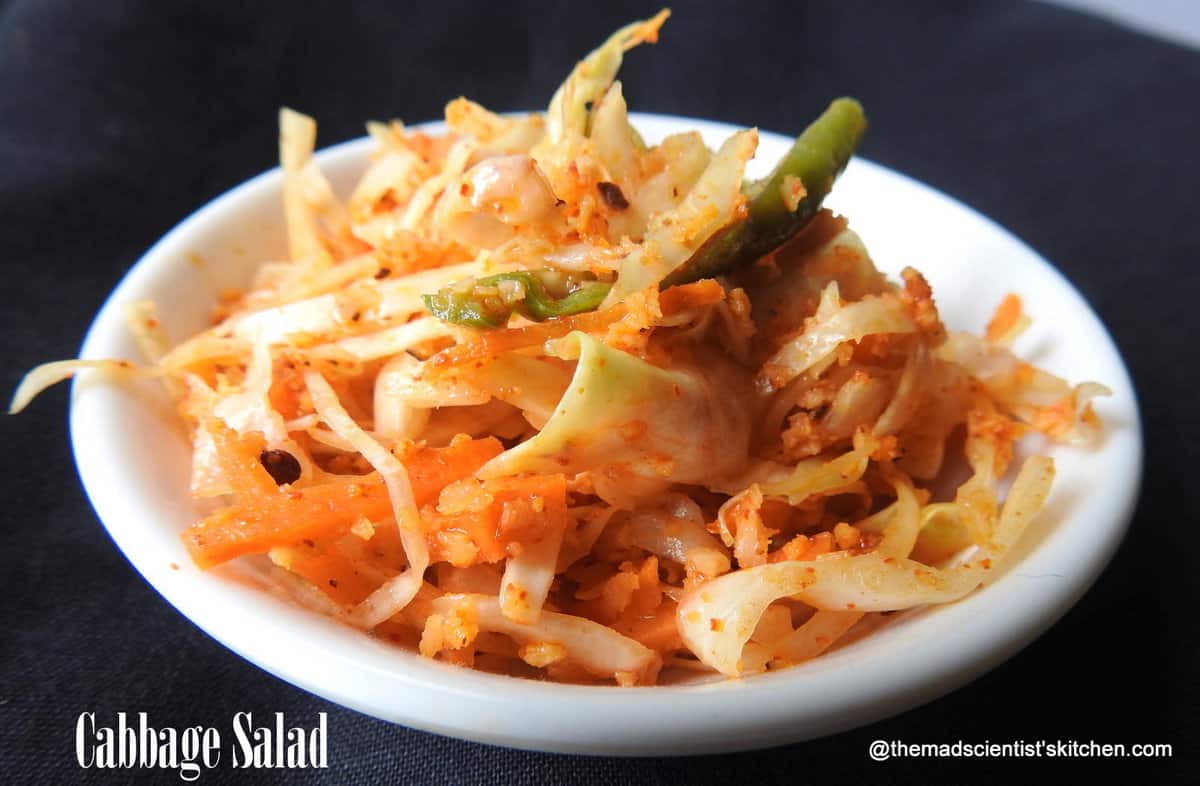 So why is cabbage important in your diet?
Cabbage is one of the famous green leafy vegetables that may sometimes also be purple or white. Although it has dense leaves, it is closely related to the cauliflower or broccoli. It is most famously grown in China, where it is believed to hold the secret of everlasting youthfulness!
The history of Cabbages is difficult to trace. It is believed to have been domesticated from in Europe before 1000 B.C. Then on, by the arrival of the Middle Ages, it ruled over a big part of European cuisine.
The preparation style is for this vegetable is varied. The simplest method steaming or eating raw is also the foundation for further more complex cooking. Pickled cabbages are also popular especially, sauerkraut and kimchi. The Chinese prefer a preparation of bean curd and cabbage. Cabbage is also prominent in Polish culture with dishes like golabki (stuffed cabbage) and pierogi (pasta). In the USA, the primary use of cabbage is in the production of coleslaw.
Medicinal value:
From ancient Greece to recent medical surveys, cabbage reportedly has many medicinal advantages. The Greeks, for one, used it as a laxative and in the treatment of mushroom poisoning. The Romans believed it could prevent drunkenness. The ancient Egyptians are also believed to have used cooked cabbages to reduce the effect of wine.
During the World War II, the British used the cooling properties of this vegetable to treat trench foot. European folk medicine also used it to treat rheumatism, sore throat, melancholy etc. Recent studies show that it can also reduce pain and hardness during breastfeeding.
The cabbage is also a rich source of Vitamin C, K and antioxidants. It also contains minerals like potassium, manganese, iron, and magnesium. Potassium helps controlling heart rate and blood pressure.
The first time I ate this delicious vegetable it was shared by Ashwini. We were in the same department and used to eat together and shared food and recipes. This is simple and can be made fast with hardly any supervision.
The only condition is the cabbage need to be chopped fine.  Generally, in Goa, we get a very strong hing/asafoetida called Shankar chhap hing. It's generally used to make pickle and due to its strong smell you need very little of it. This hing is what is used in making this vegetable. So if you don't like hing/asafoetida then this is not for you.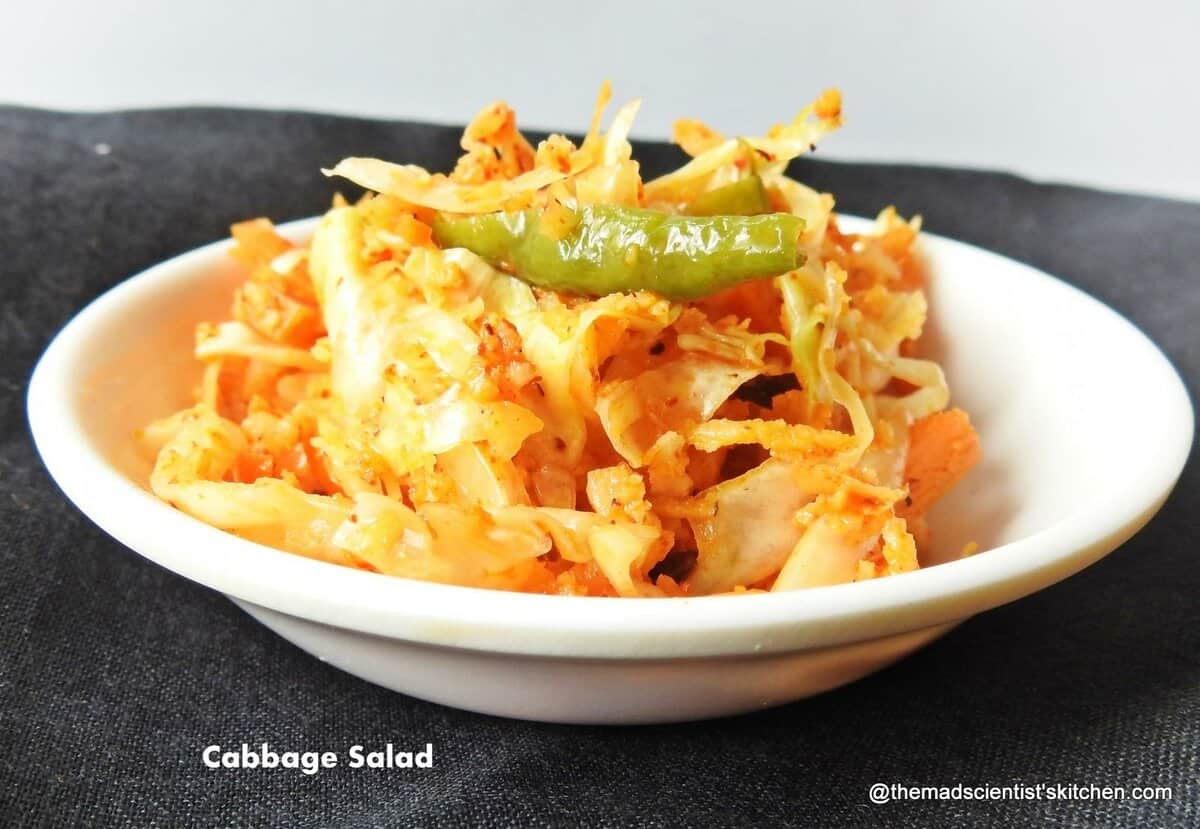 Cabbage Salad:
Ingredients:
Cabbage 1 cup, chopped very fine
 a small piece of hing/asafoetida,
Kashmiri chilli powder 1 teaspoon (adjust as per taste)
Oil ½ tsp
Coconut ½ cup, freshly grated
Salt to taste
Method:
In a kadhai/wok heat the oil.
Crush and add the hing (since there is no flour the hing/asafoetida will be like a flake) add it.
You will get a strong aroma of hing/asafoetida.
Add the cabbage, salt, coconut. Switch off the gas. Cover and set aside till you finish the rest of your cooking.
Finally, stir and serve with rice, dal. Actually tastes best with "bangade che umaan" and "shet" mackerel curry and rice.
Notes:
I have added a carrot that I had sliced long and fine along with the cabbage.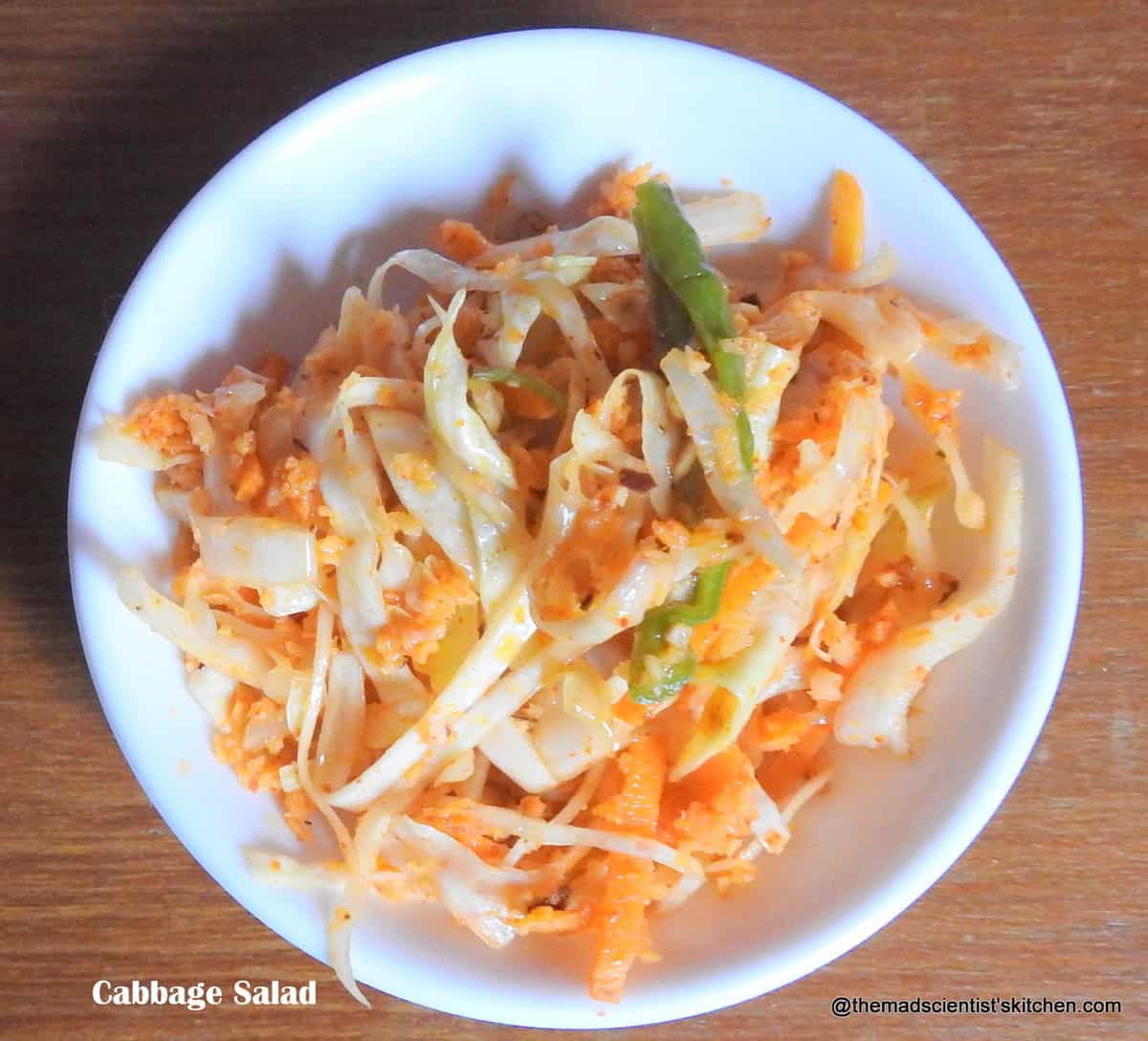 Day 25
Check out the Blogging Marathon page for the other Blogging Marathoners doing BM# 68
[inlinkz_linkup id=648426 mode=1]
More recipes you may enjoy
Reader Interactions