Beetroot Lassi-Simple and Tasty
Beetroot smoothie is a delicious cooling drink, especially for summer.
 Making a smoothie with beets is simple, healthy and refreshing.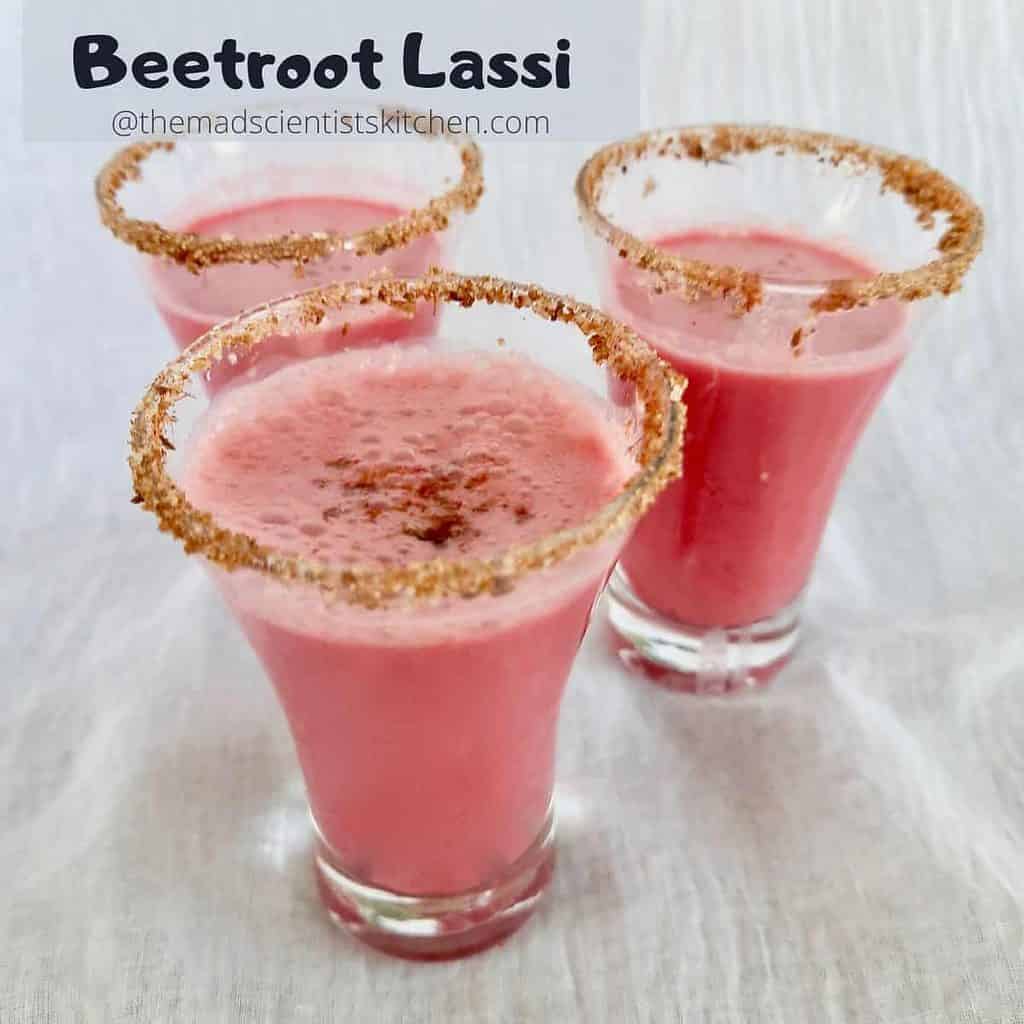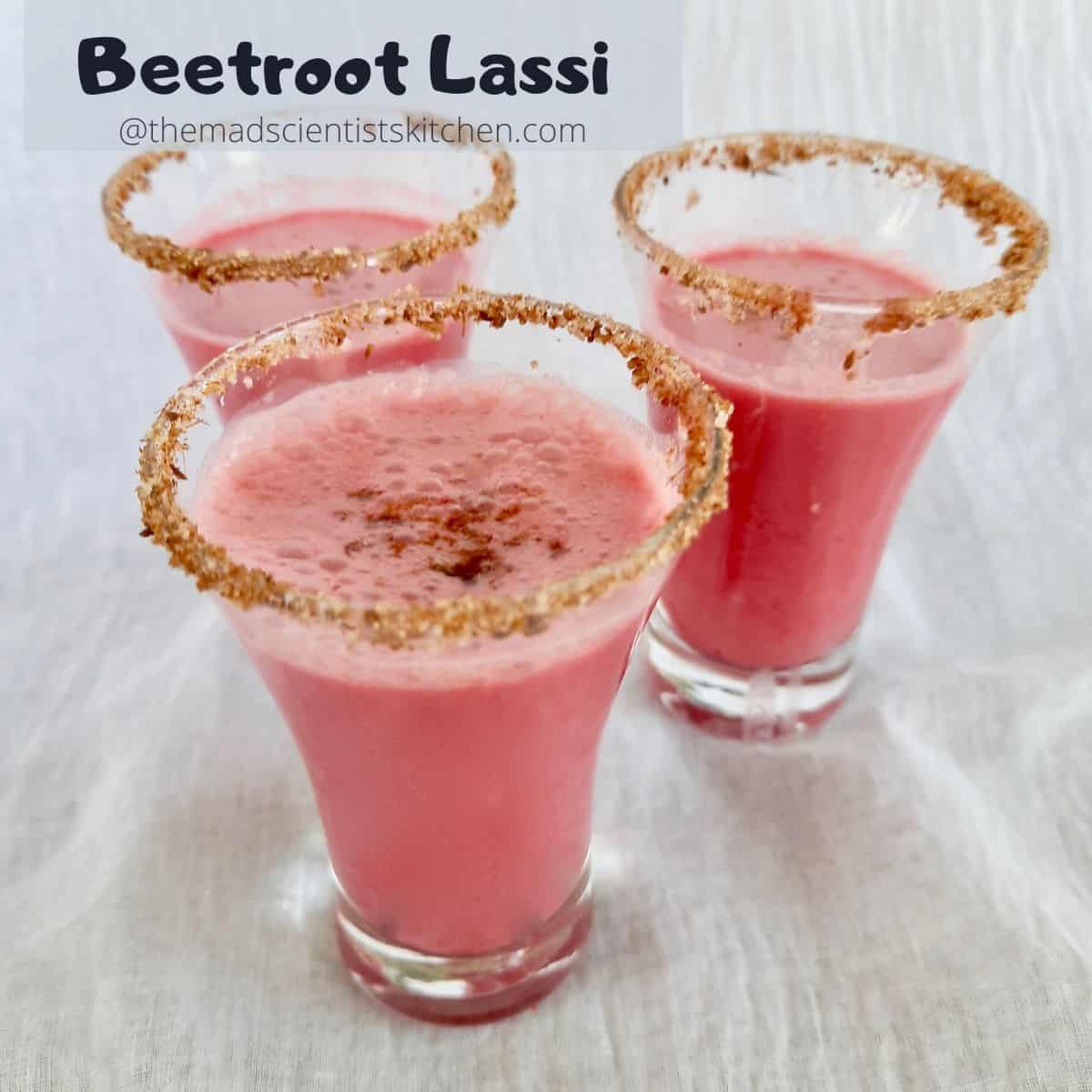 Today on the FoodieMondayBlogHop we are exploring #239 Cool Lassi. Our hostess today is Mayuri from Mayuri's Jikoni. Mayuri is an awesome Chef and I want to try her Celery Greens and Apple Juice. Just waiting for the Curfew to be lifted so I can get some supplies.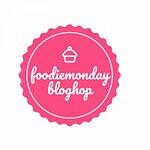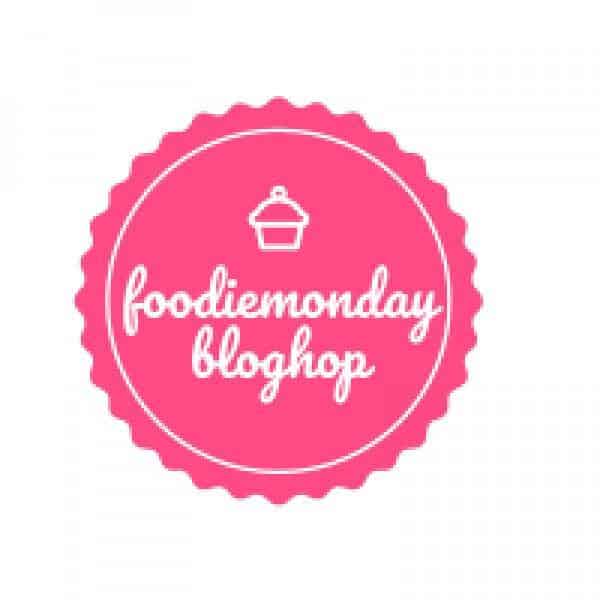 The main ingredient in making any buttermilk is, of course, curds or yoghurt but today you will need beetroot too. You have the choice of making your Chukandar Lassi sweet with sugar or honey but since we prefer salted buttermilk I have used cumin and salt.
I would have definitely loved to add some mint in my lassi but with the curfew etc I am making do with what I have. My elder daughter who is down from Bangalore will prefer her lassi without beets, but with ginger and chilli. So that will happen tomorrow. The younger one wants Green Smoothie that will happen sometime later.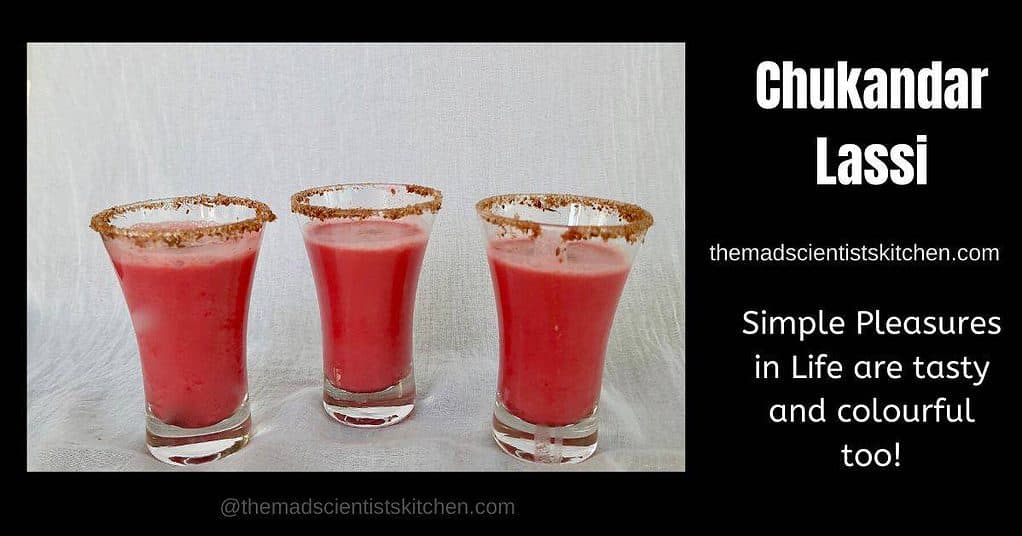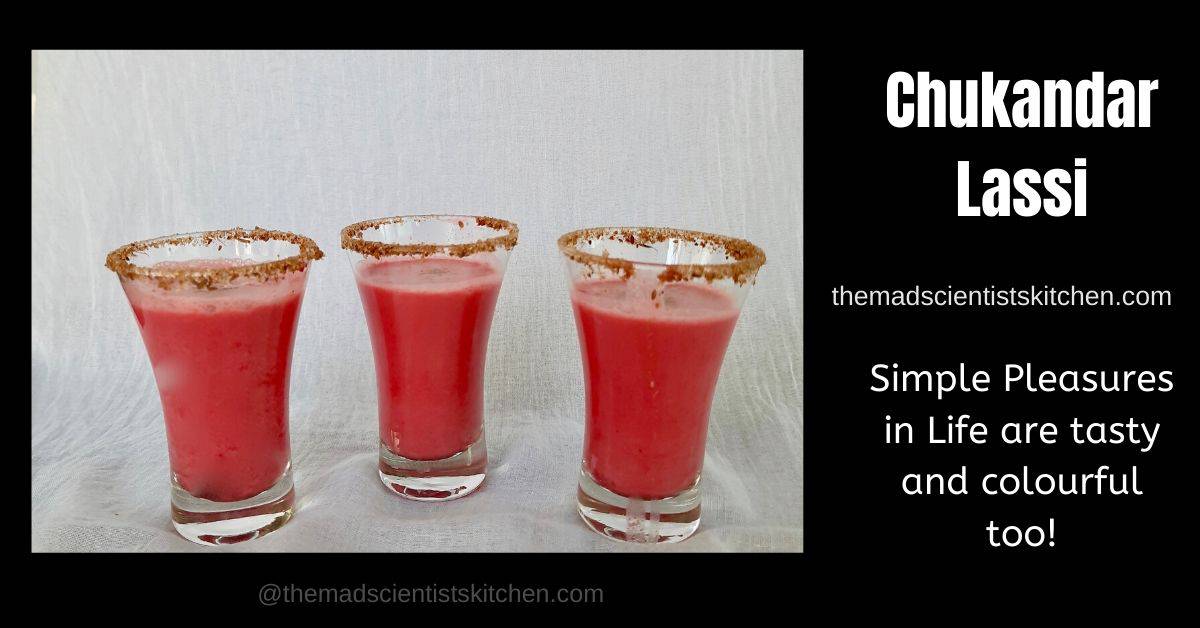 What is Lassi?
Lassi a popular thick, creamy drink, in the Indian sub-continent made by blending curds or yoghurt with 
Salted lassi: just salt and curds and water.
Masala lassi: Spices like cumin, ginger, chilli, asafoetida along with curds and water. 
Sweet lassi: curds, sugar, water and cream.
Fruit lassi: curds, sugar, water, fruits and cream. 
Then there is Piyush where shrikhand is blended with curds and water.
Then there is cannabis-infused lassi called bhang lassi.
Is there a difference between lassi and Chaas?
Yes, Chass is definitely more watery than lassi and there is no butter in it.
When do we serve lassi?
Lassi is traditionally served after a meal or with a meal. Then that does not stop us from drinking it when we need a refreshing drink. The salt and sugar in the lassi are important to restore the salt balance in the body.
Ingredients: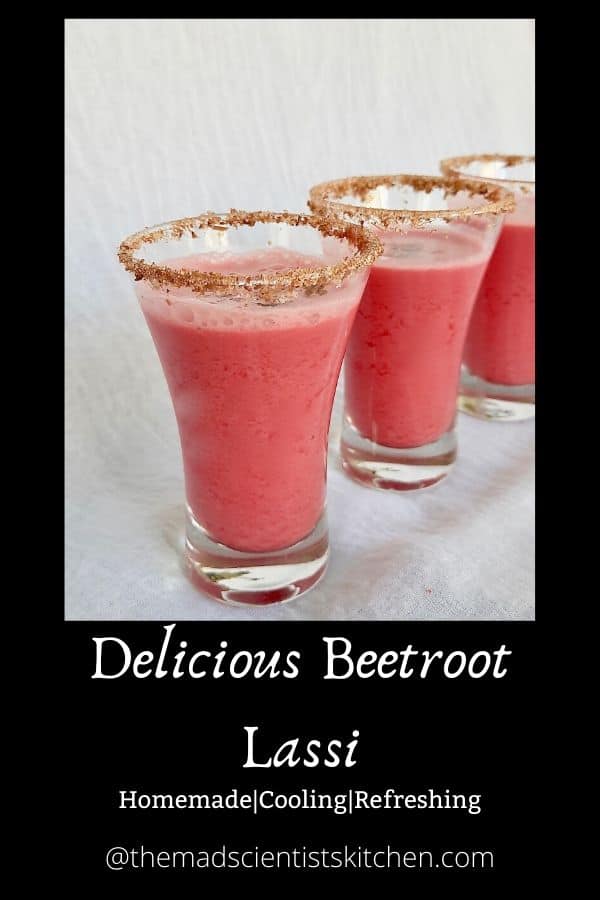 Beetroot: I used a small beet must be around 50 grams in weight. Wash, peel and slice the beet before wrapping in the foil to bake it. I sliced it as it needs lesser time to roast.
Curds: Use full cream curd to get the delicious taste. You can use skimmed curds too but I like my buttermilk creamy.
Cumin powder: I always have cumin powder at home. Roast the jeera on low flame in a skillet stirring constantly till the colour changes. Cool and powder.
Asafoetida or hing: is an anti-flatulent and hence I use it. You can avoid it if you do not like the taste.
Salt: to taste. You can use rock salt too. Use sugar if you want your lassi sweet.
Method:
Roast the beat in a foil after you wash and slice it.
Peel and blend with water till fine puree in the blender with little water.
Add all the other ingredients except water and blend.
Adjust the consistency with water.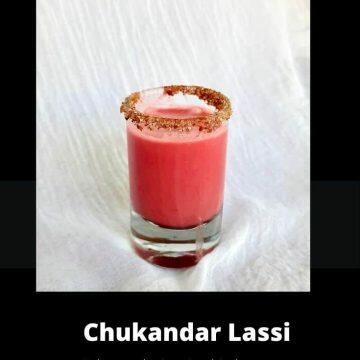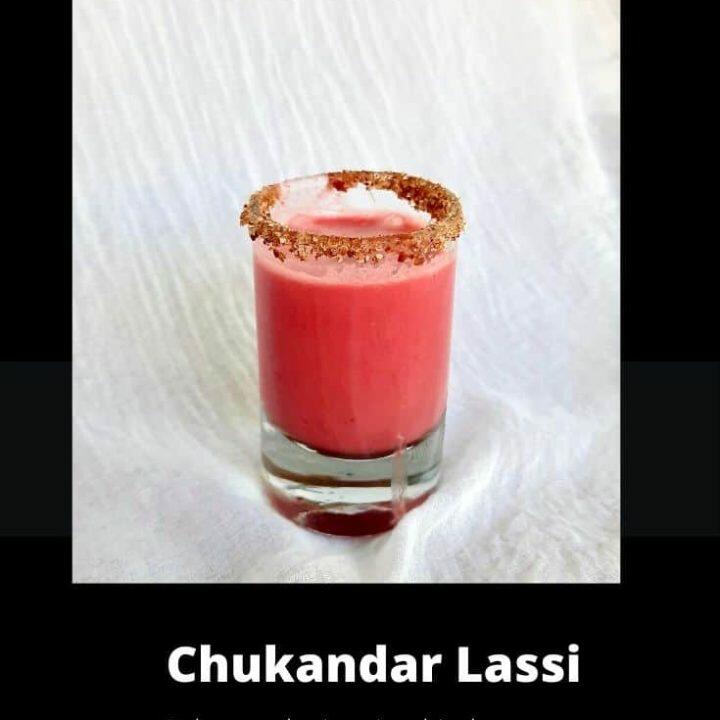 Beets Smoothie
A refreshing and filling drink of beets and curds with salt and cumin! Awesome for the summer!
Print
Pin
Rate
Ingredients
A small beetroot

250

ml

curds

200

ml

of water

3

teaspoon

cumin powder

¼

teaspoon

hing/asafoetida

Salt to taste
Instructions
Wash, peel and slice the beet.

Wrap the beet in an aluminium foil and bake at 200C/390F and bake till soft. I needed 10 minutes.

Let the foil cool completely then remove the beetroot.

Add the slices to the blender with 1 cup water and crush the beets till you get a fine paste.

Next add the curds, cumin powder, salt and hing.

Run the blender till you get a nice homogenous mixture. Take care not to beat for long or the butter will separate.

Adjust the thickness.

Serve immediately.
Notes
In case you are planning to serve on ice reduce the water to about 1oo ml.
The Variations to Lassi are:
Your Shopping List:
Disclaimer: We are a participant in the Amazon Services LLC Associates Program, an affiliate advertising program designed to provide a means for us to earn fees by linking to Amazon.in and affiliated sites. When you click and buy through this site, it helps us earn to keep this site running.
Pin for Later: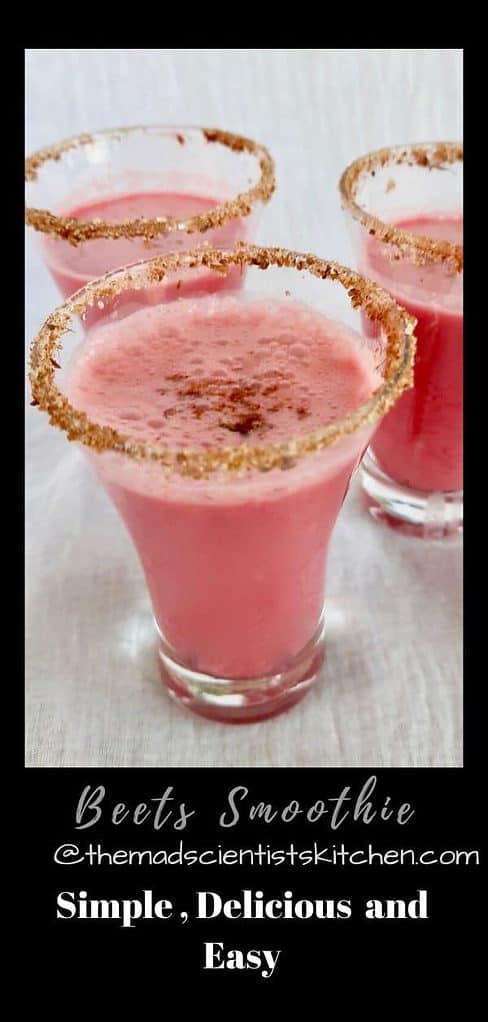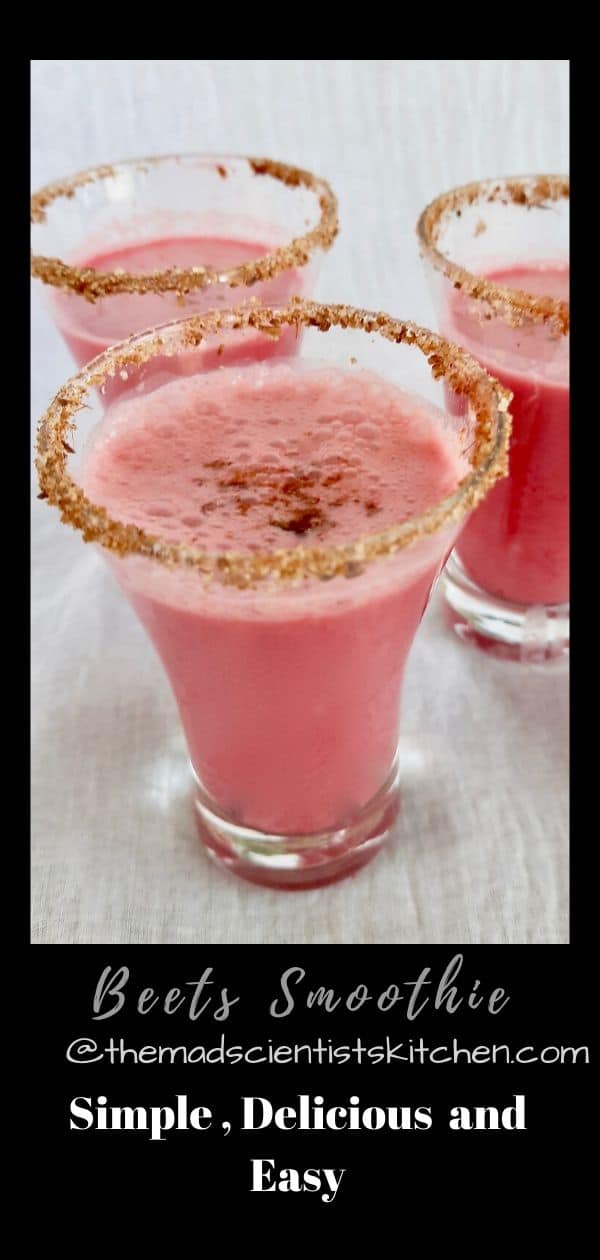 Reader Interactions