27 September, 2017
Egg Omelette|Indian Masala Omelette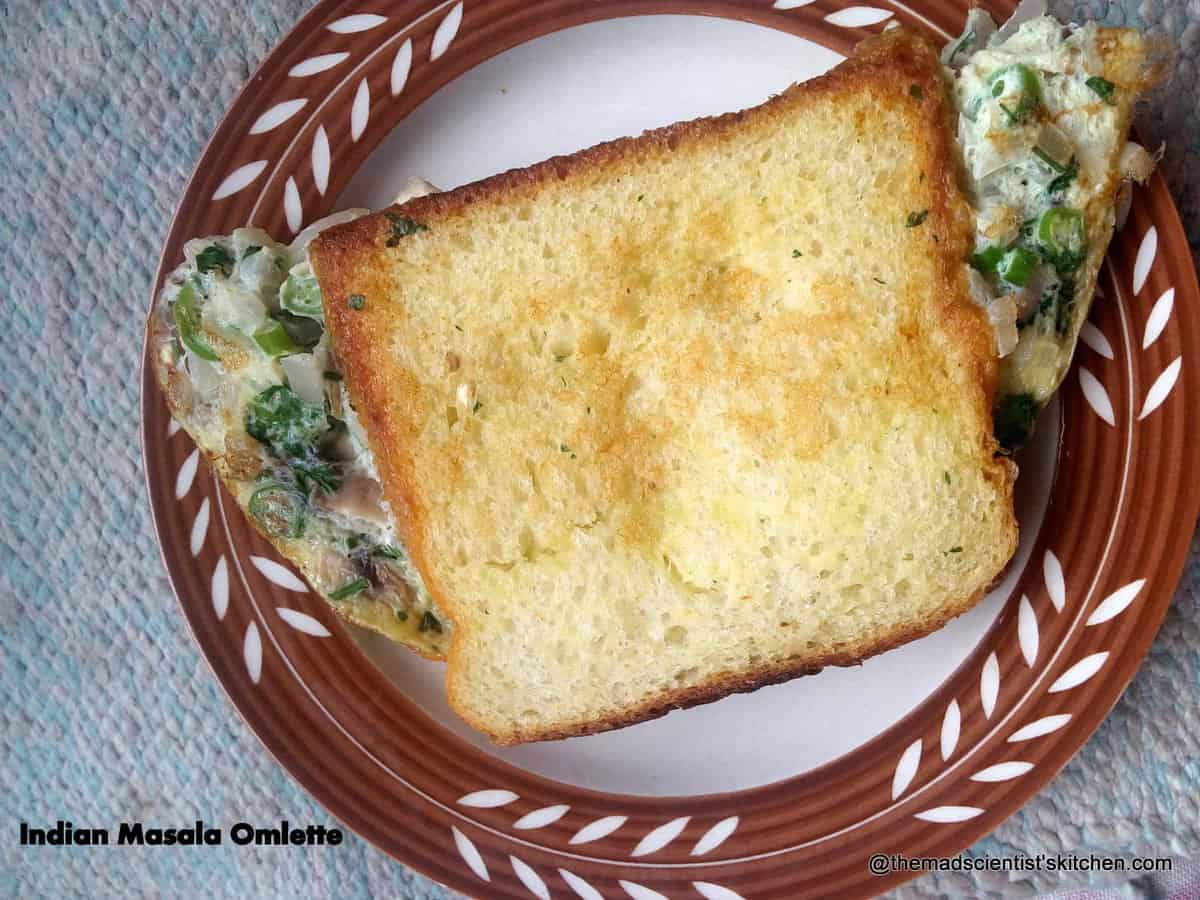 Comments : 10 Posted in :
Bachelor Recipes
,
Blogging Marathon
,
Diabetics Friendly Foods
,
Healthy food
,
Indian Cuisine
,
Kid Friendly
,
Protein Rich Food
,
Simple and Healthy Vegetarian Diet in Old Age
on
by :
ArchanaPotdar
Tags:
Bachelor Recipes
,
Breakfast
,
Brunch
,
Diabetic Friendly
,
Egg Omelette
,
Healthy food
,
Indian Masala Omlette
,
Kid Friendly
,
Protein rich food
,
Simple and Healthy Vegetarian Diet in Old Age
,
Snack
Egg Omelette is much appreciated in my place especially the Indian Omelette. Simple to make with whatever is available in your pantry this protein rich dish is good for young and old alike if you are an Ovo-vegetarian.  
According to Wikipedia," In cuisine, an omelette or omelet is a dish made from beaten eggs fried with butter or oil in a frying pan (without stirring as in scrambled egg). It is quite common for the omelette to be folded around a filling such as cheese, chives, vegetables, meat (often ham or bacon), or some combination of the above. Whole eggs or sometimes only egg whites are beaten with a small amount of milk, cream, or even water."
Masala Omelette is another name for an Indian Omelette.
Indian omelets  are generally made with green chillies, dhania/ coriander leaves, and onions all chopped fine. A dash of turmeric and salt to taste is added to the eggs. Generally to make an omelette fluffy you beat the ingredients well add a tablespoon of room temperature milk per egg and your omelette will be fluffier.
An egg is extremely versatile you can make anything from  Fried Egg, Egg Curry, Bhuna Masala Egg Curry to  Devilled Eggs/Deviled Eggs/Eggs Mimosa,    Anda Bhurji Wraps/ Scrambled Eggs Wrap ~Indian style, Egg Chat, Kerala Malabar Style |Mutta Biryani| Egg Biryani.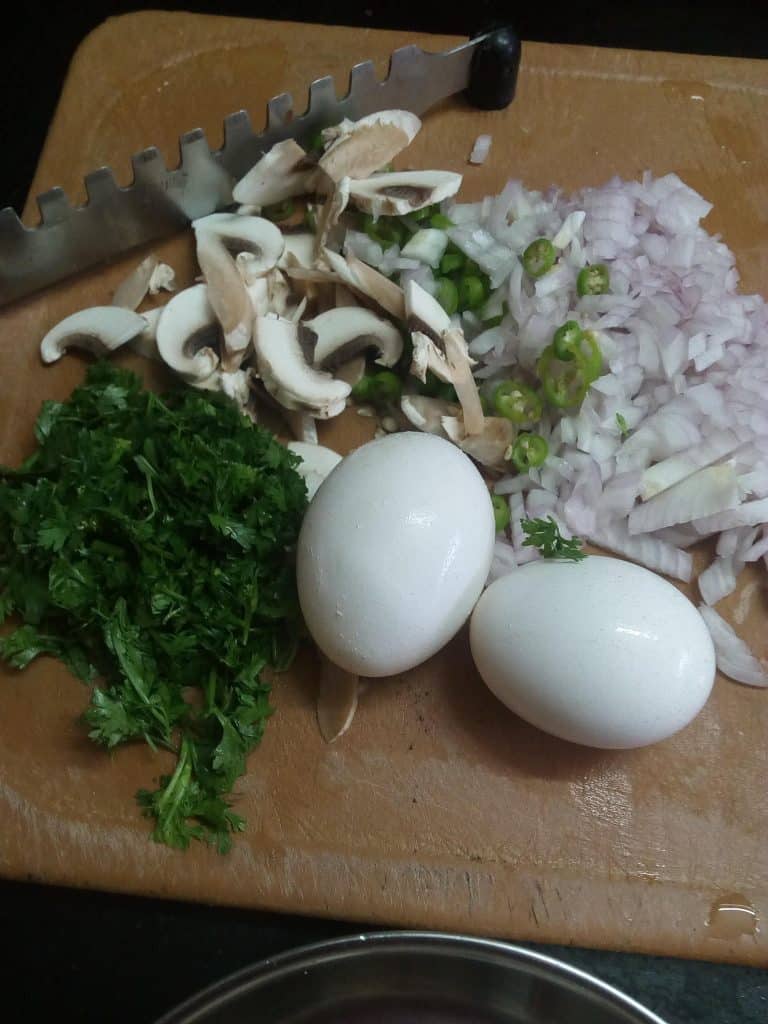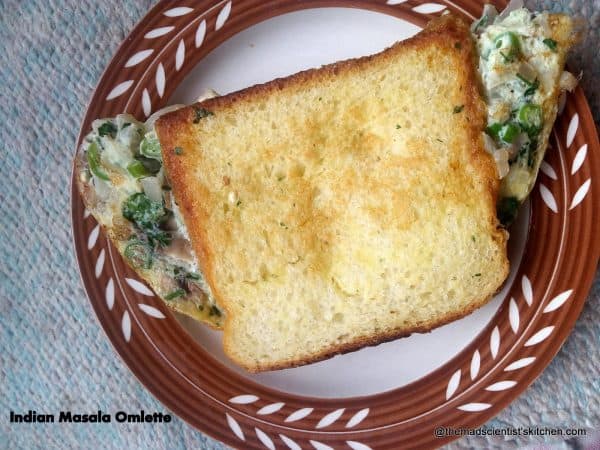 | | |
| --- | --- |
| | |
In a big bowl add half of all the ingredients i.e. the onions, mushrooms, chillies, red chilli powder, turmeric, salt and eggs.

Beat with a fork till the volume doubles up.

Heat 1/2 tablespoon of oil in a non-stick pan.

Add the 2 tablespoons milk and beat again.

The pan must be hot lower the flame to minimum and add the mixture to the pan.

Swirl the pan so that the mixture spreads well. You can also use the spatula to move the egg mixture to the edges of the pan.

Here you can dip the slices of bread in the egg. Then turn the slices over. This way the slices are coated with egg on both the sides.

Once the eggs set and the mixture appears cooked in the centre carefully flip the omelette and cook on the other side.(look at notes for easy flipping techniques)

Repeat with the balance ingredients.
To flip  an omelette without hassles you can use 2 methods.
Use a lid with a heat proof handle and invert the pan on the lid after loosening the sides of the omelette.  The omelette will drop in the lid then gently ease it into the pan the uncooked side down.
This is difficult but I love this method give the pan a sharp jerk. The omelette must jump out of the pan and then it turns over. Hold the pan steady under the falling omelette. A lot of practice and torn omelette later I still have troubles when I try this method.
Day 23
Check out the Blogging Marathon page for the other Blogging Marathoners doing BM# 80
Loading InLinkz ...
​Hi! First time here? You are Most Welcome! I hope you keep coming back for more here. If you are my regular visitor then Thanks, for you encourage me to experiment more!! I would like you to please click on my link below and like my
Facebook Page
. I will be happy if you can follow me on on
Twitter
too!
​
10s COMMENTS