Egg frittata recipe is a delicious egg recipe for brunch or a quick weeknight dinner.
For a normal household also Egg frittata is a great recipe especially since the filling can be leftovers anything from veggies, potatoes, rice. I have also used one leftover chapatti minced in the mixer. Seafood, chicken, cheeses also taste good.
In case, you are using leftovers add them directly to the beaten eggs.
The liquid used can be anything from milk or broth. Gravies I am not sure but I suppose they can be used and then there will be a lot of adjustments in cooking times.
As my daughter has moved to Bangalore this week, I have posted egg recipes for her to use. This will give her the protein fix she will need. Since she eats many salads, I am not worried.
I am in no mood to take pictures for this post will update them later.
Adapted from here.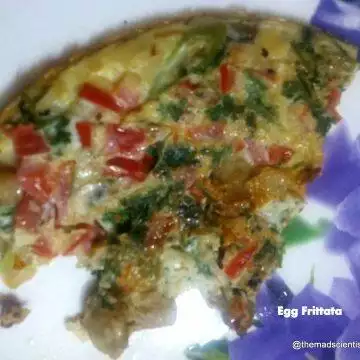 Ingredients
4

eggs

¼

cup

liquid

such as milk

¼

teaspoon

oregano and sage mixture

Salt And Pepper to taste

1

cup

filling

(I used 1 onions,1 small tomatoes, 6 mushrooms)

1

green chilli

¼

teaspoon

Chilli powder

2

tablespoon

Dhania/ Coriander Leaves

2

teaspoon

Oil
Instructions
Spread oil on a non-stick pan then heat it.

Add the onions and mushrooms a pinch of salt. Cook until the mushrooms soften a bit on medium flame. Stir occasionally.

Meanwhile in a big bowl beat the eggs, milk, oregano, and sage, salt and pepper, chilli powder until blended.

Spread the mushroom and onion mixture evenly on the pan and add the egg mixture.

Sprinkle the tomatoes, green chillies and the coriander leaves.

Cook on low heat until the eggs are set. (About 10 minutes).

You can try flipping it or stand the eggs covered for another 10 minutes. I have flipped it.

Cut into wedges and serve.
Day 26
Check out the Blogging Marathon page for the other Blogging Marathoners doing BM# 80
Reader Interactions