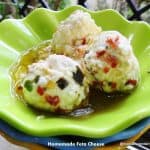 Print Recipe
Homemade Feta Cheese
Make Feta at home with everyday ingredients.
400

grams

of Curds made from skimmed milk

4-5

tablespoons

of extra virgin oil

Herbs

like garlicoregano, chilli flakes , sage

Coarse salt to taste
Hang the curds in a muslin cloth for over 2 days.

Now transfer the cheese in a jar and leave it for another 2 days. (I put it in fridge when I left to work and got it out in the night).

Make small balls of the hung curds and transfer to a jar in which you have added the oil, and herbs of your choice.

Add salt to the jar. It is better to add a little less salt.

Use after one day in sandwiches or in salads.