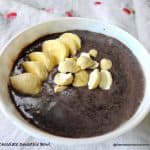 Print Recipe
Delicious Chocolate Smoothie Bowl
A simple but delicious bowl of breakfast or brunch for those lazy days!
The night before you want to make the smoothie bowl, combine oats, ½cup milk, honey, cacao powder, chia seeds in a bowl.

Cover and refrigerate overnight.

In the morning, add ½cup of the remaining almond milk and blend until smooth.

Pour into the serving bowl and top with your topping. Serve immediately.