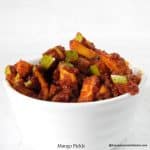 Print Recipe
Mango Pickle
Make delicious Raw/Green Mango Pickle this season!
Wash dry and sun the pickle bottle. Also, wash dry and cut the mango with a clean and dry cutter.

In a big bowl add the mango pieces, salt, haldi and the masala and set aside for about half an hour.

Meanwhile heat the oil and splutter the mustard seeds add the hing after mashing it up.

Let the oil cool down.

Add the cooled oil to the mango mixture and mix well.

Transfer to the glass jar. Cover and let it mature in the sun for 2 weeks.
This is my pickle masala link.
In case after transferring the mango pieces the mango pieces are not submerged under the oil. Heat and cool some more oil and add to the pickle bottle.
In case you do not plan to preserve the pickle satr eating it immediately.