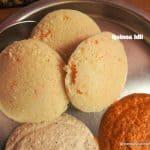 Print Recipe
Spongy Quinoa Idli
Begin the day with a healthy breakfast of Quinoa Idli !
To make the Idli Batter:
Rinse and soak the urid dal and the quinoa separately. Add the methi seeds to the urad dal to soak. Soak for a minimum of 5 hours.

Soak the idli rava/sooji in a deep vessel. Let it stand for a few minutes. Then decant the liquid. Repeat for 2-3 times. Set aside after the last rinse.

Drain the urid dal and reserve the water.

Grind the urid dal and methi using the mixer in pulse mode initially till the dal moves smoothly adding water little by little. I must have used about ¼ to ½ cup for the grinding.

Then I use the buttons from 1 to 3 to get my smooth paste. Add the urid dal mixture to the Idli rava/sooji vessel.

Grind quinoa to a smooth paste add water if needed. Remove the batter into rava/sooji vessel.

Mix all the contents well. The consistency of the batter should be like our regular idli batter and should not be too thick or too thin. You can add salt if you wish I add it just before making the idli.

Leave the batter to ferment for 6 hours or as in my case overnight.

Just before making the idlis I add my salt and mix well.
How to make Quinoa Idlis:
Idlis can be made in a steamer or a pressure cooker and an idli stand mould. In case you are using the pressure cooker remove the weight/whistle.

Add water to the base of the steamer or a pressure cooker and bring to boil.

Grease the idli plates with a little oil and set aside.

Mix the batter well add the grated carrots if using and ladle the batter in the mould.

Transfer to the steamer or a pressure cooker and cover.

Cook on medium heat for 15-20 minutes.

Allow the idlis to cool for 5 minutes and then remove the idlis.

Repeat the same for the rest of the batter.

Enjoy soft and spongy quinoa idlis with any chutney or sambar.