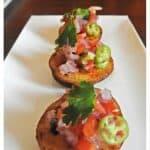 Print Recipe
Simple Sweet Potato Bruschetta- Bite-Sized Appetizers
Simple yet delicious Simple Sweet Potato Bruschetta- Bite-Sized Appetizers are Party Pleasers.
Wash the sweet potatoes clean. Use a scrubber if you think they are dirty.

Then cut them up in circles about 1/4 inch thickness.

Arrange the slices on a non-thick tava/skillet.

Spray some oil or use a silicone brush to spread the oil on the slices.

Cook covered, on low flame on both the sides until the slices are done. How can you tell? Your slices will have brown spots and you can cut the slice with a spoon when done.

As the slices are cooking mix the onions, tomatoes, green chilli, coriander leaves.

Add salt, lemon juice and sugar to taste.

Arrange the slices on a serving tray.

Spoon the tomato mixture on the slices. Serve.

Serve.
For older kids, sorry young adults like mine they can add the topping themselves.
Use a combo of corn, basil and cheese, or boiled eggs, onion and tomato. The combos are endless.
You can cook the sweet potato earlier. Let your guests do their own toppings.