3 June, 2016
Beetroot Smoothie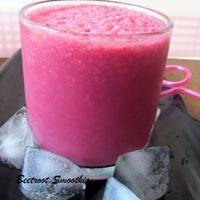 Posted in :
Uncategorized
on
by :
ArchanaPotdar
Tags:
Beet root
,
Beetroot Smoothie
,
Summer cooler
Beetroot smoothie is a great way to get all the goodness of beets into you and your child without the fuss.
Thanks to the Romans for cultivating beetroots the edible taproots and their leaves we enjoy are useful as a food colouring and as a medicinal plant. Sugar beet is an important product made from beetroot.
The beetroot is a taproot its other names are table beet, garden beet, red beet, or golden beet. Belonging to the same family as chard and spinach, both the leaves and root can be eaten – the leaves have a bitter taste whereas the round root is sweet. Typically a rich purple colour, beetroot can also be white or golden.
Beetroot, especially the greens is of exceptional nutritional value. The greens are rich in calcium, iron and vitamins A and C. Beetroots are an excellent source of folic acid and a very good source of fibre, manganese and potassium.
Beetroots have long been used for disorders of the liver as they help to stimulate the liver's detoxification processes. The pigment responsible for the colour of the beetroot is betacyanin a powerful agent, thought to suppress the development of some types of cancer.
Beetroot is rich in fibre which helps bowel function, to lower cholesterol levels, increase the level of antioxidant enzymes in the body,  as well as increase the number of white blood cells, which are responsible for detecting and eliminating abnormal cells. Beets are also one of the richest sources of glutamine, an amino acid, essential to the health and maintenance of the intestinal tract.
Beetroot has gained lots of popularity these days after some studies indicated that beetroot juice reduced blood pressure in hypertensive individuals and so may have an effect on mechanisms of cardiovascular disease.
Want to buy beetroots?
Choose firm, smooth, and a vibrant red-purple, not soft, wrinkled or dull in colour.
How can you eat beetroots?
They are eaten boiled, steamed, roasted or raw, either alone or combined with any salad vegetable. The boiled or steamed beetroots are peeled and then eaten warm with or without butter. Cooked, pickled, and then eaten cold as a condiment; or peeled, shredded raw, and then eaten as a salad. Pickled beets are a traditional food in many countries.
Hard-boiled eggs are refrigerated in the liquid left over from pickling beets and allowed to marinate until the eggs turn a deep pink-red colour. This is traditional Pennsylvania Dutch pickled beet egg.
In Poland and Ukraine, beetroot is combined with horseradish to form popular ćwikła, which is traditionally used with cold cuts and sandwiches, and to a meal consisting of meat and potatoes. In Serbia where the popular cvekla is used as a winter salad, seasoned with salt and vinegar, with meat dishes. As an addition to horseradish, it is also used to produce the "red" variety of chrain, a popular condiment in Ashkenazi Jewish, Polish, Russian and Ukrainian cuisine.
In Australia to make hamburgers beetroot is combined with fried egg and the beef patty and salad to make an Aussie burger. How can we forget the Borscht or beet soup is a popular dish in Eastern Europe?
In Indian cuisine, chopped, cooked, spiced beet is a common side dish.
The green, leafy portion of the beet is also edible. It's similar to taste and texture to spinach and can be served boiled or steamed.
Betanins, obtained from the roots, are used industrially as red food colourants, e.g. to intensify the colour of tomato paste, sauces, desserts, jams and jellies, ice cream, sweets, and breakfast cereals.
Beetroot wine anyone? Yes, you can make wine too from beetroots.
After this intro to beetroots gets ready to eat Beetroots for the next three days!!
Let's begin with the rising sun…. morning, breakfast.
In a hurry? Try this beetroot smoothie. Wish I had ice cream to go with it.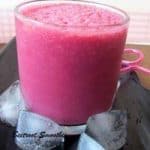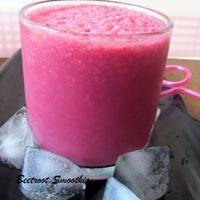 Print Recipe
Beetroot Smoothie
Beetroot smoothie is healthy and filling.
Ingredients
1

beetroot, small

250

ml

Milk

1

tsp

Sugar

optional

ice

as needed
Instructions
Wash the beetroot and trim the ends.

In the pressure cooker cook the beetroot for 2 whistles. Let the steam come down naturally.

Once the beetroot has cooled enough to handle peel it and cut it in coarse chunks.

Transfer to the mixer/blender and blend with a little milk till the beetroot is smooth.

Once the beetroots have smoothened out add the rest of the milk and sugar and run the mixer again.

Transfer to the glass add ice if desired. Serve immediately.
Check out the Blogging Marathon page for the other Blogging Marathoners doing this BM#65Beetroot Smoothie