#11 Best Rasam Recipes, a collection
Chaaru is a lentil-based sweet, sour and spicy soup.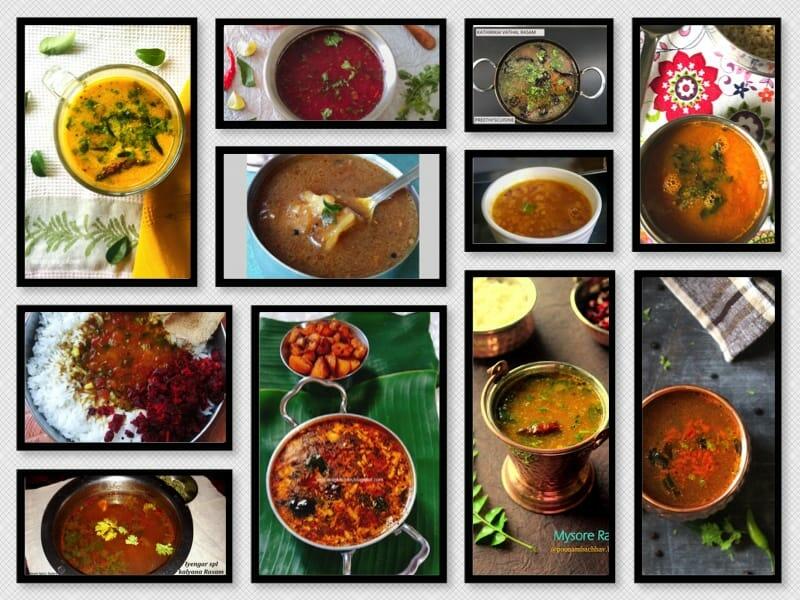 Saaru is part of a Festive Meal that you can sip bowl or you can enjoy it with rice. I asked my friends for their Rasam recipes and I put together #11 Best Rasam Recipes as a collection!
With the festive season fast approaching I am dusting my cookbooks. All these years I have taken the easy way out and ordered my Festive food! This year I plan to do something different. Anyway, I started thinking about Dussehra and Diwali. In my place festivals means no-onions, no garlic and Rasam, Saaru as the Dal, curry!  
Why?
Well, have you seen our festive meals? They all tempt you to try and all of them and you end up overeating!
So a rasam helps the food to settle down! The feeling I want to roll off and sleep till the rock in my stomach is digested is something that eases off! Also, I suspect since it starts getting colder and you sip rasam the soothing feel is something that you appreciate. If you feel there are some other reasons let me know.
This year I want newer recipes. The usual Tomato Saar, Pineapple Rasam, or everyday Rasam are old enough to retire now. Any self-respecting Food Blogger will crave variety.!
So is there anything better than a shout to your friends, most of my blogger friends have amazing Rasam recipes! So get you pots and pans out as I am going to whet your appetites with 11 Best Rasam Recipes, a collection!
#1. One of the first amazingly different recipes I saw want to try is from Preethi's Blog. Now, who will not want to try this delicious recipe?
Kathirikai Vathal Rasam / Sundried Eggplant Rasam – Preethi's Cuisine
Hello!! Today I am sharing a simple and easy recipe.Many of my readers have asked how do I make Rasam. Well i make different types of rasam and this particular recipe I learnt from my better Half Mr RP. He is an occasional cook and whips out some delicious recipes once in a while(Read a…Read More
Check out this recipe
#2. Swathi whos has this amazing Tomato and Beetroot Rasam for me using beets in a rasam is a new idea. This is one way to get Apeksha and Akanksha eat Beets!
Tomato and Beetroot Rasam – food-trails
Tomato and Beetroot Rasam, healthy and nutritious rasam recipe with the goodness of tomatoes and…
Check out this recipe
#3. One of my favourite saaru is Udipi Saaru and Aruna has made a great Rasam. This is the one Saaru that I have not made in ages. 
Udupi Saaru || Udupi style tomato rasam || How to prepare udupi style tomato charu
Udupi Saaru || Udupi style tomato rasam || How to prepare udupi style tomato charu
Check out this recipe
#4. Arachuvitta Rasam| Rasam With Freshly Ground Spices is the way Priya Iyer describes her rasam. Let me call it Pure temptation to overeat! Here is the ink tell me what you think about it.
Arachuvitta Rasam| Rasam With Freshly Ground Spices
Rasam made with freshly ground spices tastes all the better!
Check out this recipe
#5. Another   saaru  I love is the Mysore Rasam Poonam has made it so beautifully. This is one onion and garlic free recipe that I can use for a festival cooking. 
Mysore Rasam
Mysore Rasam is a flavorful and aromatic soup, a speciality from Indian state of Karnataka. It is thin spiced rasam prepared using fresh…
Check out this recipe
#6. Sasmita has me drooling over her Lemon Pepper Rasam. Now, this is one intrigue that I want you to solve yourself. I rather not tell you the suspense. How do you make a rasam that is No Lentil, No Rasam Powder, No Tamarind? Check it out!
Lemon Pepper Rasam (No Lentil, No Rasam Powder, No Tamarind)
Lemon Pepper Rasam is an easy and quick rasam without using rasam powder, tamarind, lentil. Also this is is totally Vegan as well as Gluten free. This rasam has strong flavor of pepper as well as lemon.
Check out this recipe
#7. Priya VJ has a delicious Kalyan Rasam. Now, Kalyan Rasam is delicious! I have made it 3 times now. Each time before I can click it is over. Every time I am told make again.
Kalyana Rasam / Iyengar Spl Kalyana Rasam – Video Recipe
the art of eating #Rasam rice on the banana leaf is something totally amazing..Rasam served at the wedding has an unique taste and flavor. Sometimes its also called Iyengar Kalyana Rasam. An authentic recipe shared by our family cook to my mom
kalyana rasam,iyengar kalyana rasam, special rasam,tomat…
Check out this recipe
#8. Have you tried a keto coconut rasam? Yes, I checked again I am correct. Take a look and see these amazing pictures and recipe of  Keto Coconut Rasam from Mayuri's Jikoni.
Keto Coconut Rasam – Mayuri's Jikoni
An easy to make keto coconut rasam which is gluten free and vegan friendly. Enjoy it before a meal or as a hot drink before meals or when not feeling too well.
Check out this recipe
#9. Kalyai of Sizzling Tastebuds has a delicious Carrot and Moongdal Rasam that can be made Gluten-free and Vegan.
Carrot Moongdal Rasam | Rasam Varieties | Can be GF and Vegan
A blog focussing on Vegan, GF recipes along with sustainable cooking.
Check out this recipe
How about trying out 2 of my favourites from my blog?
#10. My first favourite is Satisfying Pineapple Rasam. Something I need to make yet again.
Satisfying Pineapple Rasam Recipe
Suffering from a cold? Then try this Satisfying Pineapple Rasam
Check out this recipe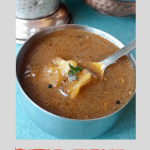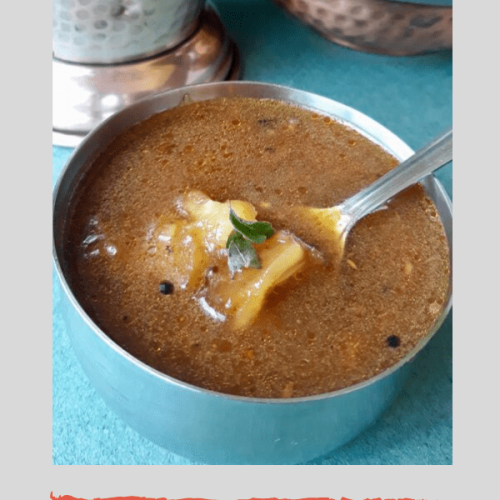 #11. My evergreen recipe of a Saaru, Everyday Rasam something we never get bored of.
Saar Recipe/Rasam Recipe
A comfort meal for us is Rasam Rice, steamed rice and rasam with a vegetable side is Heaven on Earth. The Saaru can be made Vegan and Gluten-free! Try it!
Check out this recipe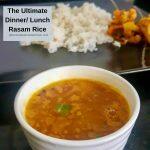 Pin for Later: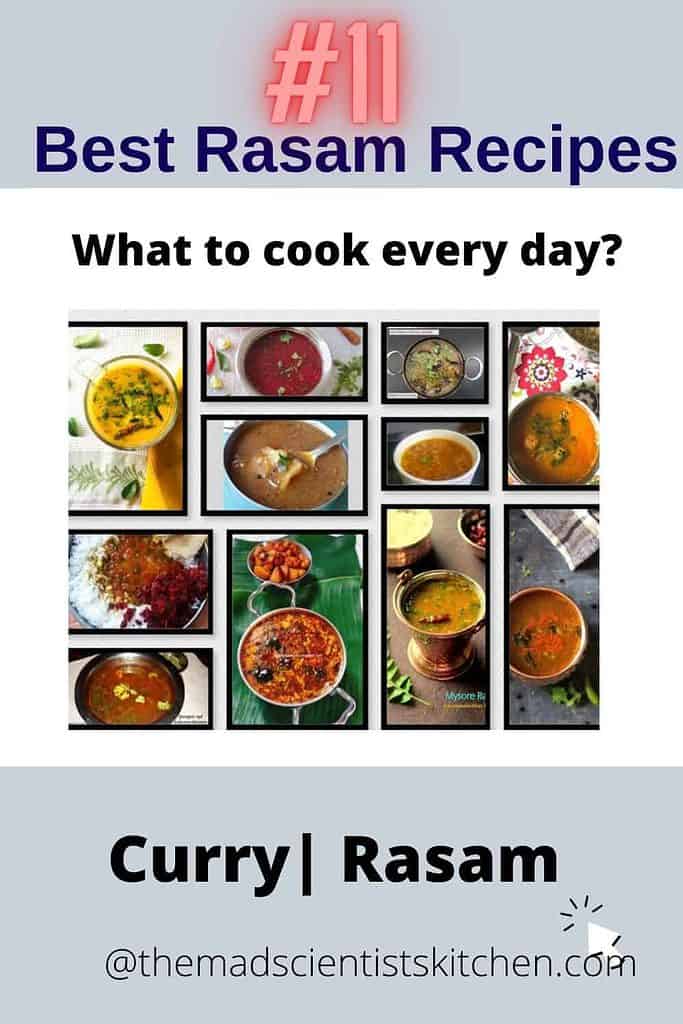 Reader Interactions