3 May, 2017
Traditional Greek Green Beans (Fasolakia Giaxni)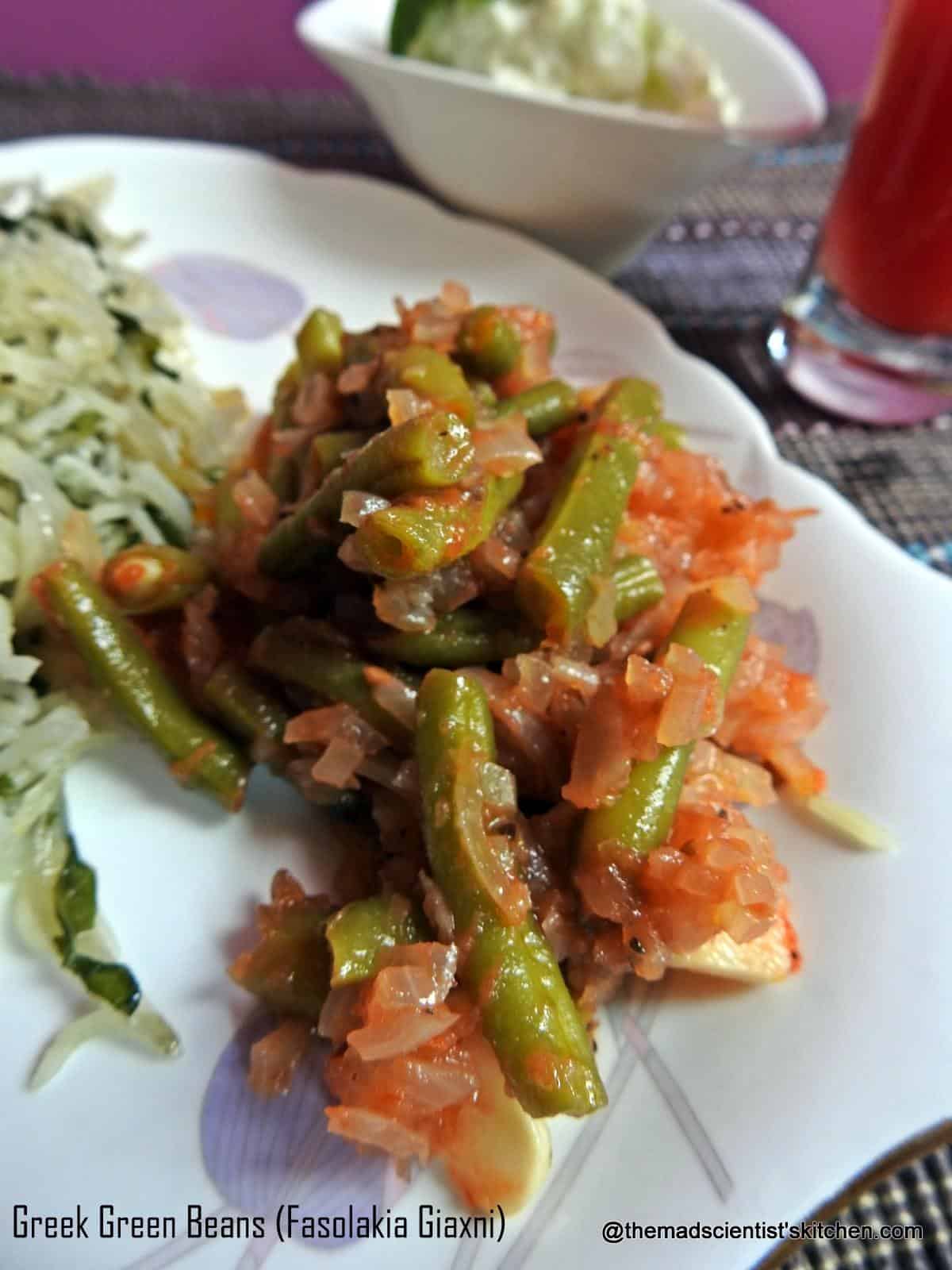 Comments : 15 Posted in :
Bachelor Recipes
,
Blogging Marathon
,
Cuisine
,
Greek Cuisine
,
Meal
,
Side Dish
,
Simple and Healthy Vegetarian Diet in Old Age
,
Stir-Fry or Dry Vegetables
on
by :
ArchanaPotdar
Tags:
Fasolakia Giaxni
,
French Beans
,
Greek Cuisine
,
Ladera
,
olive oil
,
Traditional Greek Green Beans
This Traditional Greek Green Beans recipe (Fasolakia Giaxni) had me rethinking that delicious and healthy do go together.  
A combination of Green beans, sweet onions and fresh, juicy tomatoes cooked steaming.
Then it is further classified as "Ladera", meaning Greek dishes prepared only with olive oil, with no addition of other fat. Giaxni means steaming and Giaxni is a technique used in authentic Greek cooking. The Greeks steam anything from fish, meat, or vegetables.
This delicious hearty, healthy traditional Greek Fasolakia Giaxni vegetarian meal or as a side dish garnished with some salty, crumbled feta on top!
I find this so passionate, "To prepare this Greek green beans recipe (fasolakia giaxni), the onions are first sautéed, until tender and sweet and the beans are simmered in a tomato based sauce, until all the flavours mingle, and garnished with chopped parsley." So beautifully, explained and all the details are in these words.
Nothing more to add people remember I am the person who avoids french beans so if I am saying this was a good vegetable it has to be good. The other french beans that I like are Avrikai Palya and French Beans Foogath.
Team it with pita bread or with spinach rice and tzatziki. I am in heaven maybe with a tiny space for something sweet but I am too lazy to move.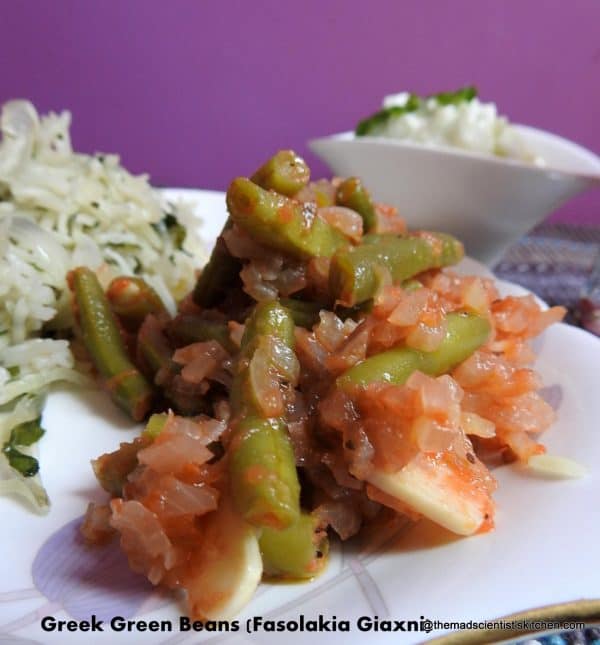 | | |
| --- | --- |
| | |
Washing thoroughly the French beans drain and set aside.

In a large kadhai/wok heat, half the oil add the onions and sauté till the onions are translucent.

Add the garlic and tomatoes and the rest of the olive oil.Stir well, and bring to boil.

Add the beans, sugar mix well. The beans should be covered with the sauce.

Lower the heat cover with the lid and simmer until the beans are soft and most the juices have evaporated. Add hot water if needed.

Season with salt, pepper, and stir in the chopped parsley (if using).

Serve warm or at room temperature with salty crumbled feta cheese and lots of olives.
Check out the Blogging Marathon page for the other Blogging Marathoners doing this BM#76
Hi! First time here?
You are Most Welcome! I hope you keep coming back for more here. If you are my regular visitor then Thanks, for you encourage me to experiment more!! I would like you to please click on my link below and like my Facebook Page. I will be happy if you can follow me on on Twitter too!
15s COMMENTS