26 September, 2017
Savoury French Toast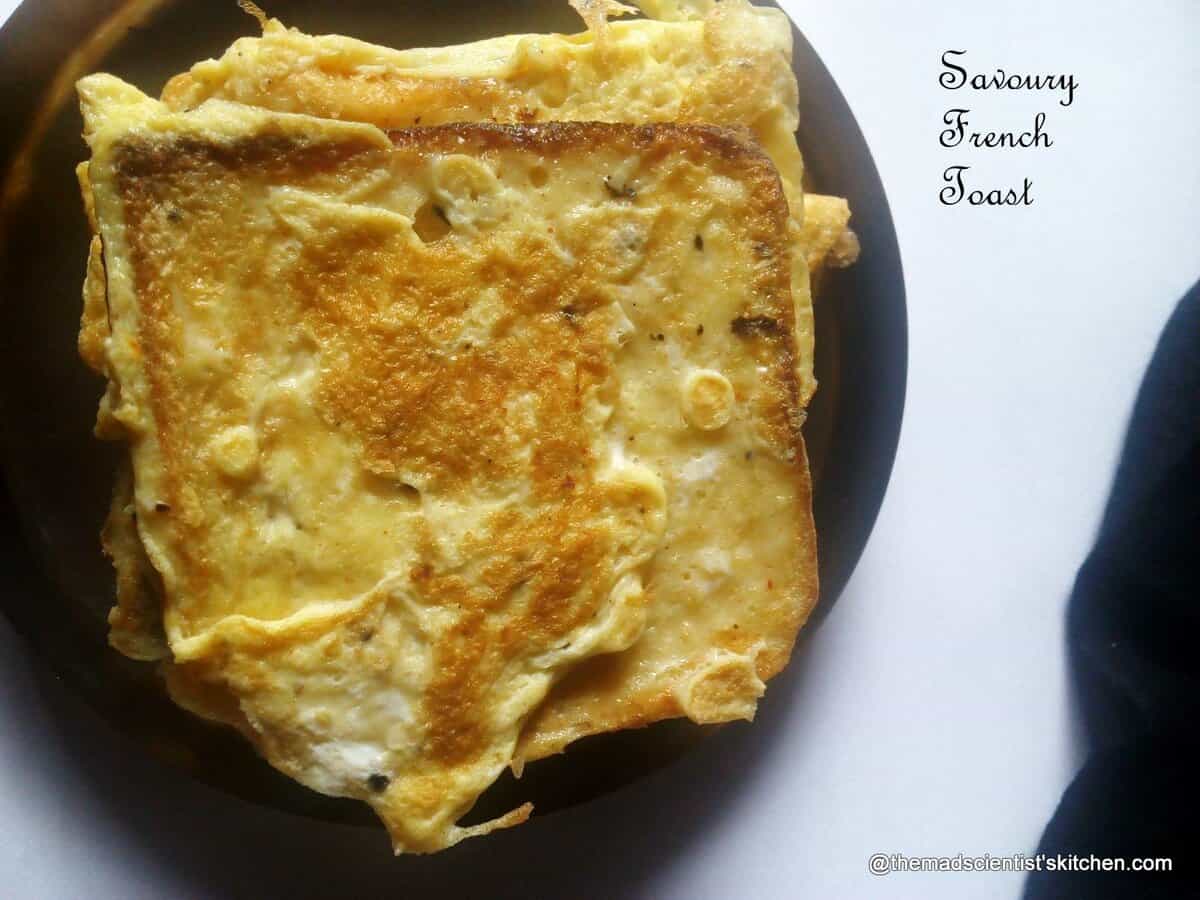 Comments : 11 Posted in :
Bachelor Recipes
,
Blogging Marathon
,
Breakfast
,
Brunch
,
Diabetics Friendly Foods
,
Healthy food
,
Protein Rich Food
,
Simple and Healthy Vegetarian Diet in Old Age
,
Snack
on
by :
ArchanaPotdar
Tags:
Bachelor Recipes
,
Brunch
,
Diabetic Friendly
,
French Toast
,
Healthy food
,
Protein rich food
,
Simple and Healthy Vegetarian Diet in Old Age
,
Snacks
French toast is a breakfast dish made is a dish made of bread soaked in milk, then in beaten eggs and then fried. In my place, I don't make it sweet or use milk. Interested ? Read on for this protein rich breakfast.
The other names of French toast are eggy bread, Bombay toast, German toast, gipsy toast, poor knights (of Windsor), or Torrija. The earlier name in French was aliter dulcia "another sweet dish where the recipe mentions soaking in milk. The French name is pain perdu or "lost bread as you are using stale or otherwise "lost" bread.
In egg and milk mixture, the slices of bread are dipped then fried on both the sides. The best bread for French toast is day-old bread, as the stale bread will soak up more egg mixture without falling apart. The cooked slices can be eaten sweet with sugar or jam, honey, fruit or maple syrup. In you prefer them savoury serve with ketchup.
The other eggy dishes I have tried are Bhuna Masala Egg Curry, Devilled Eggs/Deviled Eggs/Eggs Mimosa, Anda Bhurji Wraps/ Scrambled Eggs Wrap ~Indian style, F for Fried Eggs, Egg Chat, Kerala Malabar Style |Mutta Biryani| Egg Biryani.
The main ingredients for Savoury French Toast are eggs, salt and pepper.
In a big bowl, crack the eggs.

Add the pepper powder, salt and beat the eggs until the pepper powder disperses in the eggs.

Grease a non-stick tava/skillet and heat it. Keep the gas on sim all the time.

Drop the bread in the egg mixture.

With a fork or spoon turn the bread and transfer it to the tava.

If you have greased your tava well you will not need to add more fat.

Turn the bread with a spatula. Check if there are brown spots.

Let the other side brown too.

These toasts can be served with homemade tomato sauce, but my family relishes them just plain.
Day 22
Check out the Blogging Marathon page for the other Blogging Marathoners doing BM# 80


Loading InLinkz ...
​Hi! First time here? You are Most Welcome! I hope you keep coming back for more here. If you are my regular visitor then Thanks, for you encourage me to experiment more!! I would like you to please click on my link below and like my
Facebook Page
. I will be happy if you can follow me on on
Twitter
too!
​
11s COMMENTS