2 September, 2017
Red Lentil Salad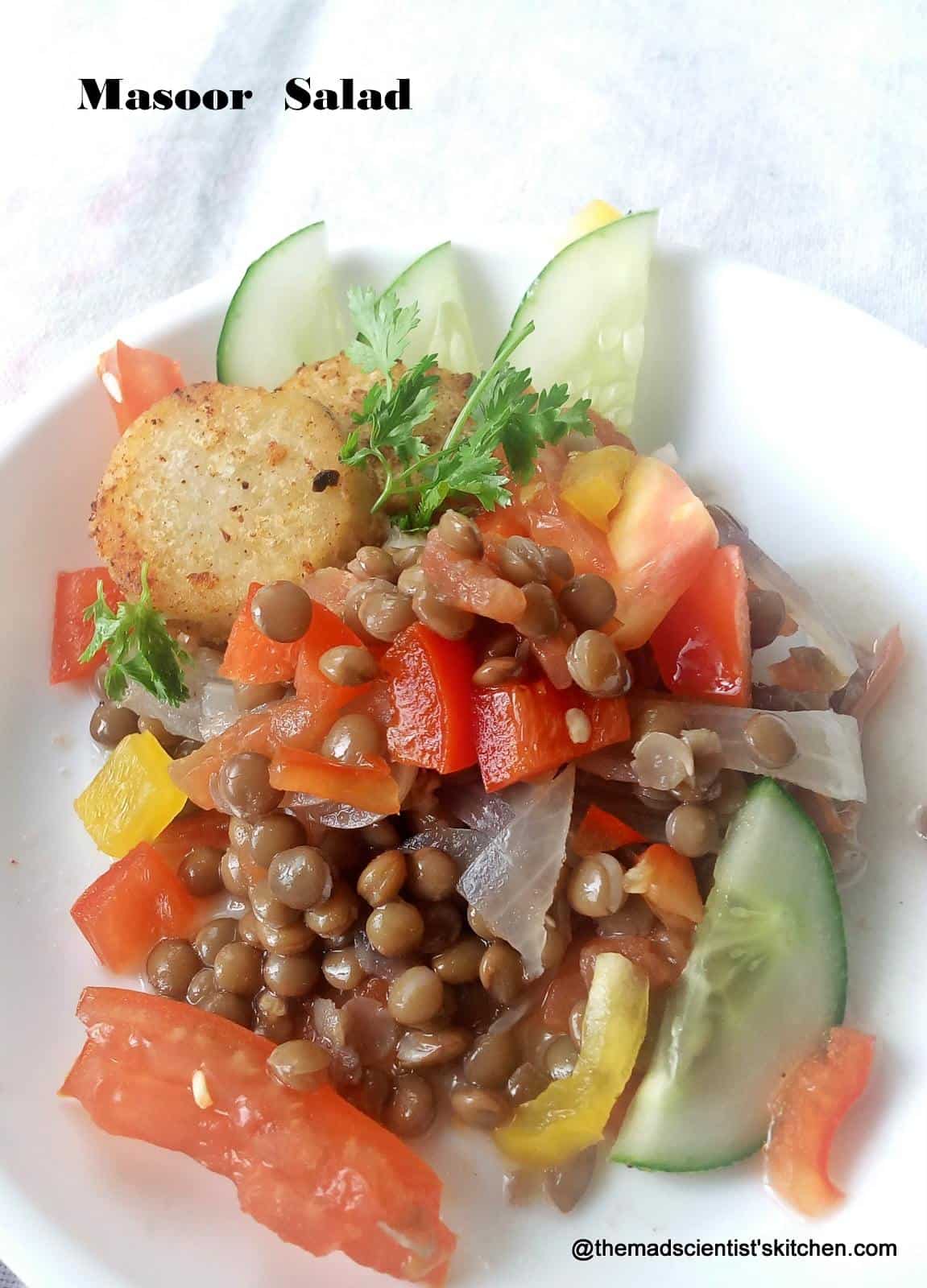 Comments : 19 Posted in :
Accompaniments
,
Bachelor Recipes
,
Blogging Marathon
,
Daal or Lentils
,
Diabetics Friendly Foods
,
For the Tiffin Box
,
Healthy food
,
Kid Friendly
,
legumes
,
Lowfat
,
Protein Rich Food
,
Salad
,
Salad
,
Simple and Healthy Vegetarian Diet in Old Age
,
Soup
on
by :
ArchanaPotdar
Tags:
Accompaniments
,
Bachelor Recipes
,
Daal
,
Diabetic Friendly
,
health benefits of lentils
,
Healthy food
,
Kid Friendly
,
legumes
,
Lentils and dal
,
Low fat
,
Protein rich food
,
Red Lentil Salad
,
Salad
,
Simple and Healthy Vegetarian Diet in Old Age
,
Soup
Red lentils salad is something that I have tried just twice and I am hooked. Tasty and yet simple to make, use ingredients in your pantry and get a protein packed a healthy vegetarian salad.
Eat lentils as, lentils help in lowering cholesterol and hence you will end up with a healthier heart. Since lentils have both soluble and insoluble fibre, your blood sugar and intestine both, get a helping hand. Want to increase energy? Want to lose weight? Introduce lentils in your diet. It was not simply that our ancestors insisted on a big katori of dal with every meal. Lentils have the capacity to give you all of them.
My kids are not dal fans they prefer salads so you will agree this is a great way to feed them any kind of lentils, beans, both sources of proteins.
I buy red lentils regularly as cooking them does not need pre-planning, 20 minutes of soaking time is enough. My maid cooks them in the open pan without soaking them.
These lentils also called masoor, or akha masoor I have used in the past to make Sprouted Masoor Salad,  Masoor Biryani| Whole Red Lentil Biryani, Ridge Gourd and Masoor Dal Vegetable, at least once a month I make tonak out of masoor. But like they say ghar ki murgi…. I have not posted it here. Will definitely post as soon as possible.
As for Salads here are a few that we love Watermelon and Feta Salad with Micro Greens, Pasta Salad and Stir fried Mushrooms with Bread Sauce(??), Cabbage Salad Indian Style, Simple but Yummy Quinoa Salad. Here is round-up of the event Kid Friendly Soups and Salads that I had hosted.
The salad can be eaten as a salad with bread on the side. We had it with the Goan Poli. Else with a little more of the liquid in which you boil the lentils mash them and serve them as a plain gravy with a spicy pulao.
Masoor salads main ingredients are whole red lentils, onions, tomatoes, capsicum, cucumber and taro root.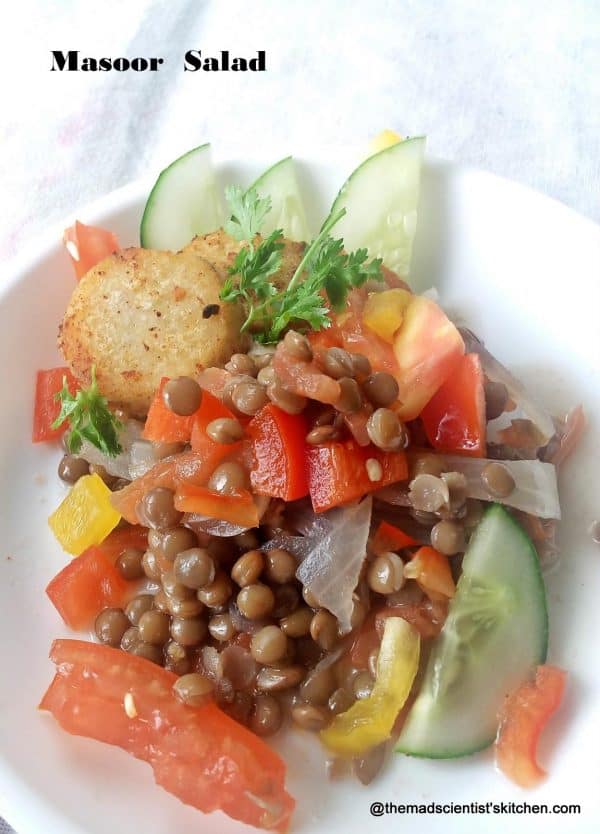 | | |
| --- | --- |
| | |
In a pan add the lentils, onions, tomatoes chopped, garlic and water bring to a boil and cook till lentils are just done.

Meanwhile in another pan add the washed arbi roots add some tamarind and salt to the pan. Mix well and add water to cover all the roots and let it boil until the knife pierced in the root cuts through without any resistance.

Remove the roots from the pan and let them cool completely. Peel and slice the roots.

In a non-stick pan add a little oil arrange the slices in the oil, sprinkle same chilli power, a pinch of salt and fry till light golden, flip and fry the other side. Drain and set aside.

Mix all the ingredients together in a big bowl.

Add salt if needed serve immediately.
The arbi, also known as taro roots can be substituted with sweet potato or potato.
Day 2
Check out the Blogging Marathon page for the other Blogging Marathoners doing BM# 80
Loading InLinkz ...
​Hi! First time here? You are Most Welcome! I hope you keep coming back for more here. If you are my regular visitor then Thanks, for you encourage me to experiment more!! I would like you to please click on my link below and like my
Facebook Page
. I will be happy if you can follow me on on
Twitter
too!
​
19s COMMENTS