14 October, 2017
Nariyali ki Barfi|Kobbari Vadi ~Diwali Special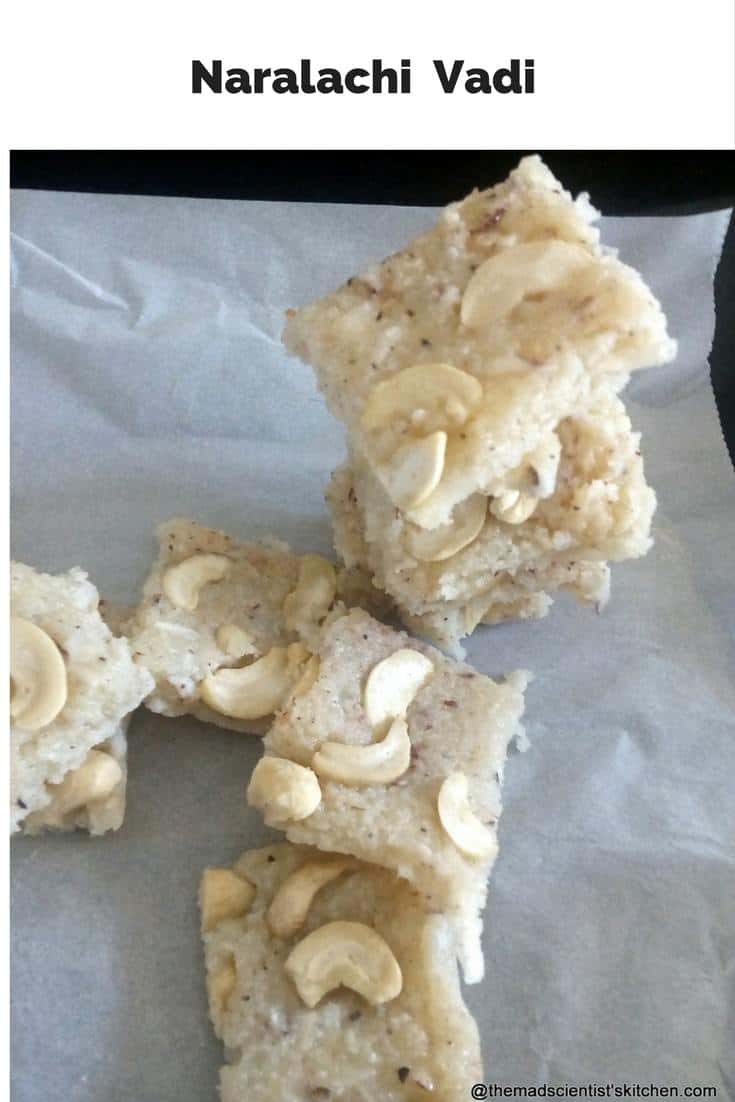 Comments : 12 Posted in :
Bachelor Recipes
,
Barfi
,
Coconut
,
Dessert
,
Festive Cooking
,
For the Tiffin Box
,
Indian Cuisine
,
Indian Desserts
,
Kid Friendly
,
Lists
,
Simple and Healthy Vegetarian Diet in Old Age
on
by :
ArchanaPotdar
Tags:
Coconut
,
Coconut Barfee
,
Coconut Barfi
,
coconut fudge
,
cream
,
Deepawali
,
Diwali
,
Indian Sweets
,
khobbari Vadi
,
Milk
,
Nariyali ki barfi
,
narlya cha vadya
,
Sugar
Nariyali ki barfi, khobbari Vadi, narlya cha vadya and coconut fudge the same name for a simple sweet that I make every year for Diwali in my place.
Easy to make with ingredients in your pantry khobbari vadi was something Amma made regularly. All you need is freshly grated coconut, sugar and cream.You can add ingredients like chocolate, carrots, beetroots, boiled potato, mangoes, raisins, cashew nuts, almonds.
With the Festival of lights, Deepawali round the corner I think it is high time I share how I make this simple yet tasty barfi.
These coconut fudge are available in some form or other around the subcontinent so I would rather not peg it down as a particular state cuisine.
Generally, burfi, I am not talking about the movie here but the sweet is milk confectionery made from condensed milk also called khoya, mawa, khava. Sugar and khava are cooked until it solidifies. A barfee as it is also known is made from things as diverse as besan, kaju, pistachios. Though the most popular essence is elichi/cardamom we do use saffron, rose water and in some cases kherwa. Nuts used can be cashew nuts, almonds, pistachios.
Cut your barfee in squares, diamonds or circles.
When do you eat barfi?? There is no such thing as time eat it all year round but especially now during the holiday seasons, wedding ceremonies, and the religious festivals.
There is no such thing as time eat it all year round but especially now during the holiday seasons, wedding ceremonies, and the religious festivals.
The other Diwali dishes at my place are
The number of pieces you will get will depend on the thickness of your barfi and the size you cut them in. I got about 12 pieces.
Also, I keep my coconut, sugar and milk and cream mixture aside for sometime this is an optional step. I find that it reduces my cooking time.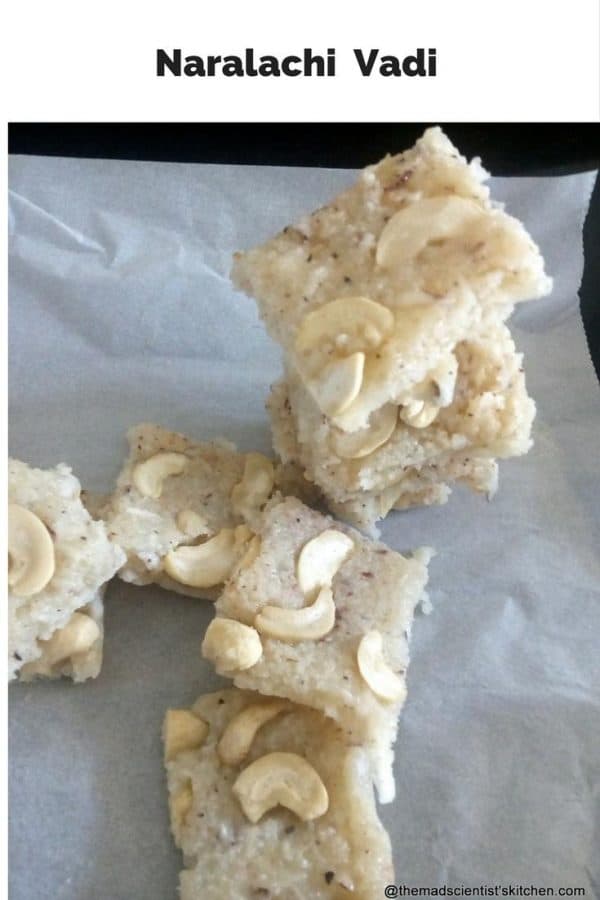 | | |
| --- | --- |
| | |
Mix coconut, sugar, cream milk raisin and cashew nuts in a thick-bottomed pan and keep aside for some time. Say an hour. This is strictly not necessary but I find that it cuts down my cooking time.

Grease a dish and the bottom of a bowl. Keep aside.

Now put the pan with the coconut on low flame and cook stirring constantly.

When the mixture is done the whole thing starts to form a lump in the pan, also the upper portion starts to dry up. Now add elichi powder. Add the cashew nuts. Mix well.

Now transfer the mixture to the greased dish and with a greased bowl press the mixture to form a thin layer.

Cool a bit then cut into cubes/diamonds.

Store in an air-tight container.
I forgot to add the cashew nuts so I have added them on top of the barfi and then pressed the mixture in the greased dish.
​Hi! First time here? You are Most Welcome! I hope you keep coming back for more here. If you are my regular visitor then Thanks, for you encourage me to experiment more!! I would like you to please click on my link below and like my
Facebook Page
. I will be happy if you can follow me on on
Twitter
too!
​
12s COMMENTS