20 October, 2017
Mushroom and Fried Banana Sticks in a Kokum Sauce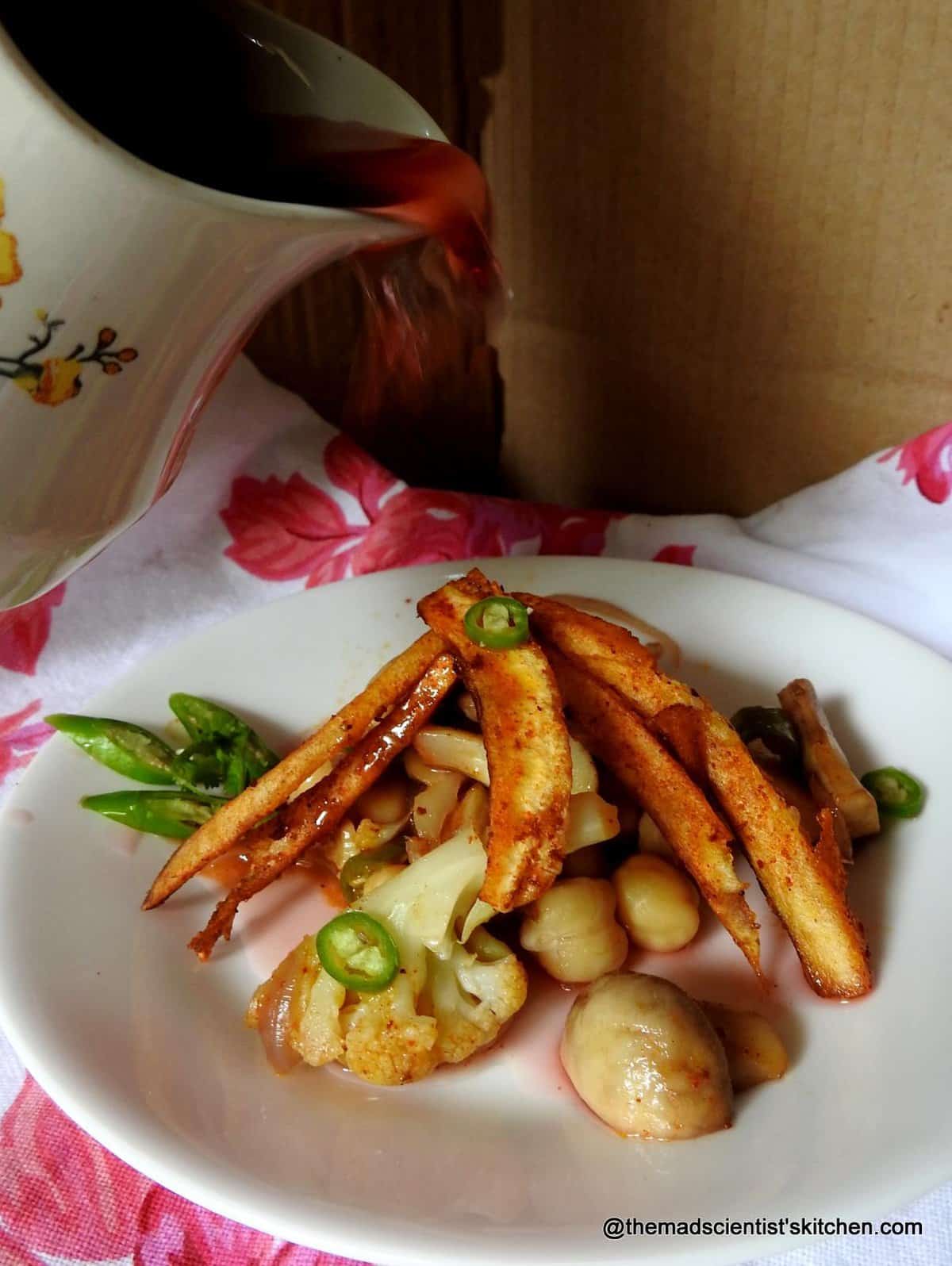 Comments : 1 Posted in :
Accompaniments
,
Bachelor Recipes
,
Brunch
,
Deep Frying
,
Festive Cooking
,
Indian Cuisine
,
Meal
,
Protein Rich Food
,
Quick Meals
,
Side Dish
,
Simple and Healthy Vegetarian Diet in Old Age
,
Vegetable Sides
on
by :
ArchanaPotdar
Tags:
Accompaniments
,
Bachelor Recipes
,
Brunch
,
chick peas
,
Festive Cooking
,
kokum
,
Mushroom
,
Protein rich food
,
raw banana
,
Salad
,
Simple and Healthy Vegetarian Diet in Old Age
,
Stand alone meal
,
Vegetable Sides
Mushroom and Fried Raw/Green Banana sticks in a kokum sauce was the general idea around which this dish is developed.
Traditional Goan Food is a facebook page of which I am a member. There is a challenge currently #TGF100K Mystery Box Challenge!  where you have to make a dish with mushrooms, bananas, kokum or tamarind, green chilli and star anise and protein of your choice.
My friend Pradnya suggested this making raw banana also green banana in the US fried sticks and making a sauce of all the other ingredients.
I would have loved to grill paneer or tofu in garlic sauce. Since I had not verbalised the idea to hubby he had not brought paneer or tofu.
The main ingredients are chickpeas, mushroom, raw banana, star anise and kokum.  I have used button mushrooms here but oyster mushrooms will be delicious.
This dish looks very beautiful so in case you have a sit-down dinner with a few friends then this is an ideal salad. We had it as a side dish with roti.
So let us get down to the recipe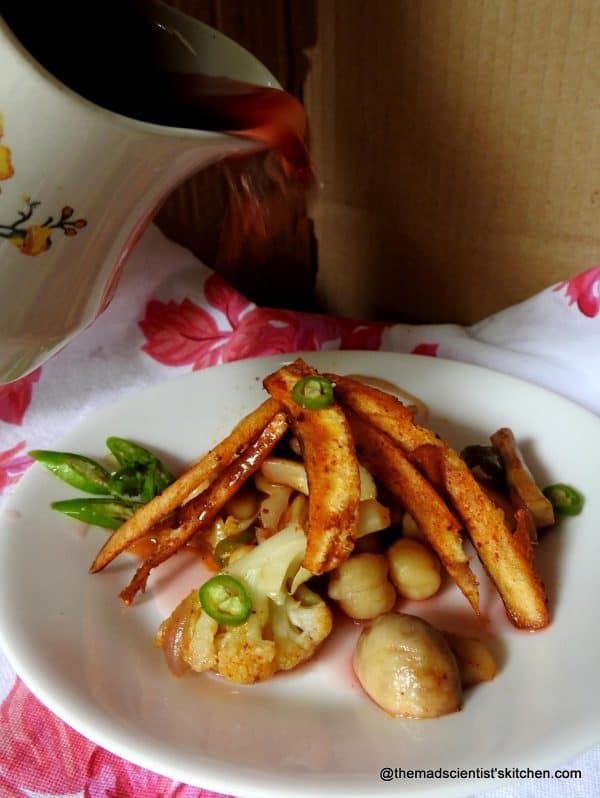 | | |
| --- | --- |
| | |
In a small saucepan put kokum, water, jaggery and salt to boil.

Once it sets on a rolling boil set aside and add the star anise.
Grease your hands, peel, and cut the raw bananas to thin sticks.

Apply salt, turmeric and chilli powder mix well and set aside for half an hour.
In a kadhai/wok heat oil.(Keep the flame on medium throughout.)

Add the garlic and fry until the raw smell goes away.

Add the onions and fry until translucent.

Add the potatoes and mix well. Sprinkle a little salt and cook covered until the potatoes are half cooked.

Next, add the cauliflower and mix well. Cook covered for 2 minutes.

Add the mushrooms, green chillies, garam masala, red chilli powder, salt and sugar.

Cover and cook for another 4-5 minutes. Set aside uncovered.

Deep fry the raw bananas till crisp. Drain and use immediately.
On a dish serve 1/2 cup of boiled chickpeas.

Arrange the vegetable on the chickpeas.

Next, arrange the fried banana sticks on the vegetables.

On the table, add the kokum sauce as needed.
The vegetable I made had no liquids in case you desire the liquid cook on low flame and keep the dish covered till needed.
Since we find the aroma of star anise strong I have used only one piece and added it in the end. You can adjust as per your taste.
The kokum sauce could do with a little thickening. Use besan or chickpea flour for a protein-rich sauce or use cornflour.
​Hi! First time here? You are Most Welcome! I hope you keep coming back for more here. If you are my regular visitor then Thanks, for you encourage me to experiment more!! I would like you to please click on my link below and like my
Facebook Page
. I will be happy if you can follow me on on
Twitter
too!
​
1 COMMENT