5 September, 2017
Moong Dal,Urid Dal Paddu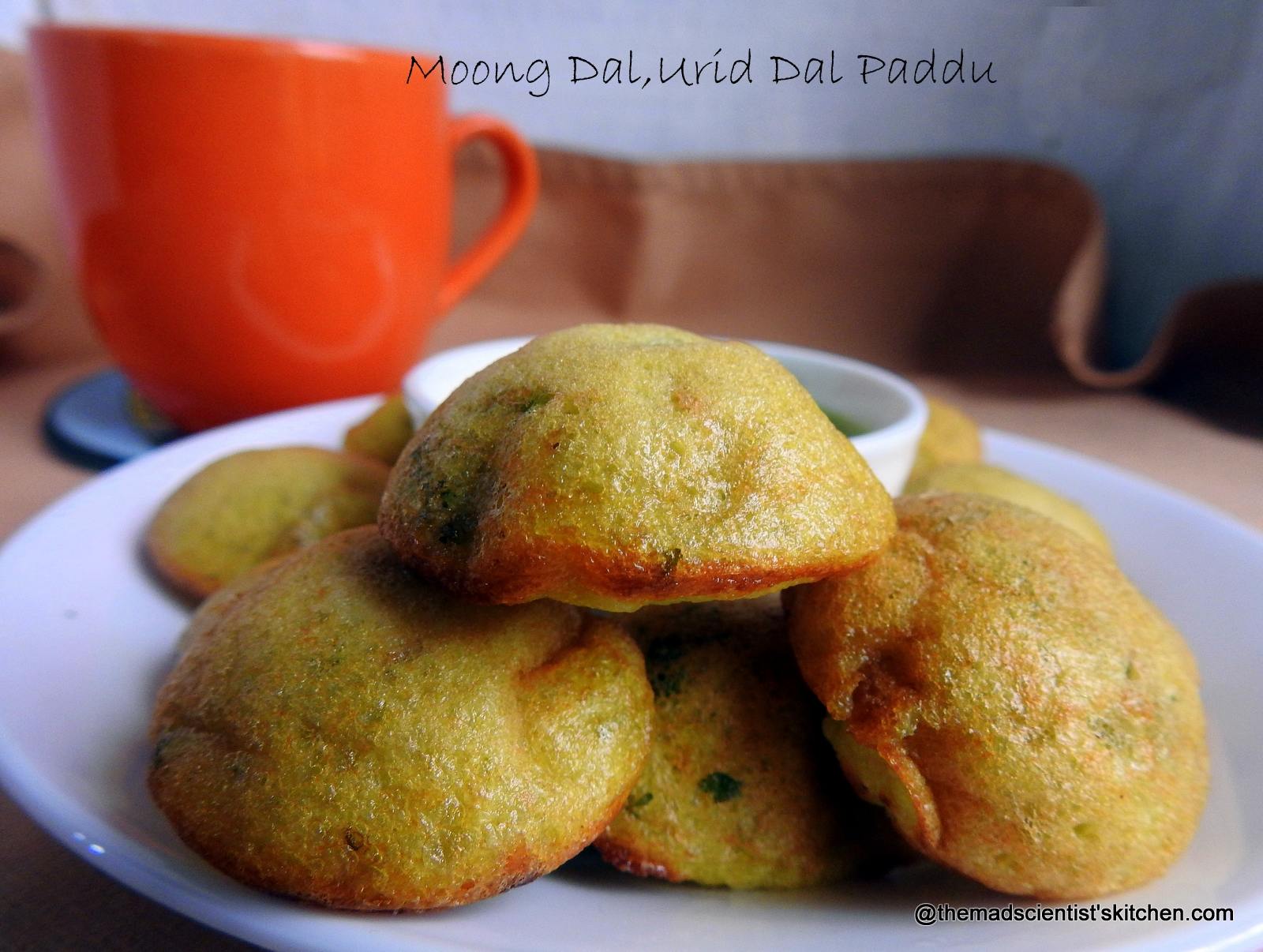 Comments : 18 Posted in :
Bachelor Recipes
,
Blogging Marathon
,
Breakfast
,
Fermented
,
Healthy food
,
Indian Cuisine
,
Kid Friendly
,
Protein Rich Food
,
Simple and Healthy Vegetarian Diet in Old Age
,
Snack
,
South Indian Cuisine
on
by :
ArchanaPotdar
Tags:
appe
,
Bachelor Recipes
,
Breakfast
,
guliappa
,
gulittu
,
gundponglu
,
Indian Cuisine
,
moong dal
,
paniyaram
,
ponganalu
,
Protein rich food
,
Simple and Healthy Vegetarian Diet in Old Age
,
South Indian Cuisine
,
Urid Dal Paddu
Moong Dal, Urid Dal Paddu is a yummy protein rich breakfast the South Indian way.  Paddu is also known as  Kuzhi Paniyaram and  Gunta Ponganalu.
Paddu is the word used in Kannada, Paniyaram in Tamil and Gunta Ponganalu in Telugu. The other names are appe, guliappa, gulittu, gundponglu, ponganalu. Black lentil and rice batter is steamed in a special tawa/skillet/mould. Originally the skillet was made of a material called "beed" now it is available in non-stick versions. This non-stick version uses very little oil, the mould is greased then we use only if needed.
I remember my granny making Paddu in her "beed tawa".She used to have a bowl of oil and homemade ghee mixture in which she dipped the coconut fibre to grease the mould. The greasing was done before adding batter and just before closing the lid she added a spoonful of the mixture of ghee and oil. They were the best Paddu I have ever eaten.
Gunta Ponganalu can be made sweet by adding jaggery and spicy by adding chillies.
Most South Indian Breakfasts are idlis, Dosa and variations from the batter. The batter is generally 3:1 carbohydrates to proteins the ideal ratio of carbs and proteins for an average person. The South Indian Breakfasts are hence very healthy as you eat proteins and carbs and minerals and micro nutrients, your chutney and veggie.
The regular Gunspangla, as my mom called it can be visited here.
I have adapted this recipe from the Tarla Dala Site.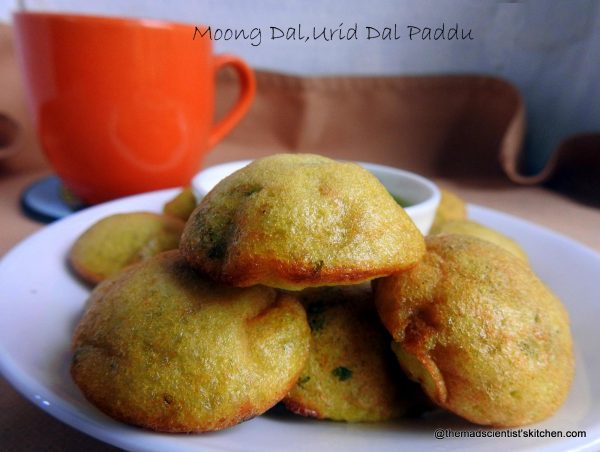 | | |
| --- | --- |
| | |
Wash and soak the yellow moong dal, urid dal in a bowl and rice in separate bowl. Add the methi seeds in the dals and let them all soak for 6-7 hours. Actually the rice needs to soak for 6-7 hours the dals can soak for 3-4 hours.

Drain and grind the dals to a smooth paste with minimum water. Transfer to a big bowl.

Drain and grind the rice to a paste again with minimum water. Mix in the dal and set aside to rise for 8 hours.

In the morning when you want to make the appe add the onion finely chopped, green chillies, coriander leaves, salt to taste and mix well.

Grease the non-stick gunpangala/paniyaram/ appe pan on a medium flame.

Pour the batter into each mould till 3/4 full cover and cook on a medium flame.

When the edges of the become golden brown turn each appe upside down use the using the small spatula provided with the pan.

Remove to serving plate and serve immediately.

My pan cooks 11 appes at a time.

Continue adding the batter and cooking till all the batter is over.

The number of appe you will get will depend on the side of the mould.

In my case I got about 35 of them.
Day 4
Check out the Blogging Marathon page for the other Blogging Marathoners doing BM# 80
Loading InLinkz ...
​Hi! First time here? You are Most Welcome! I hope you keep coming back for more here. If you are my regular visitor then Thanks, for you encourage me to experiment more!! I would like you to please click on my link below and like my
Facebook Page
. I will be happy if you can follow me on on
Twitter
too!
​
18s COMMENTS