21 November, 2017
Methi Matar Malai/Methi Malai Mutter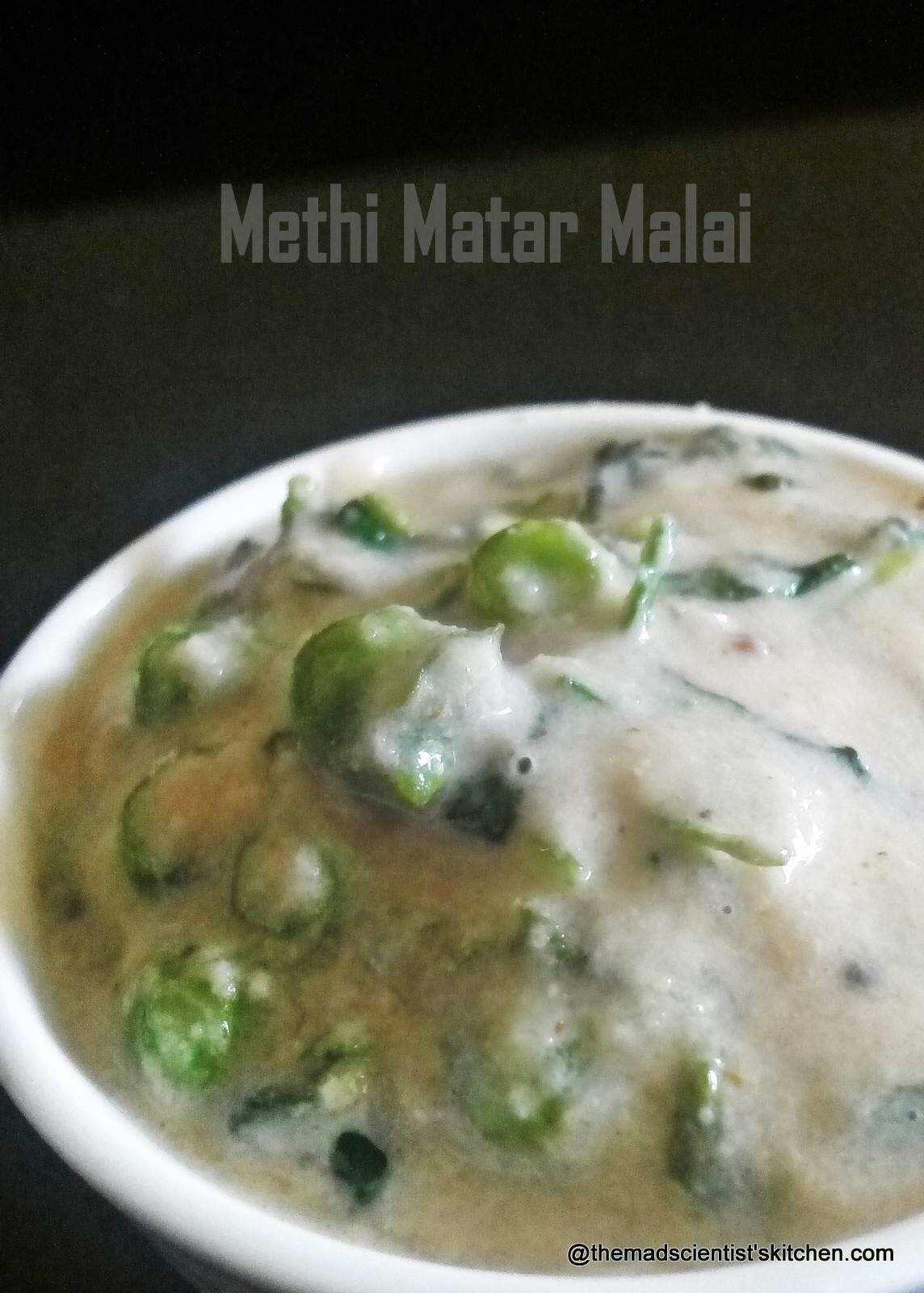 Comments : 9 Posted in :
Accompaniments
,
Bachelor Recipes
,
Brunch
,
Cashew Nuts
,
Cream
,
Curry
,
Festive Cooking
,
Indian Cuisine
,
Kid Friendly
,
legumes
,
Meal
,
Mughlai
,
North Indian Cuisine
,
Protein Rich Food
,
Side Dish
,
Vegetable Sides
on
by :
ArchanaPotdar
Tags:
Accompaniments
,
curry
,
Festival
,
Fresh Fenugreek leaves
,
green peas
,
Kid Friendly
,
legumes
,
Meal
,
Methi Malai Mutter
,
Methi Matar Malai
,
Mild Curry
,
Mughlai Cuisine
,
North Indian Cuisine
,
Protein rich food
,
Side Dish
,
Vegetable Sides
Methi Matar Malai/Methi Malai Matar is an aromatic, creamy, and flavourful  North Indian Curry.
The main ingredients are methi (fenugreek leaves), matar (green peas) and malai (heavy cream) and aromatic whole spices.
The slight sweetish taste of the gravy is due to cream and onions and balanced by the bitter methi.
Methi matar malai I have enjoyed in some restaurants but my family has not enjoyed it. When I made Methi matar malai I was a little apprehensive about its reception. But was much appreciated, my younger daughter who had a party wanted me to save some for her.
The whole story of Methi Malai Matar began with this fresh bundle of Methi/fenugreek leaves.
It is a welcome change from the regular Punjabi gravies like aloo matar, jalfrezi that are onion and tomato based.
The other methi dishes we have enjoyed in the past are
The peas dishes that are yummy are
This recipe is from here.
In place of cream, you can use milk too. I have done this once the result was not as creamy as before but still yum.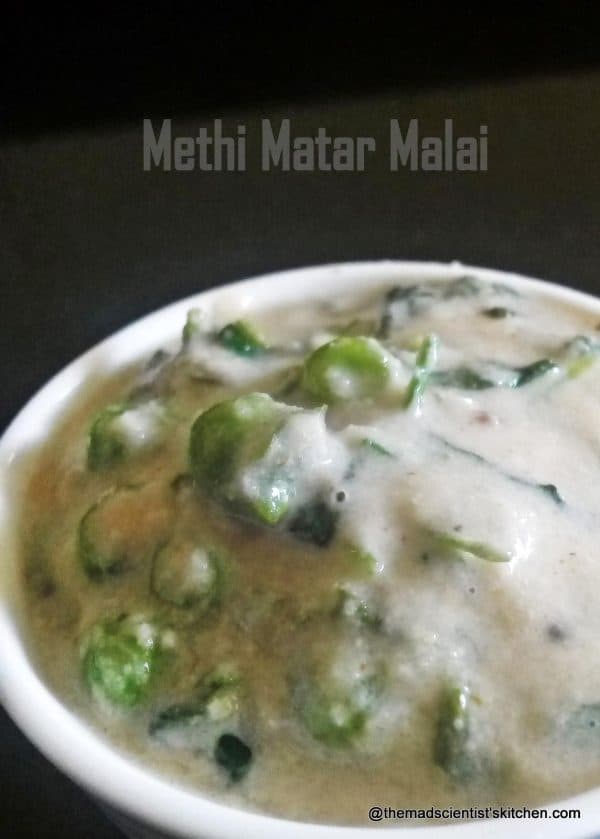 | | |
| --- | --- |
| | |
On the washed methi leaves sprinkle salt mix and set aside for 10 minutes.

After 10 minutes squeeze out the water from the methi leaves then chop the leaves. This helps in getting rid of the bitterness of the leaves.

a!To make the onion paste:

Heat the oil in a kadhai/wok add whole spices (cinnamon, cloves, peppercorns, cardamom).

Saute the spices till you get a nice aroma of the spices.

Add and sauté ginger, garlic and green chillies take care not to burn and change the colour of the spices.

Add onions and fry till they are soft and translucent. Let it cool down a bit.
"Linking this post to MLLA #113, conceptualized by Susan and hosted by Lisa."
​Hi! First time here? You are Most Welcome! I hope you keep coming back for more here. If you are my regular visitor then Thanks, for you encourage me to experiment more!! I would like you to please click on my link below and like my
Facebook Page
. I will be happy if you can follow me on on
Twitter
too!
​
9s COMMENTS