8 July, 2016
Gawar Bhoplya chi Bhaji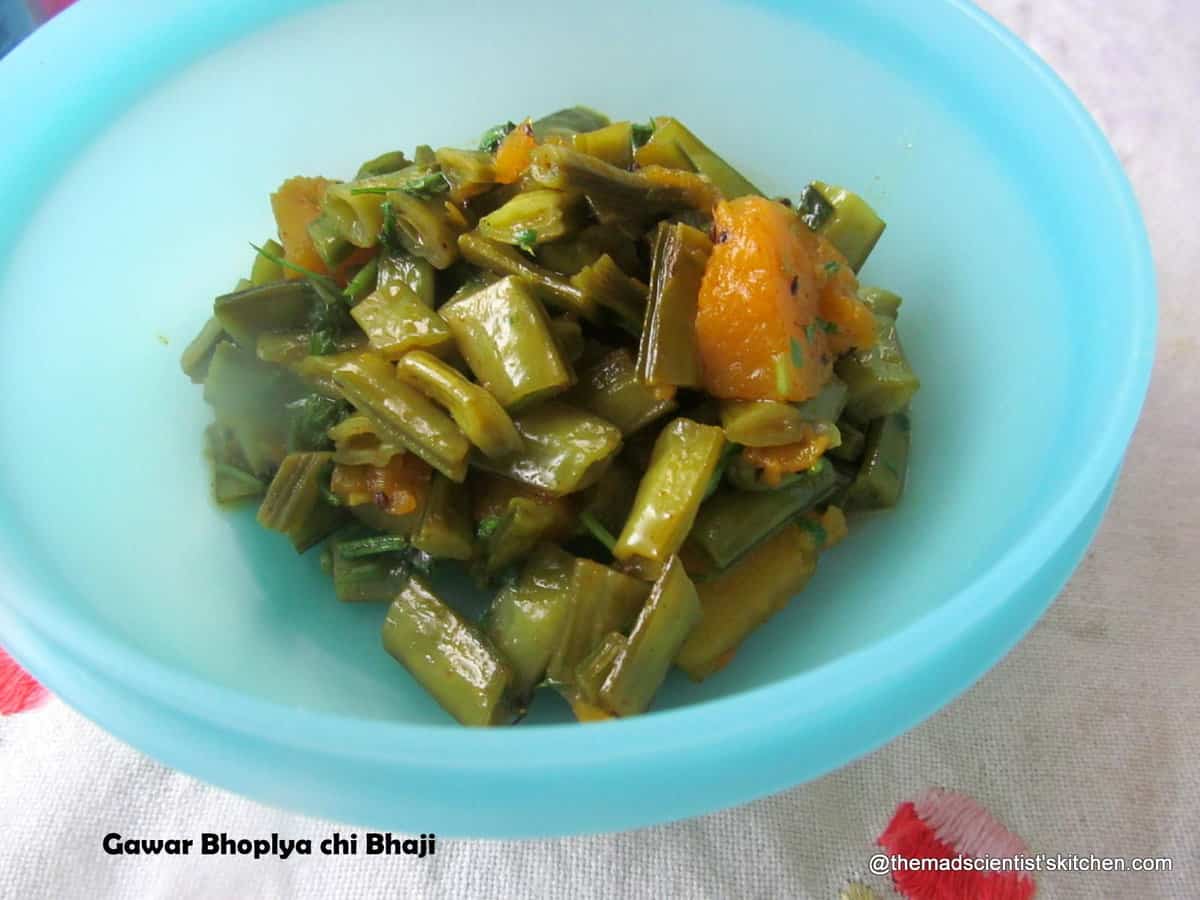 Posted in :
Bachelor Recipes
,
Diabetics Friendly Foods
,
Healthy food
,
Indian Cuisine
,
Maharashtrian Cuisine
,
Simple and Healthy Vegetarian Diet in Old Age
,
Stir Fry
on
by :
ArchanaPotdar
Tags:
Ajwain
,
Gawar Bhoplya Chi Bhaji
,
jaggery
,
Pumpkin
Groans and protests herald  Gawar chi bhaji in my place.
Is there something else? Mamma how come we have the same vegetable every other day?
Same reaction in your place? I don't know why actually it's one of the healthiest bean.
The Gawaar/gavar/chavlikai/chitkimitki/Guar/cluster beans the botanical name of which is Cyamopsis tetragonoloba, is an annual legume and the source of guar gum.
In the wild Gawaar/cluster beans have never been found. For centuries the plant was domesticated and cultivated in India and Pakistan.
To make vegetable use younger, fresh chitkimitki/Guar/cluster beans They are narrow and long with tiny pods.
The seeds from the mature pods are dried and powdered to make gaur gum.Gaur gum is a star in industrial food preparations like ice creams etc. It is utilised as a thickening agent.
How to buy?
To make vegetable go buy tender cluster beans tender beans. The beans should not have any dark spots or even stains.
To make the vegetable string the beans.
In Maharashtrian homes, Gawari Bhopla chi Bhaji is a simple vegetable made regularly. My belief stems from the fact that I have eaten this Gawari Bhopla chi Bhaji after marriage.
I had some of the beans in the fridge and have used just 2 cups of the stringed and chopped beans.

​Hi! First time here? You are Most Welcome! I hope you keep coming back for more here. If you are my regular visitor then Thanks, for you encourage me to experiment more!! I would like you to please click on my link below and like my
Facebook Page
. I will be happy if you can follow me on on
Twitter
too!
​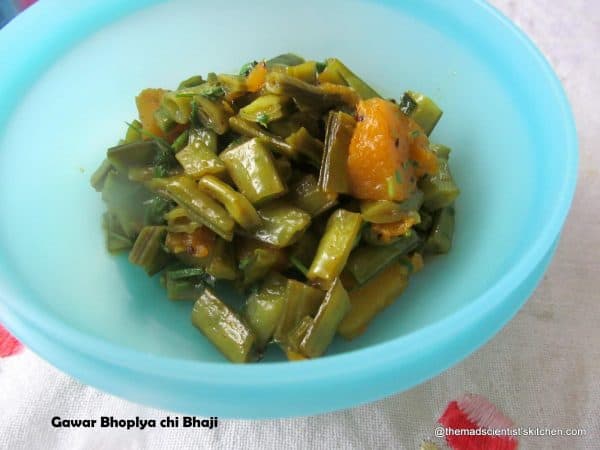 | | |
| --- | --- |
| | |
Heat the oil in a kadhai/wok.

Add the ajwain. It will not splutter but the aroma will be unmistakable.

Add the hing/asafoetida and the washed and rinsed Gawaar.

Add the hing/asafoetida (if using) and the washed and rinsed Gawaar.

Immediately add the pumpkin, jaggery, chilli powder, haldi, salt.

Mix well. Add a little water then cover and cook till the gawar is done.

Garnish with coconut (if using) and dhania leaves.

Serve with chapatti, plain rice and amti.
Notes: In case your gawar is not tender boil them first before adding them to the tempering.