26 May, 2017
Dabeli | Kutchi Dabeli Recipe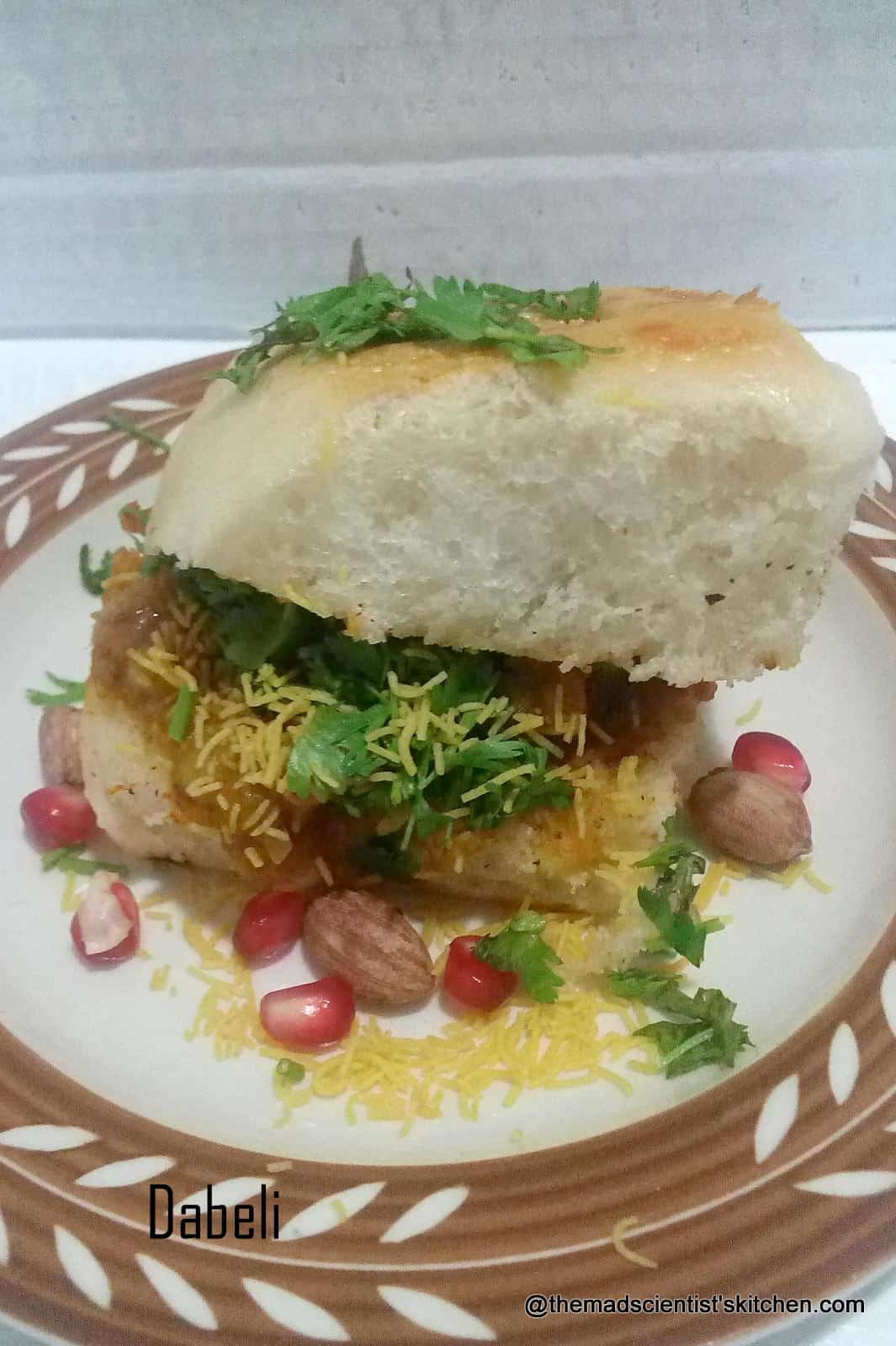 Comments : 9 Posted in :
Bachelor Recipes
,
Chaat
,
Gujarati Cuisine
,
Indian Cuisine
,
Kid Friendly
,
Snack
,
Street Food
on
by :
ArchanaPotdar
Tags:
Chaat
,
Dabeli
,
Gujarati Cuisine
,
Kutchi Dabeli Recipe
,
Mumbai Street food
,
peanuts
,
pomegranate
,
Potato
,
Sev
,
Street food
Roll up your sleeves ladies we are making Kutchi Dabeli for dinner tonight! A delicious snack from Kutch, Gujarat that I have tasted so many times on Mumbai streets but never really enjoyed it. Till now! Now it's my favourite chaat.
How I came about making Dabeli? Well, the other day as I was cleaning up my freezer I found a packet of dabeli masala. I am sure Vaishali had given it when we last met in Goa. I dumped it in my store all, yes the freezer and forgot about it.
Now I was expecting it to have long RIP when I found it, curiosity being my middle name I opened the packet and tasted it. Tasted good but then I needed a confirmation so my elder daughter who had walked in for water became my guinea pig. "Tastes good what is it? " Do you need to ask what followed?
The main ingredients in making of a Dabeli are Pav or Bun Pav that is toasted, potato, tamarind and dates chutney, garlic chutney, pomegranate, roasted peanuts, sev, dhania/ coriander leaves. The whole taste is brought together by Dabeli masala.
Dabeli is adapted from here.
The other toasts I have tried in the past are Simple Cheese Toast, Garlicky Cheese Toast, Simple Corn Toast, Delicious Grilled Sandwich, Toast with Feta Cheese Potato and Onion Rings, Bombay Toast.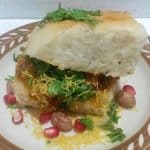 Servings

Prep Time

6

1

hour
Servings

Prep Time

6

1

hour
In a chutney pot grind the soaked red chillies, garlic, lemon juice and salt to a smooth paste. Use more water if needed. Transfer to a bowl and set aside.

(Take care this is very pungent chutney. Use a spoon or use gloves. The little left in the jar and just washed it up. Wiser now after the experience here.)
Preparing the Potato Stuffing:
Mash the potatoes. Set aside.

Heat oil in a kadhai/wok and splutter the jeera/jeera/cumin add the hing/asafoetida.

Add the onion and fry till the onions become soft.

Add the mashed potatoes, and the tamarind chutney and the dates chutney, dabali masala, salt. Mix well.

Cook well for about 20-25 minutes. Add water as needed.

Let the mixture cool then add chopped dhania/ coriander leaves on top.Set aside.
Cut the pav in half if you wish I prefer to keep them attached on one side.

Apply butter and lightly toast the pav.

Apply the garlic chutney on one side and the tamarind and dates chutney on the other side.

Put a spoonful of the potato mixture and spread it a little.

Add the pomegranate, dhania/ dhania/ coriander leaves, ground nuts and sev on top.

Sprinkle the dabeli masala if needed. Cover with the top of the pav and serve.

Make the rest of the dabeli on similar lines.
You can mix the tamarind and dates chutney. In my place the sour and sweet preferences vary so I prefer to keep them separate. In place of dabeli masala you can try using pav bhaji masala.
​Hi! First time here? You are Most Welcome! I hope you keep coming back for more here. If you are my regular visitor then Thanks, for you encourage me to experiment more!! I would like you to please click on my link below and like my
Facebook Page
. I will be happy if you can follow me on on
Twitter
too!
​
9s COMMENTS